YES! You can have a NEW TV System by December 31st!!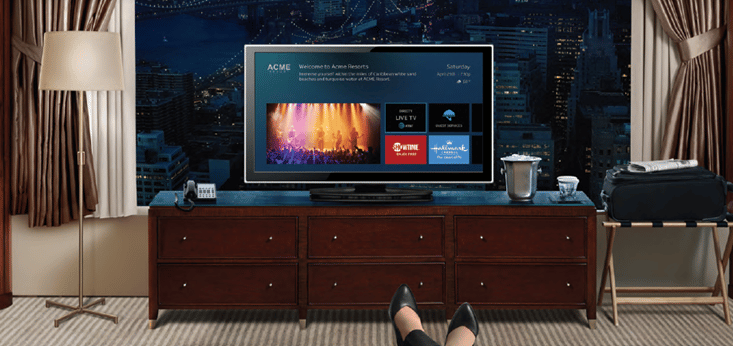 Whether you own or manage a Hotel, an RV Park or Campground, or an Assisted Living or Healthcare Facility, Its All About Satellites can get a new TV system installed for you by December 31st if you act today.
So you can take advantage of any tax credits you may have available and hit the ground running in the New Year.
Who You Choose to Install Your New TV System Matters
Its All About Satellites has been installing hospitality and healthcare television systems since 1996. With installations in 29 states and counting, a technical staff of 100% fully certified installers, and an owner who served 5 years on the DIRECTV Dealer Advisory Board for Lodging and Institutions, we are the experts you have been looking for to get your new TV system installed by the end of the year.
Its All About Satellites is an Authorized DIRECTV Hospitality Dealer
Whether you need a headend system like the DIRECTV COM3000 or an L-band system like the revolutionary DIRECTV Residential Experience, we have experience installing them in hotels, RV parks and campgrounds, and assisted living and healthcare facilities large and small.
Advanced & Up-gradable Television Systems
for Hotels, RV Parks & Campgrounds, and Healthcare
Its All About Satellites provides the the most advanced technology from Technicolor and DIRECTV to help you grow your business including:
Learn about advances in TV Systems and Digital Signage technology from DIRECTV, Nixplay and others.  Advanced features include the Guest Welcome Screen for the DIRECTV Residential Experience (DRE) and the Welcome Screen for the COM3000 Pro:Idiom HD Headend system.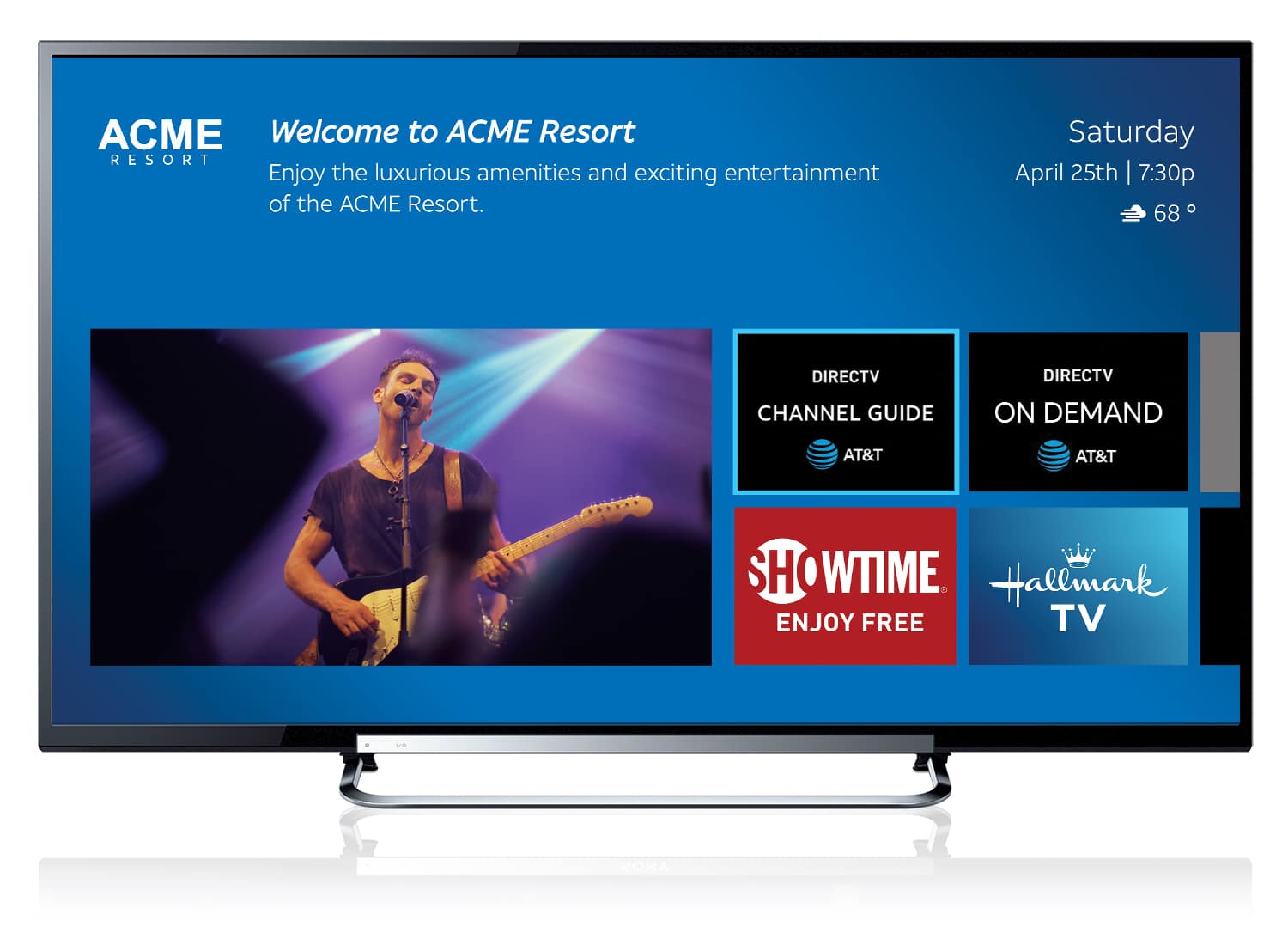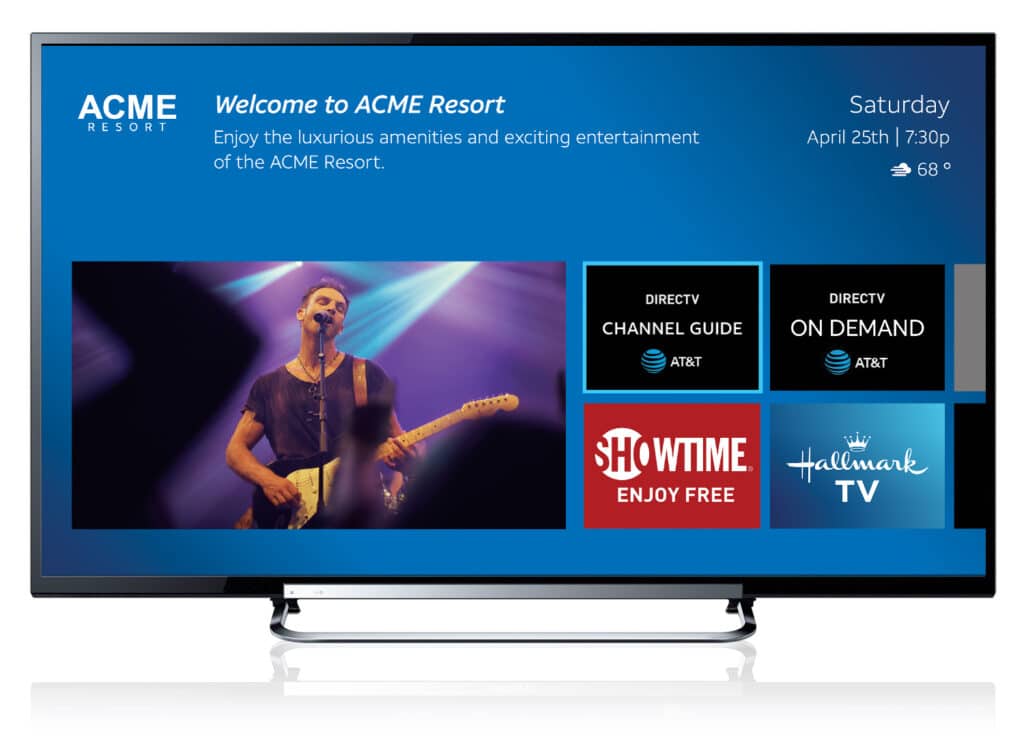 Learn how this industry leading technology can help you save money, promote your properties amenities and events, make your staff's jobs easier, and provide a more entertaining TV experience for your guests and patients.
---
It's Back!!
Get a DIRECTV HD
Entertainment System on us!*
Up To A $10,500 Value!*
Give your guests the ultimate entertainment experience
with NO Additional Equipment Costs!
When you install a new TV system for your Hotel, RV park or campground, or assisted living or healthcare facility; or renew your agreement with DIRECTV prior to 12/31/2020, you may be eligible to receive 54 channel COM3000 HD equipment at NO EXTRA COST* when you sign up for a 7 year agreement!

DIRECTV's HD COM System
HD and 4K² Headend Video Solution
• Scalable solution compatible with most wiring schemes
• Easy to manage and operate
• Premium entertainment experience at an affordable cost
• Scalable solution compatible with most existing wiring schemes
• No set-top boxes needed
• More channels in less space – up to 138 channels in 3U of rack space
• Environmentally friendly & energy efficient
• Ability to add your own channel to share information with guests
• Easy and hassle-free installation
100% Financing
In the 24/7/365 hospitality and healthcare industries you need a quick, correct installation and we specialize in getting your new system installed in 3-5 business days. To do that you need financing with a quick turn around.  That is why we have partnered with Ascentium Capital
We can provide your hotel with 100% financing on both the equipment and the installation through Ascentium Capital with a 24 hour turnaround. This way you have low, low upfront costs to install a new high definition hotel television system.
If you are doing renovations along with the brand change, ask about rolling renovations costs into the financing package.
Find Out if Your Property Qualifies and Get a Quick Quote

Call Barry or Ted at 1-800-951-1979 today
For more information about
the DIRECTV COM3000 Pro:Idiom HD Headend
or the DIRECTV Residential Experience
or to get a quote on a New TV System for your property
*HD COM WITH ADVANCED ENTERTAINMENT PLATFORM (AEP): Offer ends 1/17/2021. Offer is available to new or renewing Hospitality and Institutions customers with a 7‑year programming agreement. Maximum equipment subsidy of $22,000 for HD COM System, COM System w/ NTSC‑8 technology or Receiver‑Less HD. AEP $6,000 subsidy only avail. to new Hospitality & Institution customers that activate service before 12/31/2020. Receiver‑Less equipment is only for Institutions. Properties must subscribe to the ENTERTAINMENT Package ($7.29/room/mo.) or above, and local channels ($.90/room/mo.) if available in your market. HD Access ($1.35/room/mo.) and Advanced Entertainment Platform ($2.00/room/mo.) req'd in all units. 75‑room minimum is req'd per property. To access DIRECTV HD programming, HD equipment req'd. IN THE EVENT YOU FAIL TO MAINTAIN YOUR SUBSCRIPTION TO THE REQUIRED PROGRAMMING PACKAGES YOU AGREE TO PAY AN EARLY CANCELLATION FEE EQUAL TO THE FULL SUBSIDY AMOUNT YOU RECEIVED PRORATED BY THE NUMBER OF MONTHS YOU PAID FOR THE REQUIRED PROGRAMMING PACKAGES DURING THE COMMITMENT PERIOD. Payment is due within thirty (30) days of receipt of a notice of failure to complete the commitment period. INSTALLATION: Custom installation charges apply, and installation fee is based on property size. Applicable use tax adjustment may apply on retail value of installation. Availability of DIRECTV service may vary by location. In certain markets, programming/pricing may vary. Make and model of system at DIRECTV's sole discretion. Offers void where prohibited or restricted. Hardware and programming available separately. Receipt of DIRECTV programming subject to terms of the DIRECTV Terms of Service for Hospitality Establishments and the DIRECTV Terms of Service for Institutions; copy provided with new customer information packet. Taxes not included. DIRECTV programming, hardware, pricing, terms and conditions subject to change at any time. SHOWTIME is a registered trademark of Showtime Networks Inc., a ViacomCBS Company.

©2020 AT&T Intellectual Property. All Rights Reserved. AT&T, Globe logo, DIRECTV, and all other DIRECTV marks contained herein are trademarks of AT&T Intellectual Property and/or AT&T affiliated companies. All other marks are the property of their respective owners