Thinking about Digital Signage for your Business?
In 2020 Nielsen released studies that indicate that Digital Signage is more effective at driving sales than prime time television ads. With the COVID-19 pandemic, the need for contact-less information in businesses has becoming a necessity. That is why Digital Signage is the fastest growing segment of the Audio/Visual industry.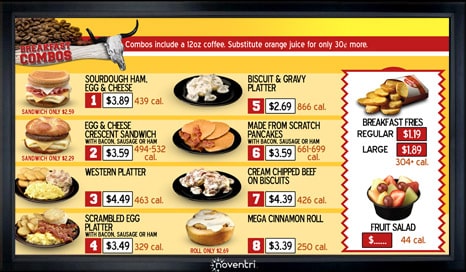 It's All About Satellites has teamed with the leaders in Digital Signage hardware and software to deliver to you the right digital signage, digital menu boards and interactive directories for your specific needs.
Whether you need a multi-monitor video wall to deliver DIRECTV sports content in your Sports Bar, a single or multiple monitor digital menu for your restaurant, point of sale displays in your retail store, or an interactive directory for your hotel or conference center, It's All About Satellites has the experience and industry partners to design and install a Digital Signage system that will be a revenue producer for your business.
Call 800-951-1979 today
or simply
Click Here
to schedule a
Free Site Survey for your business!