DIRECTV Residential Experience for Hotels (DRE

)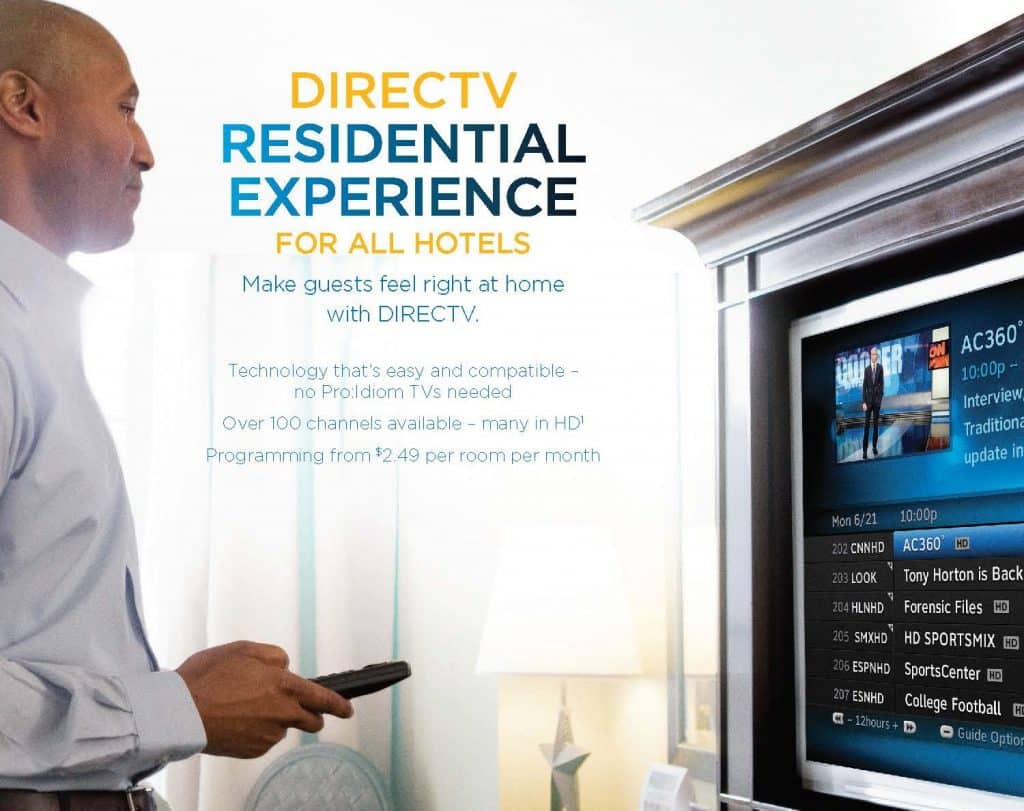 Make your hotel guests feel at home by giving them the same TV experience in your rooms that they already love at home.
They can now find what they want to watch more easily than ever with the same DIRECTV program guide they're used to in their living room.

They can rest easy while they channel-surf with our simplified remote with an anti-microbial finish.

And with over 100 HD channels, they won't miss their favorite shows.

You get the DIRECTV DRE Welcome Screen system to insert local content & checkout folio
9 out of 10 hotel guests prefer the DIRECTV viewing experience over any other.†
Give them the TV service they already love at a price you will love.
DIRECTV Residential Experience for Hotels (DRE)
High Definition Hotel Television Systems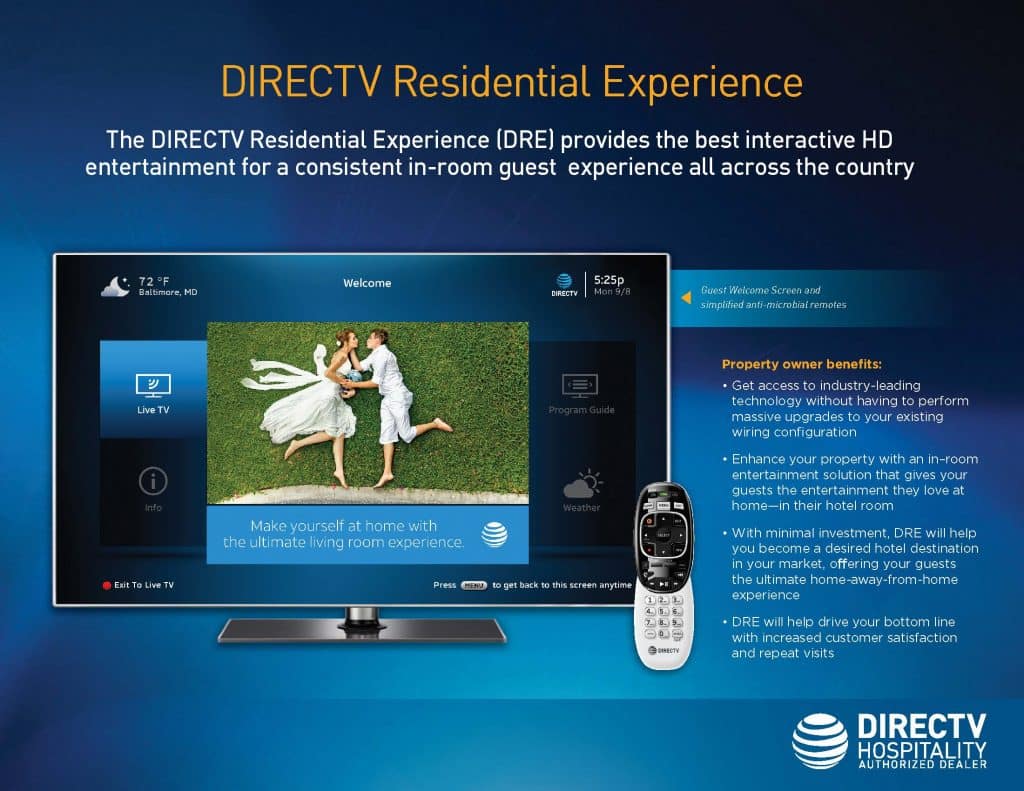 The DIRECTV™ your hotel guests love at home is now available for your hotel rooms.
DIRECTV announced the launch of their revolutionary new Residential Experience for Hotels at the HITEC conference on June 20, 2011. Since then they have continued to add more functionality to keep this system head and shoulders above any other system as the industry standard for all hotel television systems.

DIRECTV, the world's largest pay-TV provider, is changing the way hotel guests experience their favorite movies, shows and news programs, all while removing the invisible germs usually found on TV remotes.

DIRECTV's innovative new Residential Experience for Hotels will transport the living room experience into the hotel room with more than 100 HD channels, an enhanced interactive program guide, the full residential programming lineup, and the first anti-microbial remote designed by DIRECTV specifically for the lodging and hospitality industry.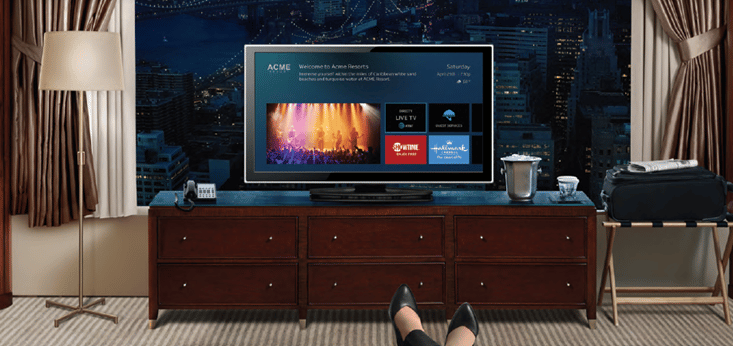 The new DIRECTV Residential Experience (DRE) Hotel TV System gives your guests:
The full DIRECTV programming lineup and ease-of-use they have at home

100+ HD Channels including HBO, ESPN and more …




– up to 10 times more of the HD channels your guests want to see

A new, simplified remote that features an anti-microbial, germ-resistant cover

A Co-branded, Interactive programming guide
The new DIRECTV Residential Experience (DRE) Hotel TV System gives your Hotel:
No Pro:Idiom encryption enabled or MPEG-4 HD Hotel TVs necessary

FREE Replacement Remotes & Receivers

Compact, easily hidden set-top boxes (1.12″ H x 8.66″ L x 5.75″ D)



Remote Access to & full Control of in-room receivers from the Management Server

Guest Messaging – Personalized or group messages

PMS Integration with most systems

FREE NFL Sunday Ticket for your Bar or Restaurant for this season
"Our guests tell us that they want a TV experience similar to or better than what they have at home," said Josh Weiss, vice president, brand and guest technology, Hilton Worldwide.

"As we couple the DIRECTV Residential Experience, which includes more than 100 HD channels and a user-friendly programming guide, with HDTVs now deployed across our portfolio, we continue to build an in-room experience that delights our guests."
DIRECTV has announced that their revolutionary Residential Experience for Hotels (DIRECTV DRE) now includes HD DVRs (digital video recorders). This is the perfect luxury amenity for suites or extended stay hotel properties. Take DVRs in one room or your entire property.

Pause, Rewind and Record Live TV Shows from more than 100 HD Channels!
Your hotel guests will be able to have an entertainment experience in your hotel that is even more like the DIRECTV experience they have at home.

Insert up to 50 pages of interactive hotel content in the programming guide
In addition to DVR functionality, the DIRECTV Residential Experience for Hotels will now also support local content insertion. Customize the in-room television experience of your hotels guests with up to 50 pages of your own content seamlessly integrated into the DIRECTV channel guide; an enhanced HD programming guide – the same one guests see at home – that is faster, smarter, easier-to-use and can also be co-branded with your hotel.
Call
800-951-1979
today
to
schedule your FREE Site Survey
for
the DIRECTV Residential Experience for your Hotel

©2021 AT&T Intellectual Property. All Rights Reserved. AT&T, Globe logo, DIRECTV, and all other DIRECTV marks contained herein are trademarks of AT&T Intellectual Property and/or AT&T affiliated companies. All other marks are the property of their respective owners.