DIRECTV for Hair Care, Nail Salons & Spas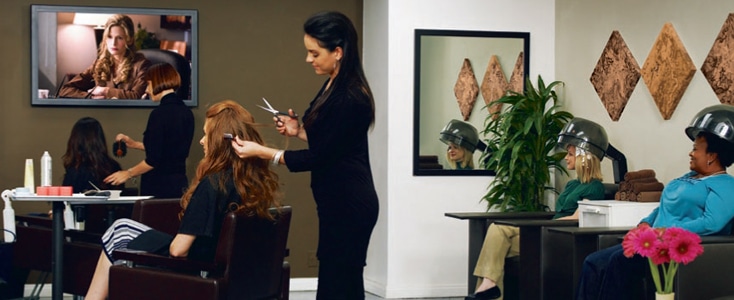 DIRECTV for BUSINESS
for Hair Care, Nail Salons, Barber Shops & Day Spas
DIRECTV for Hair Care, Nail Salons & Spas lowers the perceived wait time of your customers and helps you to increase sales by entertaining them with the same television experience & channels they enjoy at home.
87% of Business subscribers say DIRECTV helps reduce customers perceived wait times.

What would it mean to your Salon or Spa to have customers stay longer and buy even one more service every time they visit because they are entertained by DIRECTV?
Put DIRECTV to work for you Hair Salon, Barber Shop, Nail Salon or Day Spa … for less than the cost of 1/2 of a magazine per day!
DIRECTV for Business
Put DIRECTV to Work for Your Hair Care or Nail Salon or Spa

Pick the Programming Package that Fits Your Needs Now
From just 24.99 per month
Ask how you can get 2015 NFL SUNDAY TICKET
at No Additional Charge*
Whats On DIRECTV for Hair Care, Nail Salons and Spas
DIRECTV delivers more of the programming your customers love watching and give you more in HD than any other source.
DIRECTV Channel Lineups for Business & Private Viewing for the TV packages available for Hair Salons, Barber Shops, Nail Salons, Day Spas & more.
 * NFL SUNDAY TICKET at No Additional Charge when you sign up for BUSINESS ENTERTAINMENT™ PACK or BUSINESS XTRA PACK
Call 505-296-9423 or 800-951-1979 Today
to

Order DIRECTV

for your Hair Care or Nail Salon