Satellite Master Antenna Television Systems – SMATV
Satellite Master Antenna Television Systems (SMATV)
and Hotel TV Distribution Systems
Satellite Master Antenna Television, generally known as SMATV in the Hospitality industry, is a single antenna satellite TV distribution system (either L-Band or headend) system used to send television signal throughout a multi-room hotel, dorm, assisted living or healthcare property.
How many channels can you have in a SMATV headend system?
You can distribute as many channels as you have modules in your head end system. Every TV or display in every room will receive all the channels.
Each standard definition (SD) SMATV headend rack can deliver 12-36 channels.

Each module in an HD headend system can deliver 12-24 channels.
The Industry Standards for SMATV HD Head End Systems
The Pro:Idiom encrypted COM3000 Hotel TV Systems from Technicolor are the most commonly used SMATV headend systems for the delivery of high definition DIRECTV programming.
DIRECTV Residential Experience and L-Band Distribution Systems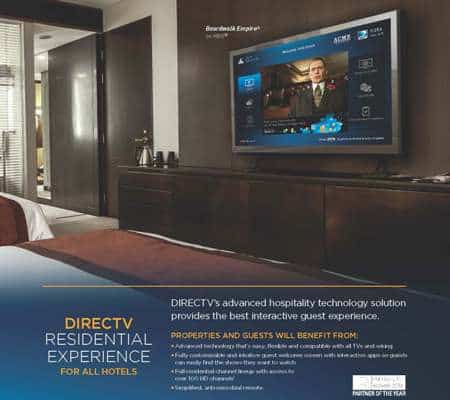 For hotels with a fewer number of rooms, or that want to provide a TV experience more like what your guests have at home, The DIRECTV Residential Experience for Hotels or DIRECTV DRE provides your guests with 200+ channels in HD, the DIRECTV programming guide they are used to seeing at home and an anti-microbial (germ free) remote.
Find out which Satellite Master Antenna Television System is the best option for your property:
Call

505-296-9423 or 800-951-1979

Today
to get a FREE Site Survey for your Hotel


©2021 AT&T Intellectual Property. All Rights Reserved. AT&T, Globe logo, DIRECTV, and all other DIRECTV marks contained herein are trademarks of AT&T Intellectual Property and/or AT&T affiliated companies. All other marks are the property of their respective owners
#SMATV #TVforHotels #Hotel #hoteltecha