The New DIRECTV COM3000 Pro:Idiom HD/4K Headend
– Freedom from Bad Hotel TV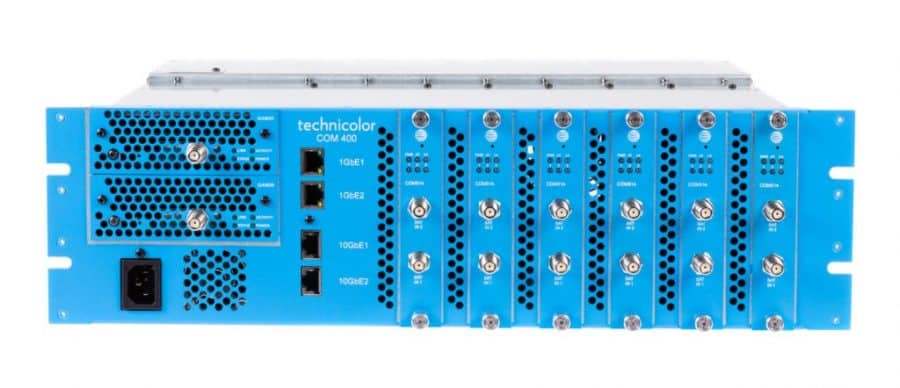 Why Have So Many Hotels Put Off Upgrading Their TV Systems Yet?
In a word, cost. Before the DIRECTV COM1000 Pro:idiom HD Headend by Technicolor was introduced in 2009, upgrading your Hotel TV system to HD was a costly, disruptive process for hotels with over 250 rooms or that do not have home-run type wiring.
A huge constraint in upgrading to a HD TV System was the downtime required for either a property re-wire because of a lack of home run wiring or installing set-top boxes in-room. In a 24/7/365 industry like Hotels and Institutions, this amounts to a major cost in addition to the new TV system itself.
Today major chains like Hilton, Marriott, and Hyatt and more recently economy and mid-scale brands like Choice, Best Western and Wyndham have increased pressure on properties to upgrade to HD programming to provide the full HD TV experience guests are used to at home. With so many hotel properties being franchises, enforcing these brand standards has proven difficult.
The NEW DIRECTV COM3000 Headend from Technicolor
The New DIRECTV COM3000 Headend by Technicolor is the latest in a line of revolutionary headend television systems from DIRECTV.  It is the smallest and most powerful headend TV system available for hotels, RV parks and campgrounds, assisted living facilities, senior living facilities, healthcare, college and corporate campuses, institutions, bars, restaurants, and other commercial applications.
The Start of the COM Headend System for Hotel TV
In 2009 Technicolor released the COM1000 for DIRECTV Hotel TV Systems. The COM1000 was a revolutionary HD headend system when it was introduced and changed the way TV for hotels was provided in hotels with over 250 rooms. It provided hotels with a cost effective, single wire system.
The COM1000 Headend was designed to lower the per channel costs of delivering HD television programming, decrease the space needed, and add more HD channel capability.  The COM1000 allowed you to have up to 24 channels in a single 4U chassis.
Before the COM1000 was introduced in 2009, upgrading your Hotel TV system to HD was a costly, disruptive process for hotels. It was even more difficult for hotels and resorts with over 250 rooms or that do not have home-run type cabling throughout the property.
Plug and Play Means Little to No Downtime
Before the COM1000, for properties using an analog headend a huge worry in upgrading was the downtime required in switching to HD. For many properties upgrading meant a complete re-wire because of a lack of home run wiring or because the new system required installing set-top boxes in-room.
It's a very real concern, because in a 24/7/365 industry you're talking about disconnecting TV in every single hotel room. Shutting down rooms is a major cost over and above the cost of the new TV system itself. The COM1000 provided a plug and play hotel television platform that minimized downtime and dd not require leaving rooms vacant for installation.
The Next Step in the COM Headend Revolution
In June of 2014 DIRECTV and Technicolor announced the COM2000 HD headend system. The COM2000 was a quantum leap forward in technology that brought along with it the plug and play platform and stability of the COM1000 while adding some outstanding new features.
The COM2000 was about 1/2 the cost of a similarly configured COM1000
The COM2000 used just 225W – a fraction of what a COM1000 or your current headend uses
The COM360 chassis took up just 3U of rack space – 25% less than other headend systems
The COM46-FLX receiver cards gave you 8 HD or SD receivers on a single card
The Com2000 continued DIRECTV's leadership in commercial-grade TV system solutions for the hotel industry, hospitality, healthcare and for other lodging and institution properties. It allowed you to have up to 48 channels in a 3U chassis the size of a desktop computer laid on its side.
But with Hotel television programming packages from DIRECTV often including 100 or more channels, the COM2000 still had limitations. To provide your guests with a full package of channels they expect in your rooms because they have them at home, hotels and other lodging facilities were forced to stack COM2000 chassis to provide all the channels.
The New DIRECTV COM3000 – The Revolution Continues
Introducing the COM3000 Headend – DIRECTV's Next Generation HD and 4K Headend Video Solution
The DIRECTV COM3000 Headend takes the next step in providing the TV experience Hotel guests are clamoring for.  AT&T continues to change the world of video with the launch of COM3000. This is the third generation of our DIRECTV for Business video headend. With it, businesses will get more channels than ever. Plus, they'll find it's easier to customize.
The DIRECTV COM3000 Headend can deliver up to 138 HD channels, including 4K HDR programming.  And business owners can add channels one at a time, including their own in-house and over-the-top (OTT) channels.
The platform can also help businesses prepare for the future of video programming delivery through easy customization. As business and entertainment needs evolve, business owners can download software upgrades, instead of installing costly hardware. And guests can view content:
On any screen – TVs, mobile devices, tablets
On any hardware – smart TVs, third-party set-top-boxes, streaming clients
Delivered over any infrastructure – coax, ethernet, Wi-Fi
4K Support
The 1st thing you will notice is that the COM3000 provides true 4K TV.  The COM3000 will support DIRECTV's current 4K channels as well as the HDR and high-bandwidth programming of the future so its truly futureproof.
138 HD channel capacity
Since the COM1000 was introduced for use on DIRECTV Hotel TV Systems, the competition has tried to copy it. Even expanding on the number of channels available in a single receiver card. Technicolor has packed access to up to 23 channels in a single COM51A receiver card.
Remote Management and Service
Like the COM2000 access to the NEW DIRECTV COM3000 headend by Techicolor is via a web browser, meaning that if channels need to be changed, service needs to be done, or you want to utilize channels to provide welcome screens and local information, it can all be done remotely.
"Programming changes, working with new hardware, whatever… it's all easy to do."
What Does It Take to Get HD Programming Into Your Rooms?
HDTV Programming:
DIRECTV HD video signal sent from a DIRECTV satellite to an installed satellite dish at a hotel property.
Pro:Idiom / LYNK Transcoder:
The Pro:Idiom / LYNK transcoder is a modified DIRECTV receiver that converts high-definition DIRECTV signal into to a digital format that can be delivered through the hotel TV distribution network.
Digital video is an exact replica of its original source without degradation and as such is easily pirated without encryption. The content owners such as ESPN, HBO, etc… now require that the signal be encrypted in hotel properties all the way to the television.
LG's Pro:Idiom technology and Samsung's LYNK technology is a digital video content security system (DRM) designed to encrypt the signal so that only authorized HDTVs or televisions with a decryption box (set top or internal) can decode the signal and display the video on its screen. The Pro:Idiom / LYNK transcoder is built into the head end, one transcoder per channel.
Digital QAM Modulator:
A QAM Modulator changes the frequency of the video signal so that each channel can be viewed on the desired channel number. For example, the QAM modulator could change the frequency for ESPN (normally DIRECTV channel 206) so that it can be viewed on channel 5 at your property. The QAM modulator is also located in the hotel headend system.
Pro:Idiom or LYNK TV capable of HDTV resolution:
Pro:Idiom by LG or LYNK by Samsung enabled HDTVs have the ability to decode the encrypted signal sent from the Transcoder so that the content can be seen by your customers Identification Module (IDM).
Pro:Idiom or LYNK HDTVs also have an insertion point for the ID Module, which marks each individual room's video signal with a unique and traceable key code for additional content security. Broadcast stations such as ESPN HD, HBO HD and SHOWTIME HD require this component in order to protect their content from piracy.
Does Your Hotel Need a DIRECTV COM3000 HD Headend?
For newer hotels and older properties with newer wiring or IP cabling, often the best option for providing Free-to-Guest HD TV is the DIRECTV Residential Experience for Hotels. Its provides full channel availability in-room, a TV viewing experience more like the one your hotel guests are used to at home, and added functionality for the hotel property including the DRE Welcome Screen System.
The very best way to determine if your hotel needs the new DIRECTV COM3000 headend system to deliver HD programming to your guests is to have an experienced, SBCA certified technician do a site survey of your property.
Our technicians will be looking for several things –
The Number of Rooms in Your Property:
Ideal – For properties over 250 rooms, the COM3000 is the perfect solution
The type of wiring your TV system currently has:
Ideal – home run type wiring with no splitters or splicing, RG-6 Coax Cable rated to 3 gHZ
The Distance for Each Wiring Run :
Ideal – A maximum of 200 feet of distance from the distribution points to the furthest TV receiver
The Type of Connectors in the Wall Plates :
Ideal – Compression Connectors in high frequency wall plates.
If your property meets all the above requirements and you have fewer than 250 rooms, you may be a good candidate for the DIRECTV Residential Experience.
If those are not available in your property our certified technicians will determine whether it is cost effective to upgrade your cabling plant or if a DIRECTV COM3000 Headend system from Technicolor would be your best option.
The DIRECTV COM3000 Mediatune for Your Bar or Restaurant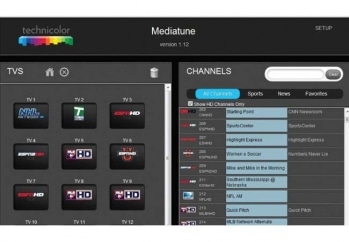 When you call Barry at Its All About Satellites for DIRECTV for your Hotel or Resort, remember to ask about how you can use the COM3000 to control the TVs in your bar or restaurant.
Let's say you have a bar or restaurant. You're going to have a lot of televisions and that means you have to make a lot of decisions. Most of the time you're going to end up with tons and tons of equipment, perhaps enough to fill two floor-to-ceiling equipment racks. That stuff takes power. It generates heat. It takes a lot of wires. You're going to be thinking, "There's got to be a better way!"
A compact headend like Technicolor's COM system is the perfect replacement for expensive AMX or Crestron controllers as a way to supply DIRECTV satellite service to a bar or restaurant or anywhere you multiple TVs.
The DIRECTV COM3000 MediaTune competely solves Bars and Restaurants biggest problem with multiple TVs…changing the channel.  Until now, the only option Sports Bars and Restaurants had for controlling multiple TVs with a single remote device was an extremely expensive matrix switcher with a AMX or Crestron controller. Otherwise you were stuck with a box of remotes, each one for a different receiver.
With the DIRECTV COM3000 MediaTune by Technicolor you can:
Control all of your TVs from one web interface. From your computer, iPad, or even your smartphone.
You can even use locally generated channels to advertise events and specials in your bar.
The DIRECTV COM3000 Mediatune headend from Technicolor gives you the flexibility to access it from any web enabled device. In other words a PC, a laptop, an iPad, or even your iPhone or smartphone. It's so simple to use, drag and drop, that any of your staff can be trained in its use in just a few minutes.
Now a few words about the DIRECTV COM3000 Headend directly from AT&T
More channels in less space
The most channels packed into the smallest footprint in the industry*
Up to 23 HD or SD channels per blade
Up to 138 HD channels in 3 RUs (5.25"), 276 HD channels in 6 RUs (10.5")
Easy to expand platform that can support hundreds of channels
Feature rich
Supports 4K HDR satellite broadcast channels
QAM and/or IP video distribution
Local management through integrated web interface
Remote management for all properties from one interface
Local and Over‐the‐air content insertion
Hassle‐free installation
Third generation COM System design
Existing Authorized Dealers/Installers are familiar with the COM System platform
Backward compatible to allow for easy expansion of existing deployments
Plug and play platform
Environmentally friendly & energy efficient
Even more efficient design than the already eco‐friendly COM2000
FCC‐tested as Commercial Grade Equipment (designed for harsh environmental conditions) with low energy consumption
Fully loaded COM3000 requires less than 300 watts of power consumption ‐ the lowest power consumption per channel in the industry*
*U.S. domestic satellite TV industry.
Here are some of the accolades about the NEW DIRECTV COM3000 Headend by Technicolor
"A fully loaded COM3000 system gives you 138 HD channels in the same size box as the old COM2000 which only gave you 48. The secret are these new tuner cards that take the place of 23 receivers. I don't know how they get it all working in such a small place, but they do. There aren't going to be a lot of places that need more than 138 channels, I'll tell you that. All those channels can exit over a single coax cable or 10Gig Ethernet connection – your choice."
AT&T has introduced an upgraded version of DirecTV for business customers, including hotels, that features a large lineup of HD channels, 4K capabilities and multiscreen access.

The third-gen platform, called COM3000, supports up to 138 HD channels (along with select programming in 4K and HDR formats), and lets business owners tack on their own in-house and OTT channels.

In addition to TVs, COM3000 is also capable of supporting smartphones and tablets, select smart TVs and third-party set-top boxes. The service can also be delivered on a range of access infrastructures, including coax, Ethernet and WiFi, AT&T said.
~ https://www.multichannel.com/news/directv-business-gets-upgrade
Call Barry at 800-951-1979 Today