DIRECTV Residential Experience for Hotels
The Best Way to Enhance Your Property: DIRECTV
DIRECTV is the leader in hospitality TV technology, providing an ultimate in-room TV experience and giving you competitive pricing on programming.
That's why we can promise that you are going to love what we can do to enhance your property at a price you can afford.
The DIRECTV Residential Experience for Hotels (DRE)
In 2012 DIRECTV introduced a revolutionary new product called the DIRECTV RESIDENTIAL EXPERIENCE for Hotels (DRE).
The DIRECTV Residential Experience turns guest rooms into living rooms. With over 100 HD channels, the DIRECTV interactive programming guide and the ability to pause, rewind and record live TV, guests will receive the ultimate home away from home viewing experience and appreciate the investment in their stay. Plus, with the ability to co-brand the user display and insert up to 50 integrated channels of hotel content, hoteliers can customize the in-room television experience to drive their business. 86% of guests prefer the DIRECTV viewing experience over other hotels, putting more guests in rooms and it's only available from DIRECTV.
The DIRECTV Residential Experience or DRE is groundbreaking technology that gives your guests the ultimate entertainment experience with the full residential channel lineup they love at home and gives you a cost effective way to upgrade to HD, have more control of your TV system, and easier maintenance, all at a much better price than Cable.
In 2014 DIRECTV added the NEW Hotel Welcome Screen system to improve your communication with your guests, giving you a way to advertise events, restaurants and specials in your hotel. With interactive apps and up to 50 pages of locally inserted information along with Express Folio Checkout capability, it will enhance your guest's experience and improve your staff's efficiency.
Enhance Your Guest's In-Room Experience
with a Cost-Effective Solution from DIRECTV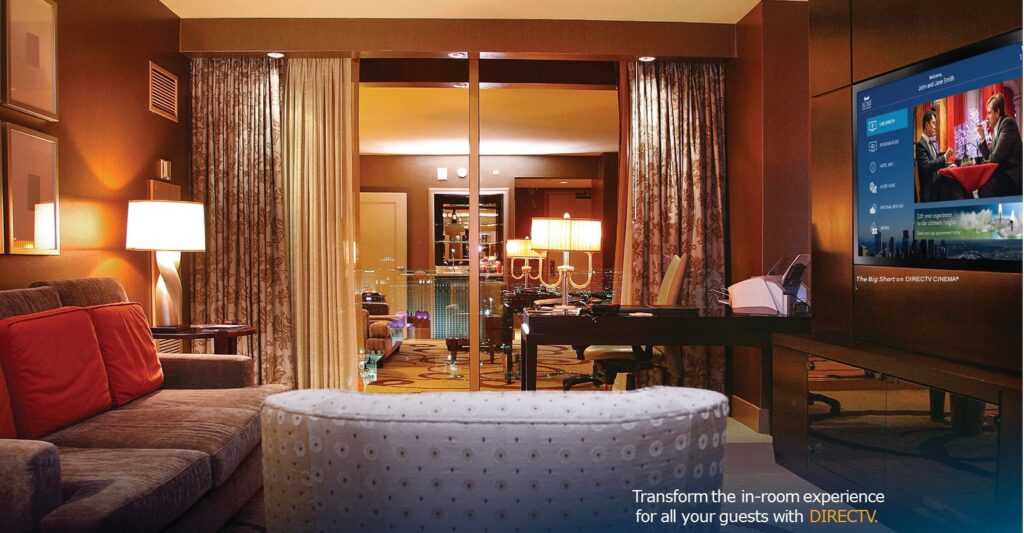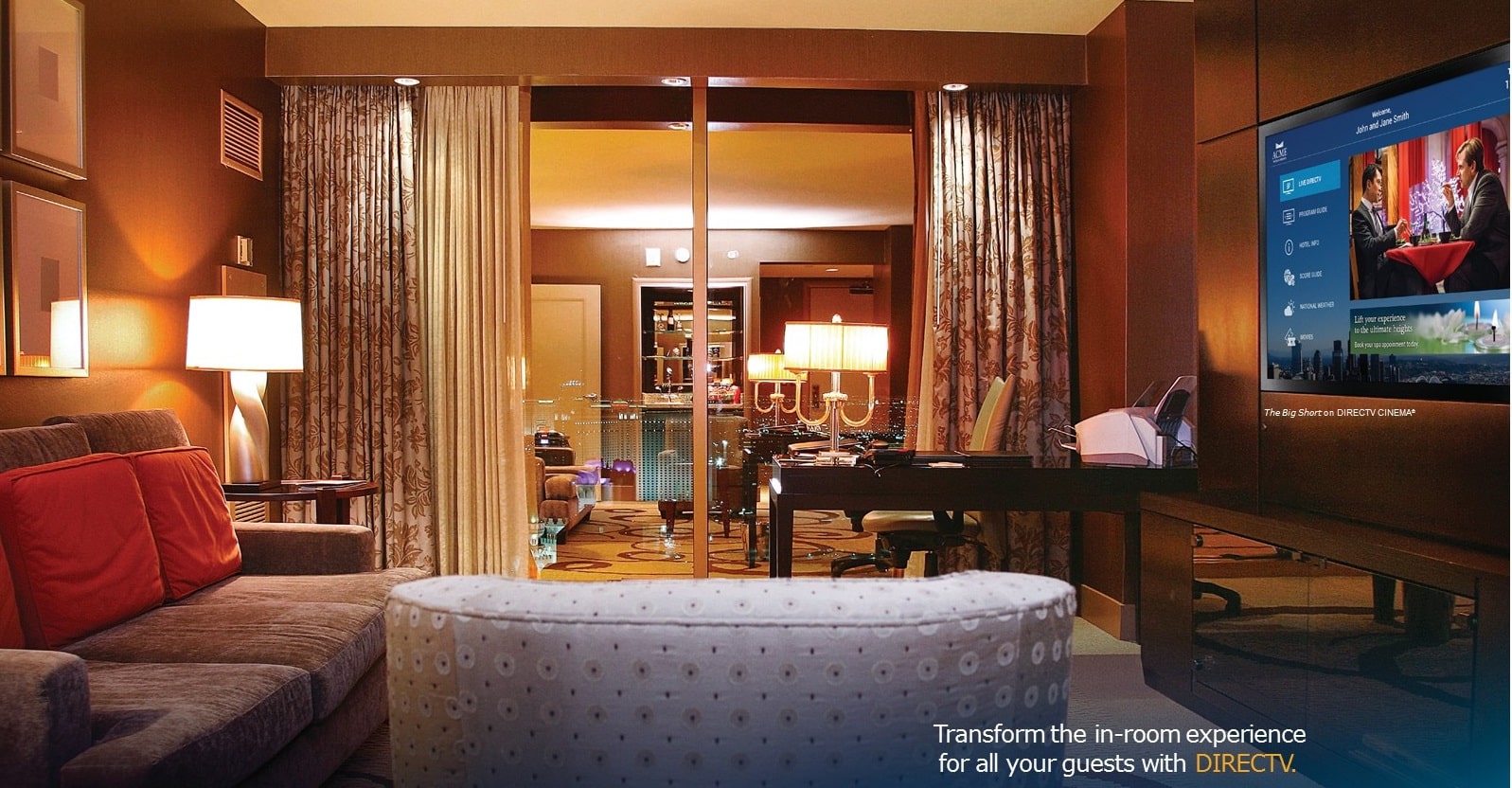 Give Your Guests the Ultimate Home-Away-From Home Experience
With the DIRECTV DRE You and Your Guests Will Enjoy:
Advanced technology that's Easy, Flexible and Compatible with all TV's and wiring
Full residential channel line-up with access to over 100 HD channels and an HD Interactive Programming guide so your guests can easily find the shows they want to watch
The same simple, Anti-Microbial Remote your guests are used to at home
Fully customizable Hotel Welcome Screen with the Hotel Logo, Hotel Info App, Weather info, Folio Express Checkout and up to 50 pages of content for you to populate.
Hotel PMS Integration
Call Barry at 800-951-1979 Today
for more information or a quote for the
DIRECTV Residential Experience for your Hotel
DIRECTV Hotel Welcome Screen System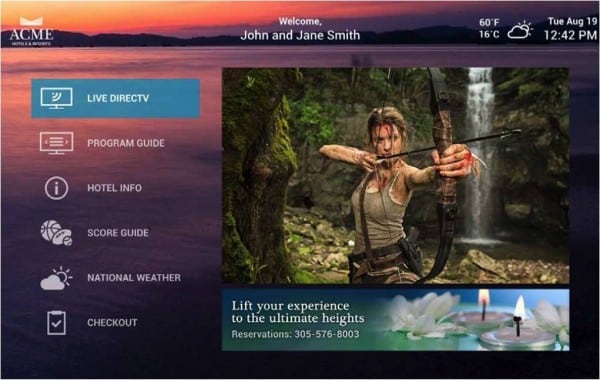 The new DIRECTV Hotel Welcome Screen will give your guests a more interactive in-room TV experience with info like….
• Express Checkout
• Hotel Events and Information
• Spa Service
• Restaurant Hours and Menus
• Room Service
The new DIRECTV Hotel Welcome Screen will save your staff time and save you money!
DIRECTV Programming Packages starting at just $2.49 per room per month
DIRECTV gives you a choice of programming packages that will save you as much as 50% off of your cable bill right now. We make it easy for you to give your guests the ultimate TV experience in a price range that fits your budget. Best of all, no surprises.
Call me today at 800-951-1979 for more information about the available packages.
Additional Programming at No Additional Charge!
When you subscribe to a qualifying base package with the DRE PLUS on a 5 year agreement you get:
NFL Sunday Ticket FREE for one year in all of your guest rooms
NFL Sunday Ticket and MLB Extra Innings FREE for one year for your bar, restaurant or lobby
3 FREE Months of HBO and Cinemax when you subscribe to HBO for your guest rooms
DRE Plus – Managed DRE or DRE – Unmanaged DRE?
DIRECTV provides two in-room receiver solutions, DRE and DRE PLUS, to meet the needs of properties of any size. The DRE is an un-managed system and the DRE Plus is a fully managed system with a customizable guest Welcome Screen program with up to 50 pages of local content and HD-DVR functionality.
Download the DIRECTV Residential Experience for Hotels
– MANAGED DRE VS UNMANAGED DRE Brochure  
NEW DIRECTV Residential Experience for Hotels (DRE)
Bundle Subsidy Program
DIRECTV is making providing the television experience your guests already love at home easier and more affordable for Hotels, Assisted Living and Healthcare with 3 new subsidy programs for new subscribers.
As you read this, think about your needs and which program will fit best for your property, then give us a call for a FREE site survey and quote on DIRECTV for your Hotel or Healthcare facility.
DIRECTV Residential Experience (DRE) Bundles:

DIRECTV has announced that their revolutionary Residential Experience for Hotels (DIRECTV DRE) now includes HD DVRs (digital video recorders). This is the perfect luxury amenity for suites or extended stay hotel properties. Take DVRs in one room or your entire property.
Pause, Rewind and Record Live TV Shows from more than 100 HD Channels!
Your hotel guests will be able to have an entertainment experience in your hotel that is even more like the DIRECTV experience they have at home.
Insert up to 50 pages of interactive hotel content in the programming guide
In addition to DVR functionality, the DIRECTV Residential Experience for Hotels will now also support local content insertion. Customize the in-room television experience of your hotels guests with up to 50 pages of your own content seamlessly integrated into the DIRECTV channel guide; an enhanced HD programming guide – the same one guests see at home – that is faster, smarter, easier-to-use and can also be co-branded with your hotel.
Call Barry at 800-951-1979 Today
for more information or a quote for the
DIRECTV Residential Experience for your Hotel