DIRECTV Residential Experience for Hotels Welcome Screen
The NEW Welcome Screen for the DIRECTV Residential Experience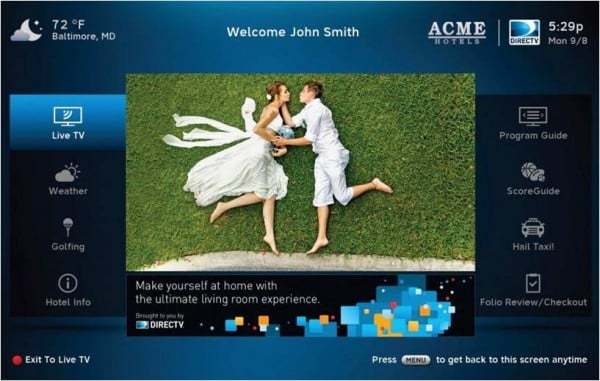 Now DIRECTV is delivering even more for you and your guests. The Welcome Screen for the DIRECTV Residential Experience (DRE) will improve your communication with your guests, giving you a way to streamline checkout, advertise events, restaurants and specials in your hotel.
With interactive apps and up to 50 pages of locally inserted information along with Express Folio Checkout capability, it will enhance your guest's experience and improve your staff's efficiency.
The new DIRECTV Hotel Welcome Screen will give your guests a more interactive in-room TV experience with interactive info like:
Express Checkout

Hotel Events and Information

Spa Service

Restaurant Hours and Menus

Room Service
The new DIRECTV Hotel Welcome Screen may save your staff time and save you money!
The DIRECTV Residential Experience (DRE) is a Revolutionary Hotel TV System
The DIRECTV Residential Experience for Hotels (DRE) is groundbreaking, advanced hospitality technology. Unlike other hotel TV systems, the DRE is is now available to all hotels over all wiring schemes (home-run or loop-thru/daisy chain).
Your Hotel guests will benefit from access to over 75 HD channels and exclusive sports programming, like NFL SUNDAY TICKET and the user- friendly interactive program guide they are used to at home.
Properties utilizing the DRE will benefit from happier guests, hotel PMS integration and now the new DIRECTV DRE Welcome Screen system.
In addition, DIRECTV's advanced technology solution lays the foundation for a more robust, interactive guest experience without additional hardware requirements.
What Our Customers Are Saying
Our customers tell us that this system allows you to give your guests the same TV experience they have at home, including the full residential channel lineup, for less money than the other options.
The DIRECTV in-room receiver size makes it easy to mount behind the flat screen HD TV, hiding it from sight and making for a much cleaner looking room.
Instead of limited channels for your guests and the high cost of headend systems and Pro-Idiom TVs or cable, when they installed the DIRECTV DRE our hotel customers received advanced technology that is upgradable without additional hardware, more control of your hotel tv system, and easier maintenance with no upfront money, 100% financing and less installation headaches
Finally, a Hotel TV system that is an Asset, not a line item cost.
With cable TV and most legacy headend systems, all they provide is a cable into the room carrying tv signal. With the DRE you are getting a system that is an asset.
The DIRECTV DRE system provides you with valuable features that allow you to interact better with your guests and make the hotel experience more enjoyable. The DIRECTV DRE system is upgradable without having to add expensive additional equipment, so when the time comes to sell your property, the DRE becomes an asset that you are passing on on to the new owners.
More DRE Welcome Screen Features Coming Soon!
Today the DIRECTV DRE Welcome Screen system offers up to 8 Apps and 50 pages of local information, but in the future new apps and features will be added. Since beta, 16 different apps have been added to the system!
DIRECTV is dedicated to giving you the technology to put you a step ahead of your competition. The DRE Welcome Screen system has only been out a few months and already they are hard at work to provide you an even more robust and customizable system.
DIRECTV has announced the DIRECTV DRE Welcome Screen System Pro which is fully customizable and will be available in Q2 2015. Come back to this site often for more on this exciting upgrade!


Upgrade Your Guest's Entertainment Experience with the
NEW Welcome Screen Pro For the DIRECTV Residential Experience (DRE)
Call Barry at 800-951-1979 Today
©2017 AT&T Intellectual Property. All Rights Reserved. AT&T, Globe logo, DIRECTV, and all other DIRECTV marks included herein are trademarks of AT&T Intellectual Property and/or AT&T affiliated companies. All other marks are the property of their respective owners.