DIRECTV for Bars and Restaurants
Be the home of your customers favorite teams
With DIRECTV

There is one simple fact in the bar business – The longer the stay, the greater the purchases of food and drinks. – NRA Show
82% of subscribers believe providing the sports programming available on DIRECTV increases their business
DIRECTV for Bars & Restaurants
The Hyper Competitive Restaurant Industry Demands More

In the ultra competitive hospitality industry today you need to do more than serve good food & drinks at your bar or restaurant to draw in customers & keep them there longer and keep them coming back.
In order to outpace your competition you need to create a distinctive atmosphere that welcomes and engages your customer and market your establishment in a way that gets you noticed.
It's All About Satellites and DIRECTV work as your partner in establishing an engaging and entertaining experience for your bar & restaurant customers through the strategic use of audio and video technology and programming.
Sports Are a Proven Sales Driver for Bars & Restaurants
and DIRECTV is the Undisputed Leader in Sports

For restaurants and bars, sports is the type of TV programming that draws more traffic in your doors than all other programming types combined.
More sports programming on your TVs means your customers spend more time in your bar or restaurant, spend more money, and come back more often.
What does that mean for you? More profits!

DIRECTV Specialty Sports programming packages:
NFL Sunday Ticket – Every Game, Every Sunday – up to 14 games per week
ONLY on DIRECTV

ESPN College Extra – Over 500 live sporting events, including up to 140 college football games and over 300 college basketball games

NEW! SEC Network – 40 SEC Conference Games
MLB Extra Innings – Every Game, Every Day – up to 80 games per week and up to 8 games at one time with Game Mix
NBA League Pass – Deliver the games your customers want to see. Up to 40 games per week!
NHL Center Ice – Get up to 40 action-packed NHL games a week
MLS DIRECT KICK 
Fox Soccer Plus
Championship Boxing on Showtime
WWE on PPV
The DIRECTV Sport Pack with 35 regional sports networks allows you to provide your customers thousands of professional & college games per year in all the major sports

Football

Baseball

Hockey

Basketball

and more from the NFL, NCAA, NHL, NBA, and MLB
Calculate How Much Profits You Can Make
DIRECTV is making it easy to see exactly how much your bar or restaurant can make by subscribing to the DIRECTV Sports Packages.
Simply click on the link for the DIRECTV Sports package you are subscribing to below and then fill in your Fire Code Occupancy, average ticket for food and drink for a party of 2, and your F&B cost percentage and this calculator will show you how much profit you should see from the sports package.
DIRECTV for Bars & Restaurants delivers more of the sports programming your customers want to see than any other Satellite TV or Cable TV source including exclusive programming like NFL Sunday Ticket and expanded coverage of Grand Slam Golf and Tennis.

2016 NFL SUNDAY TICKET for Small Bars is only $499
New Public Viewing customers with an FCO 1-50, 4 receivers or fewer and Auto Bill Pay with purchase of BUSINESS SELECT™ PACK or above.
Sign up for BUSINESS SELECT PACK or above and use the DIRECTV 5-Pay program and get NFL SUNDAY TICKET just $99.80 per month!
DIRECTV for Bars and Restaurants Programming Packages



Put DIRECTV to Work for Your Bar or Restaurant Today
Pick the Programming Package that Fits Your Needs Now
From Just 19.99 per month

CLICK HERE or on the photo above to download the full
DIRECTV for Bars and Restaurants 2017 Q1 Offers
Whats on DIRECTV for Bars and Restaurants
Click Here to download the complete DIRECTV Channel Lineup for Bars and Restaurants
---
DIRECTV MVP Marketing Program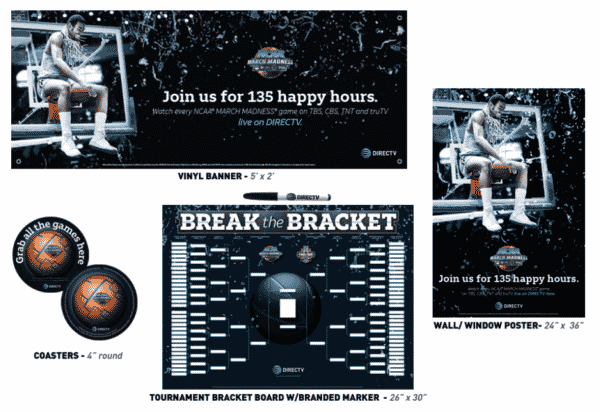 Exclusive Marketing Tools You Need to Drive Traffic to Your Business
With the DIRECTV MVP Marketing Program you get Exclusive, FREE marketing tools to help drive more traffic through your doors. Its the ultimate in marketing support for your Bar or Restaurant and it's only available from DIRECTV.
DIRECTV Restaurant and Bar accounts can receive up to $2,500 in merchandise each year!
Your Benefits of the DIRECTV MVP Marketing Program include:

Promotional sports kits to drive traffic to your establishment
A customized advertising and merchandising site
Our exclusive Sports Bar Finder mobile app for iPhones and Android phones
Recognition of your DIRECTV subscription with top online city guides
On Premise Promotional Kits Designed to Drive Traffic
Drive traffic with FREE promotional kits of banners, posters, coasters and more for NFL, MLB, NHL, NBA & College Sport that come with your sports package subscriptions. Let people know that your establishment is the DIRECTV Sports Headquarters.
Customized advertising and merchandising site
Take your business to the next level! Customized marketing pieces designed by bar marketing experts. Simply sign in to directvmvp.com & customize your materials. As well as order on-premise sports marketing kits.
The Sports Bar Finder mobile app
DIRECTV's FREE iPhone or Android mobile app, your bar or restaurant is always just a touch away.  Sports fans find the nearest bar or restaurant with DIRECTV. Only Bars & Restaurants with DIRECTV are listed so you get an edge over the competition.
THE DIRECTV for BUSINESS SOLUTION for Bars
Raising the bar with the best mix of sports and entertainment from DIRECTV
Bars are highly susceptible to economic factors and have suffered from high unemployment and reduced consumer spending in the past. But, as those trends reverse and business has improved, bar managers are always challenged to keep their experience appealing.
From understanding trends to conquering industry challenges, this guide will help you to stay on top of your game and build your business. Download DIRECTV's bar industry insider guide for more insightful knowledge!
DIRECTV for Business Industry Insider Tips for Bars

THE DIRECTV for BUSINESS SOLUTION for Restaurants
A recipe for success: The DIRECTV business solution for restaurants
In today's competitive restaurant landscape, there are more choices than ever for diners. To achieve success, casual-dining establishments need to entice customers to come in for an enjoyable experience centered on a high-quality, full-service meal.
Trends and challenges can change at a moment's notice. Be the restaurant that's always in the know by downloading DIRECTV's industry insider guide!
DIRECTV for BUSINESS Industry Insider Tips for Restaurants

Order DIRECTV for Your Bar or Restaurant
Call Barry at

505-296-9423 or 800-951-1979

Today


For More Information
Please Fill Out The Form Below