DIRECTV for Hospitals and Healthcare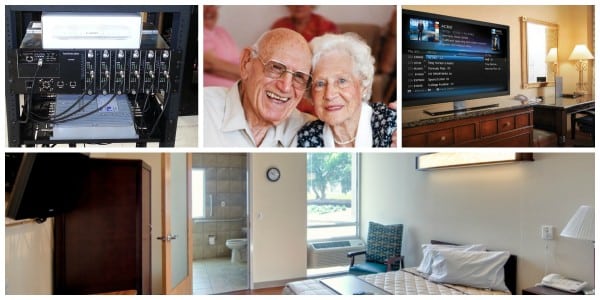 Keep Your Patients Entertained and Informed While they Recover
Make your patients' stay more enjoyable.
Put your patients and their loved ones at ease with the DIRECTV entertainment they love. It's a great way to upgrade your patients' experience—for a price that won't break your budget. Have questions about installation? Contact us and we'll work with you to find the best technology solution for your hospital or healthcare facility.
Give your hospital patients the entertainment they want.
Being in the hospital may not be the most enjoyable experience, so why not offer your patients and visitors some distraction and entertainment by offering them the best television programming during their hospital stay.
While on duty, your staff will also appreciate the variety of programming choices with DIRECTV satellite with access to over 160 of DIRECTV's all-digital channels of premium entertainment, exclusive programming, news and sports.
Hospitals have unique conditions for TV that need to be met
and DIRECTV has two superior solutions
DIRECTV Residential Experience (DRE)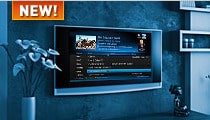 The DIRECTV Residential Experience (DRE) is a
Revolutionary TV System for Hospitals and Healthcare
The DIRECTV Residential Experience (DRE) is groundbreaking, advanced hospitality technology. Unlike other TV systems designed for hospitals and healthcare, the DRE is is now available to facilities with all types of wiring schemes (home-run or loop-thru/daisy chain).
Your patients and staff will benefit from access to hundreds of HD channels and exclusive sports programming, like NFL SUNDAY TICKET and the user-friendly interactive program guide they are used to at home.
Hospitals and Healthcare facilities utilizing the DRE will benefit from happier residents and now the new DIRECTV  Welcome Screen system.
Unlike Cable and other TV systems, the DIRECTV Residential Experience's advanced technology solution lays the foundation for a more robust, interactive patient experience without the additional, and often costly, hardware requirements.
What Our Customers Are Saying
Our customers tell us that this system allows hospitals and healthcare facilities to give your patients the same TV experience they have at home, including a full residential channel lineup, for less money than other options.
At the size of a small book,the DIRECTV in-room receiver size makes it easy to mount behind the flat screen HD TV, hiding it from sight and making for a much cleaner looking room.
Instead of limited channels for your patients and the costs associated with headend systems and Pro-Idiom TVs or cable, when they installed the DIRECTV Residential Experience (DRE) our hospital and healthcare customers received advanced technology that is upgradable without additional hardware, more control of your tv system, and easier maintenance with no upfront money, 100% financing and less installation headaches
– at a lower price than cable.
Make Your Patients Feel Welcome with
DIRECTV's New Welcome Screen System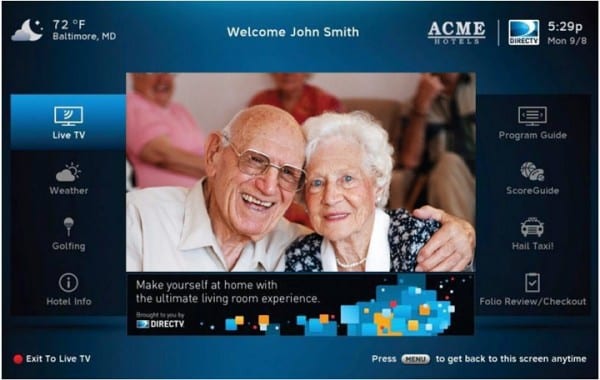 The NEW DRE Welcome Screen
Many of our hospital and healthcare customers are taking advantage of a system that was designed with hotels in mind – The NEW DIRECTV DRE Welcome Screen.
The Welcome Screen System for the DIRECTV Residential Experience will improve your communication with your patients, giving you a way to give medication and treatment schedules, visiting hours, contact information, streamline reality orientation information, advertise events, give meal times and menus, and much more across your entire facility.
Patient Information Made Easy
Weather, Time, Date, Where your Residents Are Physically At – are all on the home page of the Welcome Screen
With interactive apps and up to 50 pages of locally inserted information, it will enhance your patient's experience and improve your staff's efficiency.
The new DIRECTV Welcome Screen will give your residents a more interactive in-room TV experience with many of our customers using it to give residents interactive info like:
Medication Schedules and Treatment Information
Reality Orientation (for LTC facilities)
Facility Activities, Events, and Information
Treatment/Rehabilitation Hours and Appointments
Meal Hours and Menus
TV Program Guide
Sports Scores
The new DIRECTV Welcome Screen system will save your staff time and save you money!
DIRECTV COM2000 High Definition Headend System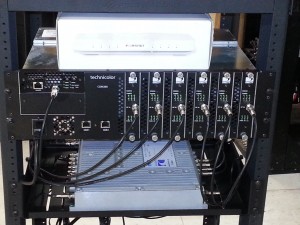 The Technicolor COM2000 HD Headend – For facilities over 250 beds or that require a centralized headend type television system, DIRECTV delivers what is the clear industry standard for hotels and hospitality. The COM2000 high definition headend is a virtually plug and play system that uses just 225W of energy and 3RU of rack space.
When it was introduced in 2009 the COM1000 HD Pro:idiom headend system was a revolution in Hotel and Healthcare TV Systems. The new COM2000 headend TV system brings the technological advances, convenience and the features that quickly made the COM1000 the industry standard high definition headend system.
With the NEW COM2000 you can increase channels easily by adding receiver blades, the system includes redundancy of key components to give you peace of mind that you system will maintain uptime, it supports both RF and IP-based networks, the system automatically tracks DIRECTV programming changes, and can be monitored both on your local LAN and remotely via a built-in web interface.
The COM2000 is also backwards compatible with the COM1000 Pro:Idiom HD Headend System so you can expand on an existing system or upgrade.
Plug and Play = No Worries About Downtime
For healthcare facilities that are currently using an existing analog headend, you may be worried about the downtime involved in switching to HD. It's a very real concern, because in a 24/7/365 industry you're talking about disconnecting TV in every single room. With the COM2000 that worry is completely gone. The system is direct swap-in for an existing headend and in most cases requires absolutely no additional cabling. The headend staging and design can be done before the system is hooked to your HDTVs and then it's a simple matter of connecting the new system, disconnecting the old, and setting up the in-room HDTVs.
One of the biggest benefits is the nearly plug and play compatibility of the COM2000 HD Headend. In a 24/7/365 industry, the ability to simply cut over to a new system with little or no downtime is a critical difference.
COM2000 Energy Savings
Compared to a 36-channel stacked receiver analog headend, a 48-channel COM2000 HD Headend system will save approximately $2,465 in operating costs over a 5 year contract!
Best of all, a fully configured COM2000 HD headend system is about 1/2 the cost of a similarly configured Com1000 Pro:Idiom headend system
Programming Packages From 2.49 per unit per month
DIRECTV provides you with 3 different levels of packages so you can give your guests the programming they want to see at a price that fits your budget.
The new FAMILY Package provides 45 plus of the most watched family friendly channels including Disney, Food Network, HLN and Weather Channel.
The ENTERTAINMENT Package, our most popular new programming package, features over 100 channels with 50 + in crystal clear HD. It includes popular sports programming such as ESPN, ESPNews, ESPN2 and ESPNU;  as well as 3 Disney Channels, Univision, The Hallmark Channel, Food Network and more.
The new ULTIMATE Package has 160 + channels with more than 75 in HD and includes premium movie channels like The Movie Channel (TMC), 8 Encore channels and the Sundance Channel; and the most comprehensive sports programming available for Hotels & Lodging. Sports programming including CBS Sports, Golf Channel, MLB Network, NBA TV, NBC Sports Network, NFL Network, NHL Network, TWC Sports Net, TWC Deportes, Univision Deportes and all Regional Sports Networks.
DIRECTV for Hotels also gives you access to all the premium content your guests demand:
Premium movie channels including HBO, SHOWTIME, STARZ, CINEMAX, Encore & The Movie Channel
Sports programming from ESPN, NBC Sports Network, CBS Sports, The Golf Channel & other sports channels
News and Business from CNN, FOX News, CNBC, Bloomberg and other news and business channels
Family Favorites including Disney, Discovery, AMC Family, Food Network, OWN and more
Click Here to download the complete 2017 DIRECTV Hotel, Lodging and Institutions Channel Lineups and Rate Card
3 New Ways for Healthcare to Save on DIRECTV
DIRECTV is making providing the high definition television experience your guests already love at home easier and more affordable for hospital and healthcare facilities with 3 new subsidy programs for new subscribers.
As you read this, think about your needs and which program will fit best for your property, then give us a call for a FREE site survey and quote on DIRECTV for your Hospital or Healthcare facility.
DIRECTV Residential Experience (DRE) Bundle:
$75 per room subsidy
Minimum programming requirements:
ENTERTAINMENT or ULTIMATE programming package,
HD Access,
Local channels,
Qualifying Premium Service,
DRE Software Fee
This DRE Subsidy cannot be combined with any other DIRECTV offer (including the $1.50 per room per month HD Base or $4.50 per room per month HD Bundle discounts)
Both DRE H25s and DRE HR24s qualify for the offer
Philips X-Cite DRE TVs also qualify for the $75 per room offer
Offer is for one subsidy per room, not per receiver
DIRECTV HD Bundle:
$54 per room subsidy for qualifying HD properties
Minimum programming requirements:
ENTERTAINMENT or ULTIMATE Programming Package
HD Access
Local Channels
Qualifying Premium Service
You can take advantage of this subsidy in two forms (cannot be combined):
As a $4.50 per room per month discount for 12 months
OR as a one-time $54 per room subsidy for 100% of the rooms in the property
($54 is the equivalent of $4.50 x 12)
DIRECTV HD Base Bundle:
$24 per room subsidy for qualifying HD properties
Minimum programming requirements:
ENTERTAINMENT or ULTIMATE Programming Packages
HD Access
Local Channels
You can take advantage of this subsidy in two forms (cannot be combined):
As a $2.00 per room per month discount for 12 months
OR as a one-time $24 per room subsidy for 100% of the rooms in the property
($24 is the equivalent of $2.00 x 12)
1 To access DIRECTV HD programming, HD Access fee ($0.75/room/mo.) and HD equipment are required. Number of HD channels varies by package selection. Local channels eligibility based on service address. Not all networks available in all markets.
2 2017 NFL SUNDAY TICKET OFFER: 2017 NFL SUNDAY TICKET will be delivered at no extra cost in all guest rooms for the 2017 season for all new DIRECTV Residential Experience (DRE) customers, COM2000 customers and DIRECTV Residential Experience Plus (DRE Plus) customers who subscribe to FAMILY Package ($2.49/room/mo.) or above with a 3- or 5-year programming agreement. Other conditions apply. Subscription will automatically continue each season at a special renewal rate unless customer calls to cancel prior to start of season. Subscription cannot be canceled (in part or in whole) after the start of the season and subscription fees cannot be refunded. Commercial locations require an appropriate licensee agreement. Offer excludes University accounts. NFL, the NFL Shield design and the NFL SUNDAY TICKET name and logo are registered trademarks of the NFL and its affiliates.
3 THREE-MONTH HBO OR HBO/CINEMAX OFFER: Offer extended to 12/31/17. Must be a new or existing DIRECTV subscriber with a new 3- or 5-year programming agreement and must not have received HBO programming from DIRECTV or any other distributor during the six months prior to activation. Customer must subscribe to SELECT Package ($5.50/room/mo.) or above and either HBO or HBO/CINEMAX package in order to receive the three-month offer. Upon DIRECTV System activation, DIRECTV will credit the new customer's account for three consecutive months for the HBO or HBO/CINEMAX programming offer ($2.75/room/mo.). In the fourth month, HBO or HBO/CINEMAX will automatically continue at the then-prevailing rate. Offer excludes University accounts. HBO®, CINEMAX® and related channels and service marks are the property of Home Box Office, Inc. 4 SHOWTIME PROGRAMMING OFFER: The SHOWTIME programming offer ($0.99/room/mo.) is available only as a 2nd Premium add-on. Offer available to qualifying new or existing Hospitality and Institutions accounts with a 3- or 5-year programming agreement and must not have received SHOWTIME programming from DIRECTV or any other distributor during the 24 months prior to activation. Offer is available for accounts activated on or before 12/31/17. After the applicable promotional period (3 or 5 years) ends, then-prevailing rate for SHOWTIME applies unless canceled or changed by customer prior to end of the promotional period. Offer may not be combined with any other SHOWTIME offer.
DIRECTV CINEMA: DIRECTV CINEMA HD movies starting at $5.99. Requires DIRECTV Residential Experience Plus system with Guest Welcome Screen. Dedicated Internet connection and Property Management System integration required. 3Mbps Internet bandwidth requirements only for off-hour refresh of movies. Actual number of titles will vary. DIRECTV CINEMA content requires an enhanced DRE HD Receiver (H25 or later) with DVR capability. Programming, pricing, terms and conditions subject to change at any time. Taxes not included. Movies expire 24-72 hours after you have begun to watch them. DIRECTV CINEMA purchases are non-refundable. Visit directv.com/hotels for details.
DIRECTV ON DEMAND: DIRECTV CINEMA required. Access to available DIRECTV On Demand programming based on subscription to applicable Premium networks. In certain markets, programming/pricing may vary. IN THE EVENT YOU FAIL TO MAINTAIN YOUR PROGRAMMING AGREEMENT, YOU AGREE THAT DIRECTV MAY CHARGE YOU AN EARLY CANCELLATION FEE. CANCELLATION FEES ARE BASED ON PROGRAMMING PACKAGE SELECTION AND COMMITMENT PERIOD. Offers void where prohibited or restricted. Hardware and programming available separately. Taxes not included. DIRECTV programming, hardware, pricing, terms and conditions subject to change at any time. Fifty Shades Darker: ©2017 Universal Studios. All Rights Reserved. Google Chromecast is a trademark of Google Inc. ©2017 AT&T Intellectual Property. All Rights Reserved. AT&T, Globe logo, DIRECTV, and all other DIRECTV marks contained herein are trademarks of AT&T Intellectual Property and/or AT&T affiliated companies. All other marks are the property of their respective owners.
100% Financing Now Available for Your New TV System
Its All About Satellites specializes in the 3-5 business day installation of television systems for healthcare facilities. We make 100% financing available for you on both the equipment and the installation through Ascentium Capital.
To make sure you can have your new television system installed within 3-5 business days, Ascentium Capital processes your financing application with a 24 hour turnaround. This way you have low, low upfront costs to install a new high definition hotel television system quickly so your downtime is minimized.
Whether you purchased a property in receivership or are going through a change in brand, we make changing your TV provider and your hotel TV system seamless and easy.
If you are doing renovations along with a brand change, ask about rolling renovations costs into the financing package.
Call 505-296-9423 or 800-951-1979 today
or CLICK HERE to schedule your FREE Site Survey
on DIRECTV for your Hospital or Healthcare Facility