DIRECTV Residential Experience
for Assisted Living & Long-Term Care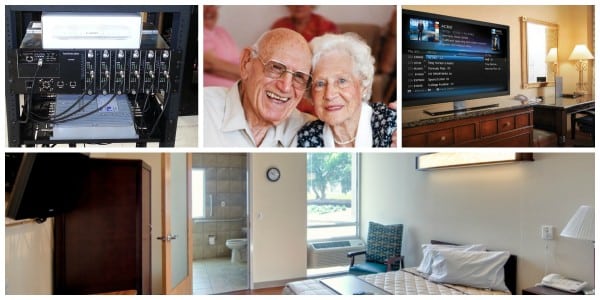 The DIRECTV Residential Experience (DRE) is a Revolutionary TV System for Healthcare and Assisted Living
The DIRECTV Residential Experience (DRE) is groundbreaking, advanced hospitality technology. Unlike other TV systems designed for healthcare and assisted living or long-term care facilities, the DRE is is now available to facilities with all types of wiring schemes (home-run or loop-thru/daisy chain).
Your residents will benefit from access to hundreds of HD channels and exclusive sports programming, like NFL SUNDAY TICKET and the user- friendly interactive program guide they are used to at home.
Facilities utilizing the DRE will benefit from happier residents, PMS integration and now the new DIRECTV  Welcome Screen system.
Unlike Cable and other TV systems, the DIRECTV Residential Experience's advanced technology solution lays the foundation for a more robust, interactive resident experience without the additional, and often costly, hardware requirements.
What Our Customers Are Saying
Our customers tell us that this system allows healthcare and assisted living facilities to give your residents the same TV experience they have at home, including a full residential channel lineup, for less money than other options.
The DIRECTV in-room receiver size makes it easy to mount behind the flat screen HD TV, hiding it from sight and making for a much cleaner looking room.
Instead of limited channels for your guests and the high cost of headend systems and Pro-Idiom TVs or cable, when they installed the DIRECTV Residential Experience (DRE) our healthcare and assisted living customers received advanced technology that is upgradable without additional hardware, more control of your tv system, and easier maintenance with no upfront money, 100% financing and less installation headaches
– at a lower price than cable.
Make Your Residents Feel Welcome with
DIRECTV's New Welcome Screen System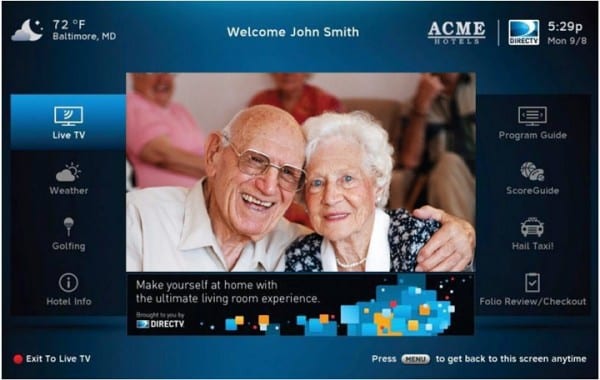 The NEW DRE Welcome Screen
Many of our Healthcare and Assisted Living customers are taking advantage of a system that was designed with hotels in mind – The NEW DIRECTV DRE Welcome Screen.
The Welcome Screen System for the DIRECTV Residential Experience will improve your communication with your residents, giving you a way to streamline reality check information, advertise events, give meal times and menus, and much more.
Reality Orientation Made Easy
Weather, Time, Date, Where your Residents Are Physically At – are all on the home page of the Welcome Screen
With interactive apps and up to 50 pages of locally inserted information along with PMS integration capability, it will enhance your resident's experience and improve your staff's efficiency.
The new DIRECTV Welcome Screen will give your residents a more interactive in-room TV experience with many of our customers using it to give residents interactive info like:
Reality Orientation
Facility Activities, Events, and Information
Birthdays of Residents
Rehabilitation Hours and Appointments
Meal Hours and Menus
TV Program Guide
Sports Scores
The new DIRECTV Welcome Screen system will save your staff time and save you money!
What Icons Would You Like To See
Barry Conley of Its All About Satellites is a member of the DIRECTV Dealer Advisory Council which gives our assisted living and long-term care customers a unique opportunity to have the ear of DIRECTV when it comes to improving the system for use in assisted living.

Our assisted living and long-term care customers are already populating icons in the DIRECTV Welcome Screen system in facilities across the country daily. They are having to modify existing templates that were designed for use in hotels to fit the needs of their facility.
So tell us. What icons would you like us to add, what would benefit you and your residents?
For more information about the DIRECTV Residential Experience
for Assisted Living and Long-Term Care Facilities
Call Barry at 800-951-1979 today