DIRECTV or DIRECT TV in Albuquerque
DIRECTV, DIRECT TV or DIRECTTV?

Whether you spell it DIRECTV, DIRECTTV or DIRECT TV, Its All About Satellites is the premier DIRECTV dealer in Albuquerque and across New Mexico and the Southwest USA and has been since 1996.
As the the oldest and largest Authorized DIRECTV Dealer in Albuquerque, we bring more than 20 years experience serving Albuquerque and New Mexico to the table and have thousands of satisfied DIRECTV customers in:

DIRECTV for Your Home
– Residential
DIRECTV for BUSINESS
– Commercial
– Bars & Restaurants
– Medical, Dental & Health Care Offices
– Automotive Service and Sales
– Gyms and Fitness Centers
– Hair and Nail Care Salons
– Private Offices

DIRECTV for Hotels & Hospitality
DIRECTV for Assisted Living & Long Term Care
– Assisted Living, Nursing Homes, Long Term Care and other Senior Living Facilities 
You get all the benefits of our experience & the unmatched TV experience from DIRECTV.

DIRECTV offers the Ultimate TV Experience, the Most Sports and the Most Advanced TV technology.
At home or on the go, DIRECTV is your ultimate source for the best in video entertainment.
Watch your favorite movies and shows anywhere –  on your TV, laptop, tablet, or cell phone.

DIRECTV offers more full-time HD channels and more sports than anyone—no other TV provider comes close.

And cutting-edge technology takes your entertainment experience to a whole new level.
Call Its All About Satellites today for:
DIRECTV Residential

The 2 Year Price Guarantee Offer
from DIRECTV is Here!
"If you want the best TV service for your money, you wont get it from DISH or Cable. There's a reason why every 9 seconds someone switches to DIRECTV."
Whatever you love to watch on TV in primetime, daytime, or game time, you'll find it on DIRECTV. New Mexico Lobos? Check. The latest from HBO® or SHOWTIME®? Oh yeah. In fact, we have over 310 of your favorite channels – with more than 200 in full-time HD†. Did we mention we also have local channels in 99% of the U.S.‡, including New Mexico?
It's no wonder why DIRECTV is #1 in customer satisfaction compared to all other major cable and satellite providers. Claim based on 2016 ACSI survey of customers ranking their own TV provider's performance.
Contact us today to get started watching the best in entertainment from DIRECTV in Albuquerque.
†To access DIRECTV HD programming, HD television required. Number of HD channels based on TV plan.

‡Eligibility for local channels based on service address. Not all networks available in all markets.
DIRECTV Packages Starting at just $50.00 per month!

Choice™ Package 175+ Digital Channels $29.99/mo.
Xtra Package 220+ Digital Channels $34.99/mo.
Ultimate Package 240+ Digital Channels $39.99/mo.
Premier™ Package 315+ Digital Channels $89.99/mo.

ALL DIRECTV OFFERS REQUIRE 24-MONTH AGREEMENT. ADD'L FEES APPLY.

*New approved residential DIRECTV customers only (equipment lease req'd). Credit card req'd (except MA & PA). Pro-rated ETF fee (up to $480) and Equipment Non-Return fees apply.
Give Your Customers the TV Experience that
Reduces Perceived Wait Time and Increases Customer Satisfaction
from DIRECTV MVP Marketing for Bars and Restaurants
Give Your Guests The Same TV Experience They Love At Home
At a Price That Will Make You Smile!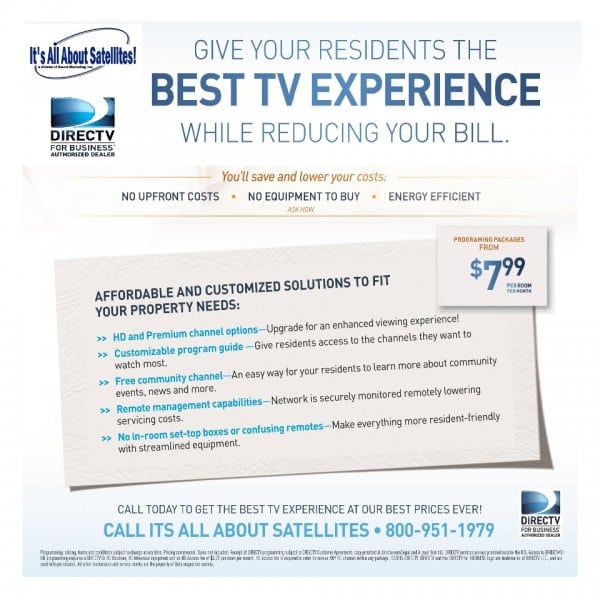 Call
1-800-951-1979 or 505-296-9423
Today


Its All About Satellites is your Authorized Local DIRECTV Dealer in Albuquerque