TV for RV Parks and Campgrounds

– YES! You Can Still Get a New TV System,
Broadband Internet, or Wi-Fi Network for Your Park
by April 1st 2021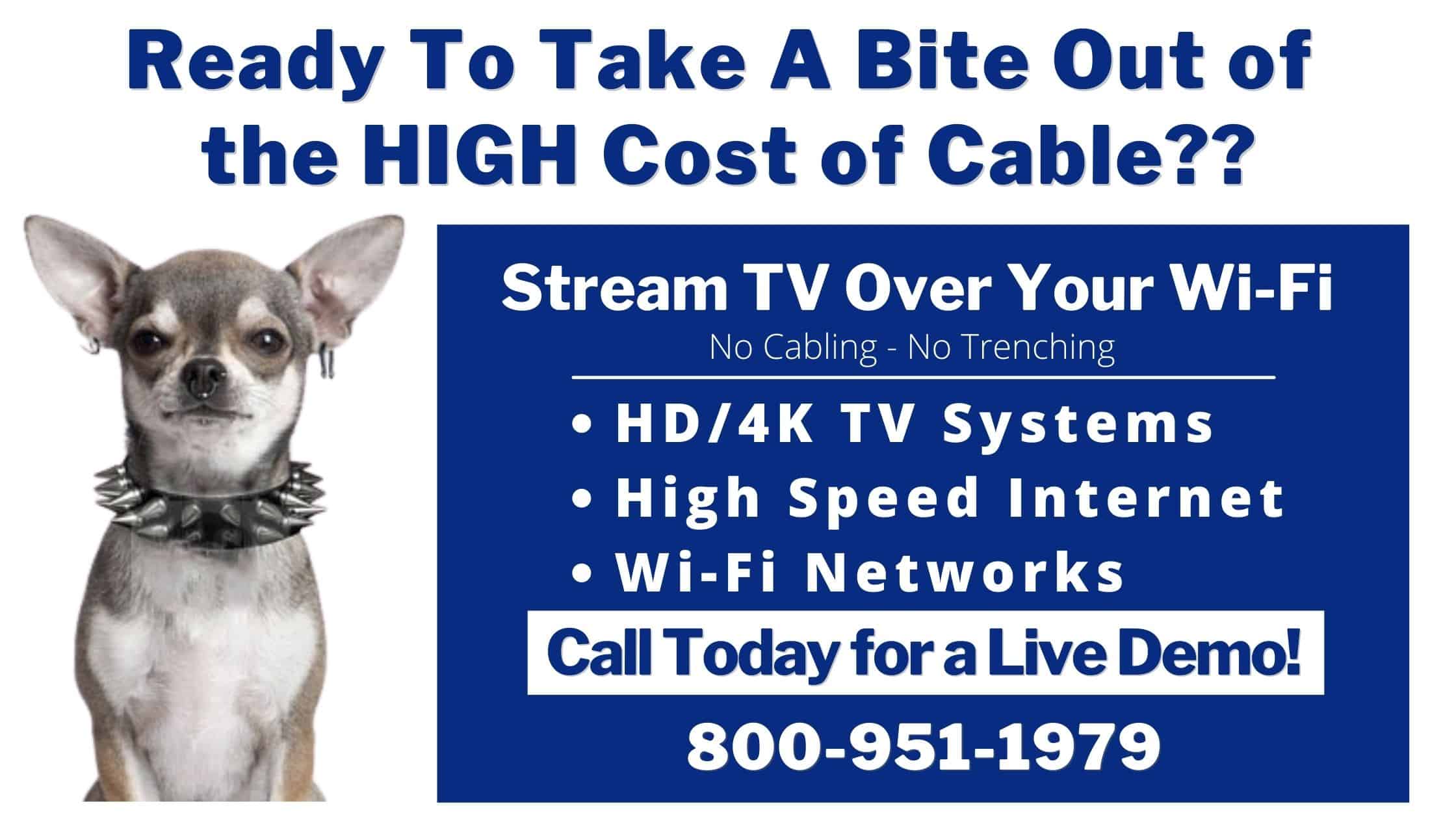 So many of you contacted us after the recent RV Park and Campground industry conferences about a NEW HD TV SYSTEM for your park that does not require converter boxes like the cable companies require and about guaranteed speed internet access and Wi-Fi networks, that I wanted to reach out to your via our website and email.
Most of you were concerned about downtime during installation and wanted the installation done prior to April 1st,the beginning of high season for most parks across the country.
I want to let you know that YES, we can still get your new TV system or Wi-Fi network installation completed before April 1st!
THANK YOU!!
Thank you for coming by the Its All About Satellites/RVParkTV.com booth at the virtual and in-person conferences to find out more about all the technology we can help you with.
I hope that we were able to answer all your questions and to give you all the information you needed to make the decision to switch from cable.
Are Cable TV Converter Boxes Becoming a Costly Headache for Your Park?
One of the biggest concerns RV park and Campground owners expressed to us about your TV systems at the industry conferences was the requirement from cable TV companies for you to distribute converter boxes to each camper that wants to use your TV system.
We were told that having to pass out converter boxes
Cost you and your staff time signing them out and back in,
Cause headaches for you and your staff answering questions
and helping guests hook up the boxes

Cost you as the park owner money when converter boxes are not returned.
What if You could Just Say No to Converter Boxes?
Its All About Satellites has HD TV systems available that require no converter boxes including the Technicolor COM3000 HD/4K headend system from DIRECTV.
We can even stream TV programming through your Wi-Fi network, so your campers (and staff) can access TV on any internet connected device.
Are you ready to find out how you can eliminate converter boxes and save money
with a COM3000 HD/4K Headend TV System or Streaming TV through Wi-Fi?
Give us a call today
for a LIVE online demonstration
800-951-1979

©2021 AT&T Intellectual Property. All Rights Reserved. AT&T, Globe logo, DIRECTV, and all other DIRECTV marks contained herein are trademarks of AT&T Intellectual Property and/or AT&T affiliated companies. All other marks are the property of their respective owners.
Broadband Internet Access

Today, internet access at RV Parks and Campgrounds is not just a nice to have amenity, its a must. According to the KOA North American Camping Study 93% of campers bring mobile devices along with them and 40% say quality internet access helps determine how long they stay.
With COVID, many campers are staying longer and working from your campground too. They not only want internet access, they need it. Are you providing the internet access your campers want and need?
We specialize in bringing you and your campers broadband internet access
True Broadband Speeds for Every Guest

TRUE Broadband Speeds for EACH user – 25 mbps download / 25 mbps upload. Even at peak times your guests can experience the broadband internet speeds they are used to at home.
True Broadband Speed Internet Access Gives You more than fast Internet connections for your guests. It helps your business.
Guests get better access to your online services while they are there
Guests market for you through immediate sharing of their experience
Tour booking made easier and faster
Better employee retention
Business operations are more efficient with faster internet
Accessibility for Digital Signage and In-Park Marketing
Enhanced, 15-ft radius of guest location for E911
Wi-Fi Networks with 100% Park Coverage
In their 2018 North American Camping Study, Kampgrounds of America (KOA) stated that quality Wi-Fi increases the average stay in KOA campgrounds by 2 days per visit.  KOA says those guests are more engaged during their stay and leave more 5 star reviews for the rv park or campground.
Its All About Satellites provides you with:
Turnkey Custom Tailored WiFi Solutions with 100% Coverage – NO Dead Spots!!
No matter the circumstance – tree coverage, challenging topography, even a lake or river in the middle of your property.
WiFi with Streaming Capabilities
Including your TV programming!!
No Limits on Bandwidth For Your Guests
Remote WiFi Management & Monitoring with 24/ 7 Guest Support
100% Financing available
We have financing available for 100% of the cost of your system. You can even roll other improvements to your park into one easy payment.
If you want to lease your next system, our programs may allow you to do that as well. Call me today!
Come See Us In-Person and Online
at the 2021 RV Park and Campground Industry Conferences and Conventions
We look forward to hearing from you and seeing you in-person again at the 2021 Conventions and Expos
We will be sponsoring and exhibiting at all the listed events this spring and many more this year.
2021 CARVC Annual Conference and Expo – February 7-9, 2021
2021 LARVC Spring Conference – March 1-2, 2021
2021 CCLOA Annual Conference (Virtual)
2021 WACO Convention and Trade Show – March 17-21, 2021
2021 MARVC Spring Conference – March 21-23, 2021
2021 Arizona ARVC Convention & Expo  – April 21, 2021
2021 TACO Spring Meeting and Trade Show – April 27-28, 2021
Stay tuned for more events through the year.
In the fall please join us at the following:
2021 ARVC Outdoor Hospitality Conference and Expo 
2021 KOA Annual Convention
2021 LCI Annual Convention
Thanks again,
Barry Conley
President
Its All About Satellites
RVParkTV.com
800-951-1979