The ONLY Guaranteed 1000+ mbps Capacity
Broadband Internet Access and Wi-Fi
for Campgrounds and RV Resorts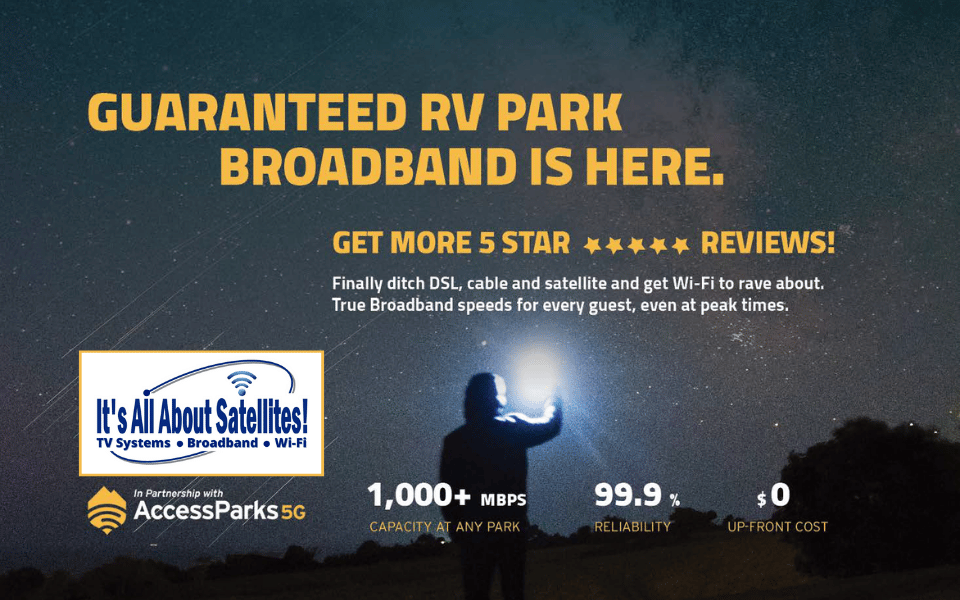 Guaranteed Speed Broadband Internet and Wi-Fi Solutions
for RV Parks, Campgrounds, and Outdoor Hospitality
True Broadband Speeds for Every Guest
We specialize in bringing broadband internet access with GUARANTEED Speeds to remote places like national and state parks, RV parks, campgrounds, and other hospitality destinations.
No matter the topography, the tree coverage, or the time of day, Its All About Satellites has a guaranteed speed broadband internet and Wi-Fi solution for you and your RV park or campground.
Even at peak times your guest can experience the 25 Mbps download and upload broadband internet speeds they are used to at home.

Attract Younger Visitors
Younger campers require more from the internet access your RV park or campground offers than the "aging baby-boomers" that have made up the majority of campers prior to the COVID-19 pandemic. According to the 2018 KOA North American Camping Report:
93% of campers bring mobile devices with them when they RV or camp
25% say sharing their experience on social media enhances their stay
40% say access to Wi-Fi impacts how long they stay
Today more and more younger people are choosing RVing and camping as an alternative to other types of vacations.
"They are hyper-connected to their friends and family, wherever they go, and unless an experience is shared with others, it was not truly experienced. Traveling to a place with no Wi-Fi would be asking much of these citizens, as this essentially asks them to change how they interact with the world. It's not just Netflix that people want to have access to. For example, Wi-Fi calling is really important in these areas."
– Tim Rout – Access Parks

Broadband Internet Speeds = Longer Stays and Better Reviews
for Your RV Park or Campground

In their 2018 North American Camping Study, Kampgrounds of America (KOA) stated that quality Wi-Fi increases the average stay in KOA campgrounds by 2 days per visit.  KOA says those guests are more engaged during their stay and leave more 5 star reviews for the rv park or campground.
No Limits on Bandwidth For Your Guests
One campground internet company has this statement on their website
"NOT EVERY TRAVELER HAS THE SAME BROADBAND NEEDS, BUT NO SINGLE USER SHOULD BE ALLOWED TO CONSUME HE ENTIRE NETWORK. **** WILL ADVISE YOU THROUGH THE PROCESS AND SET APPROPRIATE LIMITS (on internet access) FOR YOUR GUESTS"

That is NOT the case with Broadband Internet Access from Its All About Satellites. Our broadband internet access gives you 25 mbps download and upload speeds for EACH user, so your guests can all use the bandwidth they need to have the very best Wi-Fi experience without limiting their access. No limits need to b set on your guests usage of internet access with our broadband services.
Our Guaranteed Speed Broadband service gives you more than fast Internet connections for your guests. It helps you build and operate your business.
Your guests get better access to your online services while they are there
Your guests market your park for you through immediate sharing of their experience
Tour booking made easier and faster
Better employee retention
Business operations are more efficient with faster internet
Better Accessibility for Digital Signage and In-Park Marketing
Enhanced, 15-ft radius of guest location for E911
$0 Up-front Costs  |  $0 Maintenance Costs  |  Zero Risk
We take the risk with you. You always know your cost as a percentage of revenue.
Its All About Satellites in partnership with Access Parks is a full-service ISP — offering rapid installation at no up-front cost to you, with no disruptions to ongoing operations.
24/7 Support
Expectations for Wi-Fi in the hospitality industry are increasing year over year. We are available 24 hours a day, 365 days a year to help you get your valued guests and your staff connected and keep them connected.
Call 800-951-1979 today
for more information and a site survey on
Guaranteed Speed Broadband Internet Access
and Wi-Fi with NO Dead Spots
for your RV Resort, Campground, or Hospitality Business