WiFi for RV Parks and Campgrounds
100% Coverage = No Dead Spots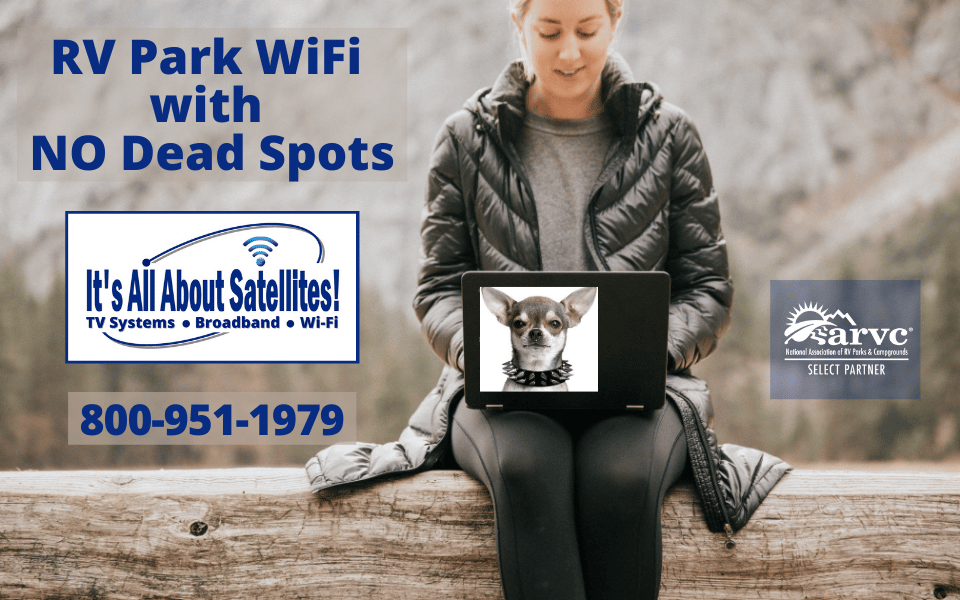 WiFi Connectivity for Outdoor Hospitality
The demand for WiFi access at campgrounds and RV Parks has shifted from "nice to have", to an expected amenity. A necessity. WiFi network performance has become a business-critical requirement because your guests have come to expect a reliable WiFi connection.
WiFi expectations are increasing every year with the rise of the connected traveler. According to the KOA North American Cam[ping Study, 93% of campers bring one or more mobile device and 40% determine how often and how long they will camp based on the availability of quality Wi-Fi. 25% of campers say that it enhances their experience to be able to share their camping trip on social media.

Do your guests complain of dead spots in your WiFi?
Places in your park where they can't access your network?
No matter the circumstance – tree coverage, challenging topography, even a lake or river in the middle of your property, Its All About Satellites has a broadband internet and WiFi solutions that will allow your guests to access WiFi throughout your property with no dead spots.
We'll ensure your guests stay connected with a mobile optimized network, allowing them to roam from one end of your RV Park or Campground to the other with their mobile device always connected.
Remote WiFi Management & Monitoring with 24/ 7 Guest Support
RV Parks are often in rural or semi-rural areas where Internet speeds are slower and more expensive, electrical supply to the system and access points may be less stable and links between access points is usually wireless instead of wired. Add exposure to elements such as rain, wind and lightning and the equipment is subject to more wear and needs attention more often.
Managing your staff and guests' experience as well as the WiFi network can be time consuming and taxing for you and your staff. An easy to manage Wi-Fi network is a critical need so there is no disruption in your services. We are available 24 hours a day, 365 days a year to help your valued guests get connected and stay connected.
WiFi for RV Parks and Campgrounds with Streaming Capabilities
Modern travelers don't just want to tell scary ghost stories; they want to stream them around a campfire. With our broadband internet access and custom tailored WiFi solutions, Its All About Satellites can provide streaming quality WiFi for your guests.
No Limits on Bandwidth For Your Guests
With smaller bandwidth broadband internet solutions, other internet providers force you to set limits on usage for your valued guests and your RV park WiFi. not with Its All About Satellites. With 1000+ mbps broadband, guests can use the bandwidth they need to have the very best WiFi experience.
Call 800-951-1979 Today
For more information on WiFi with no Dead Spots
for Your RV Park or Campground