NFL SUNDAY TICKET is FREE on New DRE & DRE Plus Accounts with DIRECTV for Hotels

Get NFL SUNDAY TICKET 2015 FREE on DIRECTV for Hotels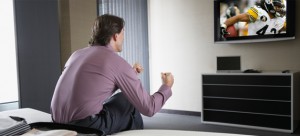 NFL SUNDAY TICKET is the hottest programming for hospitality and now when you install a DIRECTV Residential Experience hotel television system with a new 5 year programming agreement, you get NFL SUNDAY TICKET 2015 for your guest rooms at no extra charge for the first year. This applies to both the DRE and the DRE Plus hotel television systems!
NFL Sunday Ticket and DIRECTV DRE and DRE Plus give every room in your hotel an opportunity to catch Every Minute of Every Game, Every Sunday! Just another example of how DIRECTV offers the best entertainment experience for our Hotel and Motel customers.
This offer is only for the 2015 season and will not auto-renew in 2016. The 2nd year of NFL Sunday Ticket for your guest rooms with the DRE Plus is just $99 with the price going to regular rack rate in years 3-5.
With the un-managed DRE, the price goes to the regular rack rate in year 2-5.
NFL SUNDAY TICKET Now Available for all DIRECTV for Hotel Accounts
NFL SUNDAY TICKET is now available on all DIRECTV lodging and institution accounts regardless of the DIRECTV hotel television system type you install.
Whether its a COM1000 or COM2000 Pro:Idiom HD Headend or a DIRECTV Residential Experience DRE or DRE Plus, your guests can now enjoy NFL SUNDAY TICKET.
Call us at 800-951-1979 for pricing
Existing DIRECTV DRE and DRE Plus Customers Getting a Great Offer Too!
Existing DIRECTV DRE Hotel customers, we are not leaving you out. We have a great offer for existing DRECTV DRE Hotel customers.
Right now, your existing DRE Plus properties can get the entire season of NFL SUNDAY TICKET at a $396 flat rate for up to 200 rooms and $549 for hotels with more than 200 rooms!
Don't have DIRECTV for Hotels Yet?
Call Barry at 800-951-1979 Today
We can have your new hotel television system
financed and installed in as little as 3 business days