What is Pro:Idiom?
& What Does Pro:Idiom Mean for Your Hotel?

Digital Rights Management & Why We Use Pro:Idiom

Content protection was not an issue for standard definition hotel television systems during the analog era and Pro:Idiom encryption was not needed. As satellite and cable TV providers and hotels have moved to TV systems that provide fully digital, high definition (HD) signal, content providers have required digital rights management to protect their intellectual property, the movies and shows your guests are watching.
Today the high definition television signal you receive on your Hotel TV System from the satellite or cable TV provider is 100% digital. That digital television content is easily pirated if the signal is not encrypted.
Content providers like HBO, SHOWTIME, ABC, and other TV and movie channels are requiring hotels to have an encrypted signal going to the television in their rooms to prevent piracy of the content they produce.
What is Pro:Idiom?
Pro:Idiom™ is an encryption technology developed by LG for use in the hospitality industry for the secure delivery of high definition digital television & video on demand (VOD) signals. Pro:Idiom is used in the hospitality industry to protect digital signals that deliver television and video-on-demand to guestrooms.

HBO, Showtime, Discovery, Disney, ESPN and other digital television content providers require encryption of the HD signal in FTG Hospitality environments where a set top box is not present in each room in order to protect their content from piracy.
Click to access LG-Infographic-What-is-ProIdiom.pdf

How Does Pro:Idiom Work?
The delivery of Pro:Idiom encrypted HDTV signals requires a TV distribution system that allows a central decoder in a hotel to decrypt video from a high- definition headend or satellite feed and then re-encode it for secure delivery to TV sets in each room that are equipped with the Pro:Idiom chip or to a set-top box for each TV.
What Does Pro:Idiom Mean For Your Hotel
Because of the need for encoding and decoding the digital signal, Hotels will either have to:
Use a headend system such as the Technicolor COM3000 HD/4K headend from DIRECTV


and purchase Commercial TVs that have the Pro:Idiom decoder integrated into the TV tuner
Or
Use set-top boxes at each TV to decode the signal 
What type of Hotel TV System will I need for Pro:Idiom?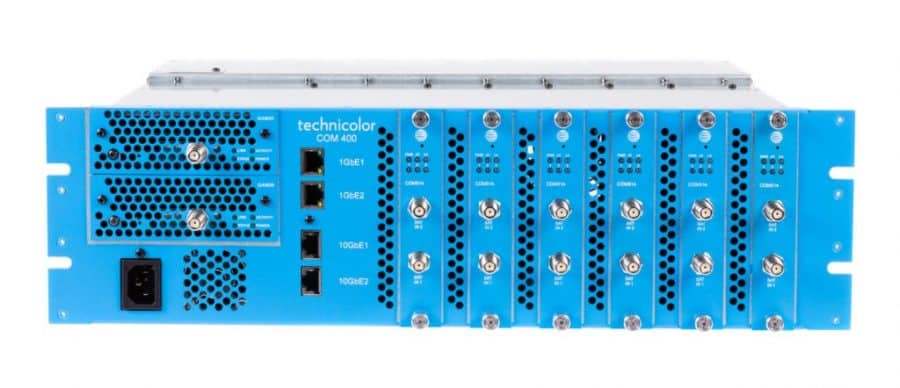 Among headend systems, the COM3000 Pro:Idiom 4K/HD Headend System is the most advanced and most cost effective system available.
For the past 2 decades, the COM1000 HD Headend Systems and COM2000 HD Headend Systems from Technicolor (formerly Thomson) have been the industry standard for hotel television systems.
The COM3000 adds 4K capability as well as the ability to deliver 138 channels from a single headend (pictured here).
High definition headend systems utilizing Pro:Idiom eliminate the need to use set-top boxes in-room.
With legacy headend TV systems, set-top boxes are a possible signal security fail point in your Hotel TV system and a COM3000 4K/High Definition Headend system eliminates that signal security fail point.
What Type of TVs Do I Need for Pro:Idiom?
An encrypted hotel television signal requires a TV that can decrypt that signal. LG, Samsung, Panasonic, Sharp, and Philips manufacture hospitality televisions that have an integrated Pro:Idiom chip to make that encrypted signal visible on the TV without the need for converter boxes.
Pro:Idiom is widely used in hospitality environments and is quickly becoming the standard for hospitality televisions with the largest Hotel brands from Choice to Hilton are specifying it as their approved TV type.
The Technicolor COM system which includes the NEW COM3000 HD/4K headend system, and the COM1000 and COM2000 High Definition Headend Systems using the Pro:Idiom Digital Rights Management is installed on more than 2.0 million out of the 5.5 million total screens in the U.S. hospitality industry.
Call Barry at 1-800-951-1979 Today

---
©2021 AT&T Intellectual Property. All Rights Reserved. AT&T, Globe logo, DIRECTV, and all other DIRECTV marks contained herein are trademarks of AT&T Intellectual Property and/or AT&T affiliated companies. All other marks are the property of their respective owners

(Pro:Idiom™ is a trademark of the LG Zenith Corp.)
#Proidiom #Technicolor #com3000 #DIRECTV #TVsystem #tvforhotels #headend #tech #TV