Join Us at the 2015 NMHCA/NMCAL Convention September 16th-18th at the Embassy Suites ABQ
 

Its All About Satellites is proud to once again be an exhibitor at the 2015 New Mexico Healthcare Association Convention.
The theme of this year's NMHCA/NMCAL Convention is B# Sharp – Strive for Quality
The 2015 NMHCA/NMCAL Convention will be held Wednesday September 16th to Friday September 18th at the Embassy Suites Albuquerque at 1000 Woodward NE Albuquerque, NM 87102.
This amazing convention will feature speakers from the healthcare, assisted living, developmentally disabled care, long term care and nursing home industry and is focused on advancing excellence in long term care.
To register for the 2015 NMHCA/NMCAL Convention, please visit nmhca.org/conventionregistration
We Will Be Exhibiting the New DIRECTV TV System Technology
for Healthcare, Assisted Living and Long Term Care Facilities

Come join us at Booth 50 to learn more about the newest television system technology for Healthcare, Assisted Living and Senior Care from DIRECTV including the New Welcome Screen System for the DIRECTV Residential Experience.
Learn how this new technology can help you save money, make your staff's jobs easier and provide a more entertaining TV experience for your residents.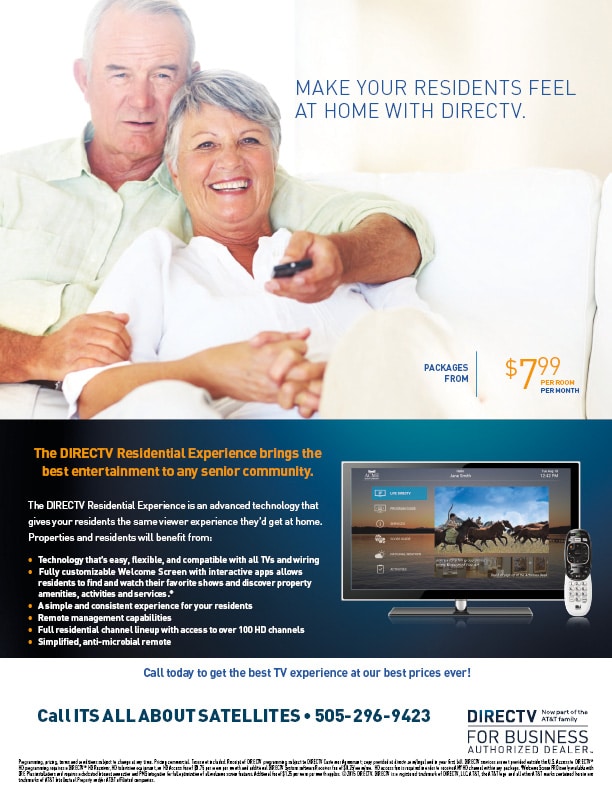 If you are unable to attend the 2015 NMHCA/NMCAL Convention and would still like to receive information on television systems from DIRECTV that provide the latest technology and most affordable TV solutions for Assisted Living, Nursing Homes and Long Term Care
Download a copy of the DIRECTV for Assisted Living flyer Above
Contact Barry at 1-800-951-1979