NFL Fantasy Football Draft Marketing Support from DIRECTV Just Got Even Bigger
Fantasy Football is Hot for Bars & Restaurants!
According to Forbes, 32 Million Americans play Fantasy Football and spend $11 billion playing. DIRECTV is helping you capture your part of that market by turning your bar or restaurant into NFL Fantasy Football Draft War Room!
NFL Fantasy Football is hot and the demand for fantasy football information so prevalent that is has caused DIRECTV to create the new Fantasy Zone Channel for NFL Sunday Ticket Subscribers.
Every NFL Fantasy Football League Starts with a Draft
Every fantasy football league has a draft to kick off its season. Friends get together and pick their teams. DIRECTV has put together amazing marketing kits to turn your bar or restaurant the Fantasy Football Draft War Room.
NFL Fantasy Football Drafts Drive Traffic for Bars & Restaurants
32 million people will be playing fantasy football this year.  Use fantasy football draw in customers for fantasy drafts during preseason NFL Football & boost your revenue during this typically slow time.
NFL fantasy football is a great way for you to build awareness that you will be showing NFL Sunday Ticket when the NFL regular season starts and generate even more sales with football fans who spend nearly $11 billion per year participating in NFL fantasy football.
DIRECTV Fantasy Football Draft Marketing Kits
DIRECTV is now taking orders for the 2014 NFL Fantasy Football Draft Marketing Kits. The kits, which were a big hit last year, are available to all existing and new Bar and Restaurant DIRECTV subscribers. To order a kit, your bar or restaurant does not need to be NFL SUNDAY TICKET subscriber.
Valued at $399, NFL Fantasy Football Marketing Kits help you to promote your bar or restaurant as the ultimate place for fantasy football fans to hold their drafts before the season begins. Kits include a wide range of marketing materials, including:
(4) Draft Boards

(4 sets) Draft Sheets

(4 sets) Branded Pencils

(4 sets) Color Coded Player Labels

(4) Timers

(1) Wall/Window Poster

(200) Drink Coasters

(100) Check Presenter Inserts

(1) 2-Sided Window Decal

(10) Server/Staff Buttons

(1) Playbook
Everything you need to let all your customers know you are the NFL Fantasy Football Draft War Room!
ORDER AS MANY "FANTASY LEAGUE PACKS" AS YOU WOULD LIKE
When you start marketing your bar as NFL Fantasy Football HQ, many leagues will want to come in and have their NFL fantasy football draft in your fun environment, so DIRECTV is making additional Fantasy League Packs available for you for just $10.00.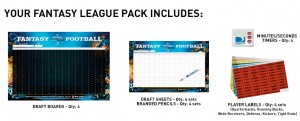 Your Fantasy League Pack includes: (4) Draft Boards, (4 Sets) Draft Sheets, (4 Sets) Branded Fantasy Football Pencils, (4) Timers, and plenty of Color Coded Player Labels
Call 800-951-1979 or 505-296-9423 Today
for info on the DIRECTV Fantasy Football Draft Marketing Kit
and
For Pricing on NFL Sunday Ticket
for Your Bar or Restaurant