Are You Coming to OHCE?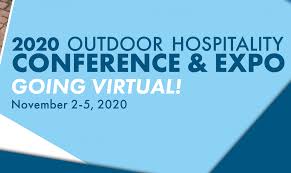 The 2020 Outdoor Hospitality Conference and Expo (OHCE) opened earlier today (Nov. 2), with 750 attendees registered for the National Association of RV Parks and Campgrounds' (ARVC) annual conference.
Its All About Satellites is once again a Gold Sponsor and Select Partner at the ARVC Outdoor Hospitality Conference and Expo and we would like to invite you to come to the conference and speak with one of us personally.
We will be exhibiting the best in –
At a typical in-person ARVC OHCE conference, there are hundreds, even thousands of people walking past our booth every day. At the Virtual OHCE, you can set an appointment to talk with us or click on a link in our booth for a private virtual meeting so you are guaranteed to get our undivided attention.
For more information about how you can attend, visit http://www.arvc.org/ohce

If you are unable to attend this year's OHCE
but would like to talk to Barry or Ted,
simply dial 800-951-1979 Today.
---
We looking forward to serving your park's TV and Internet needs.
Sincerely,
Barry Conley
President
Its All About Satellites