Virtual Hospitality Expo Set to Open Again on Oct. 20-21
This Time For FREE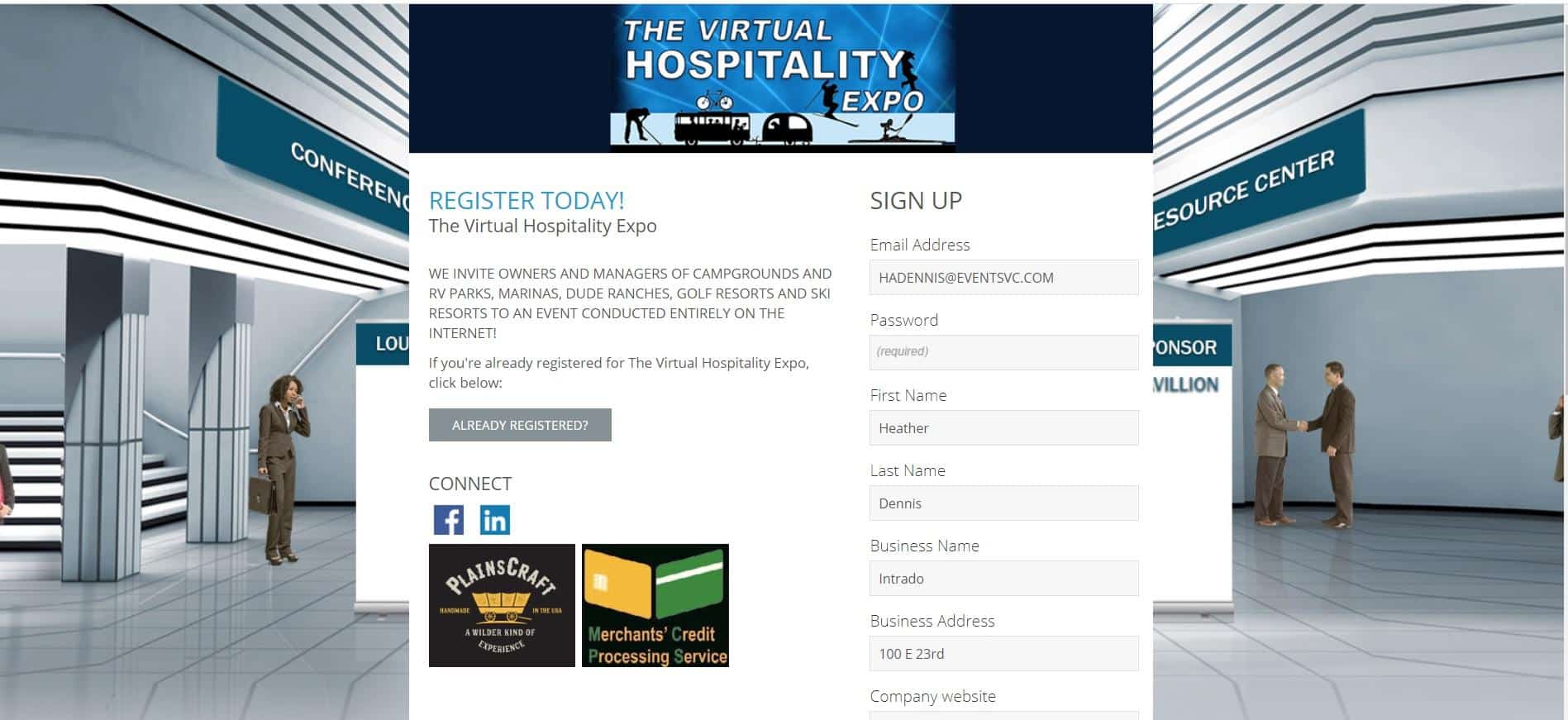 When: Oct. 20 and 21, from 9 a.m. to 5 p.m. EST
Where: www.virtualhospitalityexpo.com
How to Register: Visit the website above or call 855-666-6277
virtualhospitalityexpo@yahoo.com

This column was written by Art Liberman, CEO of MCPS for Campgrounds, a credit card processor. Lieberman, along with Deanne Bower are the co-producers of the 2020 Virtual Hospitality Expo.  The article was originally published on Woodall's Campground Management website at https://woodallscm.com/
It took us nine years to learn a lesson that should have been obvious to us at that time. In 2011, when we produced the Virtual Outdoor Hospitality Expo on the Internet the software wasn't perfect, but the event, heavily promoted, managed to attract 3,379 business people to attend.
So, this year, after we received correspondence from three state associations asking us to produce the event again after their shows had been canceled by the pandemic, we decided to find the perfect software to do another Virtual Expo. We did several weeks of exploring every company we could find that was experienced in virtual events. The best, we thought, was Intrado, which under another name, we did speak to nine years previously.
Their software seemed exquisite, user friendly, and totally adaptable to our needs. What wasn't exquisite, however, was their price. It was nearly THREE TIMES what we had paid in 2011. However, they would finance the production, so we had no upfront costs. Doing the math was easy from that point on. We needed to sell 30 or so booths and have only 300 to 400 people come at only $100 per venue (not per person) and we could easily pay Intrados' price.
During the course of the next nearly six months, between sponsorships and exhibitors, we raised more than half the money needed and by only charging $100, we only needed about 250 paying attendees to break even.
We didn't get it! We wondered why, we sent out thousands of emails, advertised, and wrote several articles a week — we felt there was no way we couldn't draw 300 or 400 campground owners to our event.
In the meantime, the show was taking shape, albeit slower than we had wished. Some of the booths are so good, that they are as good or better than they would be at a real show. In order to do a real show, PlainsCraft should bring their covered wagon to the actual venue. It is HUGE – 25 feet by 10 feet and it is gorgeous. Virtual shows caused them to create dynamic videos which can be seen in their booth. And their presence there is easy with no travel, no hotel, no meals…etc.
They decided to make an impact at our Expo, by becoming a Platinum Sponsor and having their name plastered on banners, signs and in every promotion of our Expo. There are 34 booths, consisting of 11 sponsors, five state associations and a wonderful variety of suppliers of goods and services.
There are five, now recorded, Open Forums with experts discussing everything from essential services, to how to draw non-RVers to your campground to how joining an association would benefit your campground.
There are also two Forums that deal either directly or indirectly with glamping. Here, is where we learned that charging attendees to register for FREE, as we did in both 2010 and 2011 paid off and charging them $100 didn't reach any goals.
From Oct. 13-15, the VIRTUAL Glamping Show USA will be running. If an attendee ONLY wants to register for the Expo portion and not the webinars, it is free to do so. They have announced that at this writing they have over 1,500 registered attendees for that event. I'd bet over 80% of them are free attendees. We are one of them.
They have, no doubt found what is the hottest topic in the outdoor camping industry and they are very professional at making their event happen. We look forward to it next week.
But, in the meantime, we had to try to make it up to the wonderful exhibitors who had faith in our virtual event, scheduled months before the other events were forced to go to virtual mode.
We reached an Agreement with Intrado to allow the Virtual Hospitality Expo to go into a "semi-live" mode. All of the participants will have the opportunity to be IN THEIR BOOTHS on Oct. 20 and 21, from 9 a.m. to 5 p.m. EST. The now-recorded Open Forums will be viewable, the Research Library will be open, and the Lounge (the Expo's chat room) will also be active.
In the Lobby, where registration takes place now for FREE, is the Souvenir Program which is downloadable for future reference. The Lobby is the gateway to all of the other "rooms" of the Expo. The Expo isn't even finished on October 21. It will then go into the On-Demand mode and you can go back as often as you wish until New Years' Eve.
The easiest way to register is to go to www.virtualhospitalityexpo.com and hit the register here button which will take you directly into the Lobby and the registration tab. Once registered, you can come back as often as you like.
Although there are some glamping businesses there, the Virtual Hospitality Expo deals with other goods and services, which are of interest to all campgrounds (and some other hospitality businesses).
Don't miss this event, the Glamping Show USA or the National Association of RV Parks and Campgrounds' Outdoor Hospitality Expo and Conference (OHCE), which runs from Nov. 2-5.
You can't HAVE enough information. Especially when it doesn't cost you anything.
---
Its All About Satellites will be exhibiting at the Virtual Hospitality Expo again. Look for our booth and ask us about TV Systems, True Broadband Internet Access, and Wi-Fi with No Dead Spots.
If you are unable to attend the Expo
Call 800-951-1979 Today
for more information about
TV Systems, Broadband Internet, and WiFi
for your RV Park or Campground