Stream TV Over Your RV Park or Campground's WiFi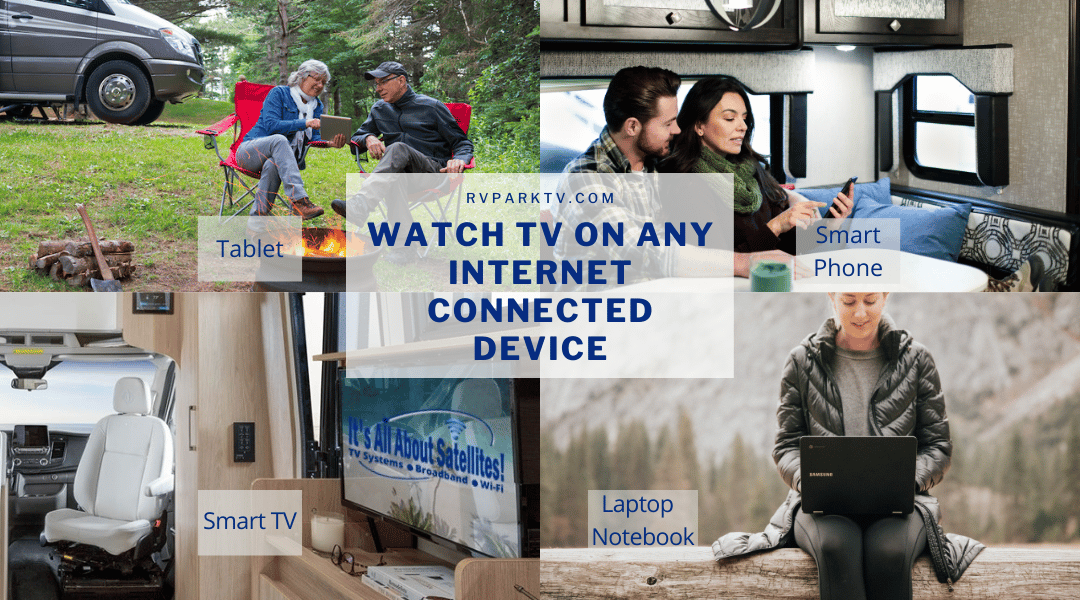 Stream TV Over Your WiFi
Its All About Satellites / RVParkTV.com can now help you STREAM TV over your Wi-Fi network to each of your guests.
Whether its Local Channels via an off-air antenna or Satellite services like DIRECTV, your campers can watch LIVE TV on any Internet Connected Device within your WiFi network's footprint throughout your RV Park or Campground.
How is Your Cable Plant?
For many RV Parks and Campgrounds a big problem in getting quality TV Service to your campers is your cable plant, the wiring that runs underground to the pedestals at each campsite.
Installing and maintaining that cable plant can be a huge cost for park owners.
Whether you are a brand new park or an existing campground, it can cost thousands or even tens of thousands of dollars installing a coaxial distribution system or updating / upgrading an existing coaxial distribution cable plant.
If you own an existing park, maintaining your aging cable plant can mean trenches to dig, lines to repair from guests pulling out of a spot still connected or landscaping mishaps such as cut lines, or water damage to your existing coaxial distribution. The costs can pile up.
There may even be questions as to who owns the wiring in the ground at your park.  Do you own it or is it the property of the Cable Company??  If you choose to change providers, without a WiFi streaming system, you may have to purchase that cabling from the cable company or invest in re-cabling the entire park.
Watch TV on Any Internet Connected Device
Today your campers want to watch TV and Videos on their Smartphone, Tablet, and Laptop as well as on a TV. You can make that possible for your guests with WiFi Streaming, or IPTV (Internet Protocol Television).
Some examples of IPTV Streaming you may be familiar with are Video on Demand and Netflix, Hulu, and Disney +.  Streaming is quickly becoming popular due to trends towards internet connected mobile devices.
At It's All About Satellites we have the newest technology to STREAM TV over your WiFi Network!
What is Internet Protocol Television (IPTV)
Internet Protocol Television or IPTV is a system that delivers television content over Internet Protocol networks like your WiFi network instead of delivery through traditional formats like satellite or cable television.
The major difference between traditional cable TV and IPTV streaming is the fact that with a cable box every signal from every channel is "ready to go" at the cable box.  With our streaming TV system users on your WiFi network are only getting the feed of the channel they have selected, not all the channels.  This way it doesn't overwhelm your network when multiple users log on.  
What are the benefits of RVParkTV.com's WiFi Streaming TV System?
No Cabling or Trenching and No Disruption to Your Park

Watch TV on ANY Internet Connected Device

Every Camper Can Stream Live TV Programming
While there are several distinct benefits of WiFi Streaming, at the top of the list is that with WiFi Streaming your park does not have to have or maintain an underground cable plant to deliver TV to your campers.
You can save thousands of dollars by not having to install a coaxial system at a new park or updating or upgrading coaxial distribution at an existing campground.
There is no disruption to your park when streaming your TV content, no trenches to dig, no lines to repair from guests pulling out of a spot still connected or landscaping mishaps such as cut lines or water damage to existing coaxial distributions.
By streaming, the TV at your park can be accessed through your WiFi network on your guests Smart TV, Smartphone, Tablets, PC's and Laptops.
Your campers can Stream everything from Live Television to Movies to your own In-House Community Channel.
Our Streaming Technology uses predictive streaming that "dummies" down the full blown 1080P to a 480P packet, so it is only using 2.5 to 3.0 mbps per device.
That minimizes the impact on your network and allows more users to be logged on at one time.
Hosting Streaming TV Content
STREAMING is the next evolution of TV for your RV Park or Campground and with so many benefits and increased demand for Streaming Services it is clear to see why it is becoming such a popular way to send video content.
Streaming is changing consumer behavior and its critical to have a Strong Host WiFi Network from a Trusted Partner when it comes to maximizing your Streaming performance and user experience..  It's All About Satellites /  RVParkTV.com is here to help!
Whether your goal is to provide an Amenity level WiFi that allows your guests to surf the web and check email or a WiFi system that allows them to Stream TV and be Monetized,  It's All About Satellites offers WiFi and TV packages specifically designed for your RV Park and Campground.
Call 800-951-1979 Today
Contact us and we will guide you through establishing or maximizing your WiFi TV Streaming Service!
---
Stream TV Over Your WiFi
Up to 20 channels with $0 monthly programming costs.

$0 upfront costs. (

with Lease through Ascentium Capital. OAC)

No Cabling or Trenching.

No Converter boxes.