Television Systems for Assisted Living
– What Are Your Choices?
Choosing a TV System for your assisted living or senior care facility used to be simple. Today with all the types of high definition TVs and programming, DRM encryption, and the requirements for each television system type including things like the type of wiring in your walls, wading through all your options can be a daunting prospect.
Cutting through all the terms and system types is only the first step for the assisted living facility owner or administrator.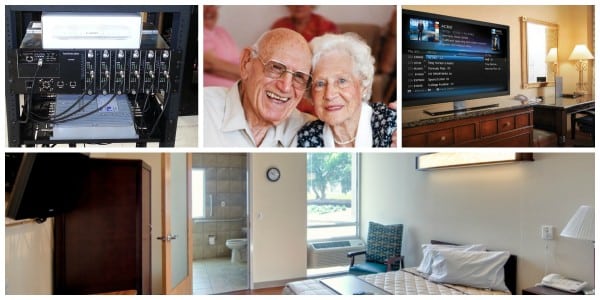 TV System Wiring in Assisted Living Facilities
The first thing you need to look at to determine what type of television system you can have is the wiring or cabling. Wiring types and cabling configurations will narrow your choices of TVs and TV systems.
There are several things you need to determine in terms of the wiring in your assisted living facility television system.
1st, what type of wiring is in your walls right now. Is it:
Once you have determined what type of wiring is in the walls, then you need to determine the configuration of your TV System wiring. Is it:
Home Run
Series or Daisy Chain
Once you have determined the type and configuration of the wiring in your facility, then you will have a better idea of what types of television systems for assisted living that are possible for you to install.
TV Systems for Assisted Living & Long Term Care
– System Types & Encryption
There are many different types of high definition TV Systems, DRM encryption and television sets available for your assisted living or senior care facility.
So what are the different types of television systems that are available for your property and which system is the best fit for your needs?
Some other question to ask when deciding which system to choose are; do you already have HD TVs installed, will you need local channel insertion, do you need reality programming (day, date, weather, location information, daily activities, etc…) on your TVs , do you want PMS integration, do you have limited space available for the new TV system?
TV Programming Suppliers for Assisted Living
TV programming for your assisted living facility is available from many different sources. We help you find the programming package that best fits the desires of your guests and your budget.
Dish
Cable
OTA – Over the Air Local Programming
High Definition Television (HDTV) Types
Before HDTV, picking a TV meant which brand were you going to buy. Today, in addition to brand, you have many choices to make when it comes to your HDTV. Your choices on what TV to buy, will be determined by your wiring, your TV system and the DRM encryption required.
Mpeg-2
Mpeg-4
LCD, LED, Plasma
Many properties have installed new HD flat screen TVs, but have not switched over to HD programming because of a fear of the costs involved and the downtime while a whole new system is installed. In a 24/7/365 industry, the ability to simply cut over to a new system with little or no downtime is a critical factor.
If you have not yet purchased your TVs thats a good thing. Some of your choices of what TV types you can use will be determined by the section on television system wiring above.
All of these terms must be understood and choices made before you can purchase a television system for your assisted living or long-term care facility.
What Do We Do
Since 1996 we have specialized in designing and installing Television Systems for Assisted Living & Senior Care facilities and the healthcare industry. We will make choosing your next TV system as painless as possible and provide extraordinary 24/7/365 technical support and service after the installation.
It's All About Satellites is here to help you fight through the clutter and understand the best TV system for your needs and the needs of the residents at your assisted living or long term care facility.
Call  Barry Today at 505-296-9423  or  800-951-1979
to schedule a FREE Site Survey for your facility
Find the TV System that fits your property's needs