Showtime Championship Boxing Now Available
for Your Bar or Restaurant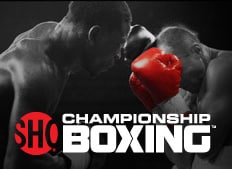 SHOWTIME® and DIRECTV® are giving you the opportunity to show your Bar or Restaurant customers the SHOWTIME® Championship Boxing Series!  Take advantage of this offer and give your boxing fans this exciting action now!
This boxing series features the world's top championship fighters in the sport today. With 7 fights available for just one low price, this bundle is an incredible value for you and another great way to attract more patrons to your bar or restaurant.
CLICK HERE NOW for list of all the great bouts scheduled
on the Showtime Championship Boxing Series on DIRECTV
Fight Dates:
August 9
August 16
September 6
October 11
November 8
November 15
December 6
Pricing for Showtime Championship Boxing on DIRECTV (Full Series Bundle of 7 Fights):
Estimated Viewing Occupancy (EVO) Tier
1-50 – $899
51-100 – $1,099
101-150 – $1,299
151-200 – $1,499
201-500 – $1,699
501-1,000 – $2,099
1,001-2,000 – $2,499
2,001+ – $2,999
Casino – $3,699
For complete information on pricing for the Showtime Boxing Series on DIRECTV
Click Here Now to download a flyer
DIRECTV Helps You Promote Showtime Boxing in Your Bar or Restaurant
Through the DIRECTV MVP Marketing program, DIRECTV is giving you the marketing resources you need to promote Showtime Boxing in your bar or restaurant. Posters, Coasters, and much more is available.
Customers who subscribe to this Showtime Boxing series bundle will receive:
FREE Showtime Boxing Bundle Promotional Poster
FREE promotional Poster for each Showtime Boxing event delivered monthly
100 Credits to order additional Showtime Boxing promotional material on DIRECTVMVP.com
Call 800-951-1979 or 505-296-9423 Today
for more information on DIRECTV for Business
and Showtime Boxing for your Bar or Restaurant