Its All About Satellites and DIRECTV at Albuquerque International Balloon Fiesta 2013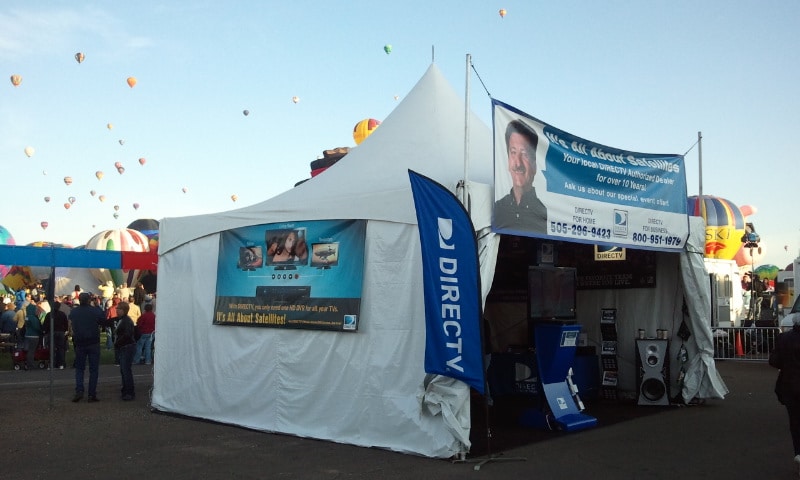 Saturday October 12th @Balloon Fiesta
After a beautiful day and record crowds for the balloon glow last night, we are having an absolutely perfect day out at Balloon Fiesta Park today.
This is the final weekend of Balloon Fiesta, so come by and see us tonight or Sunday for your last chance to get our special commemorative pin and DIRECTV deals that are only available at Balloon Fiesta.
Here are a couple of beautiful photos from this morning: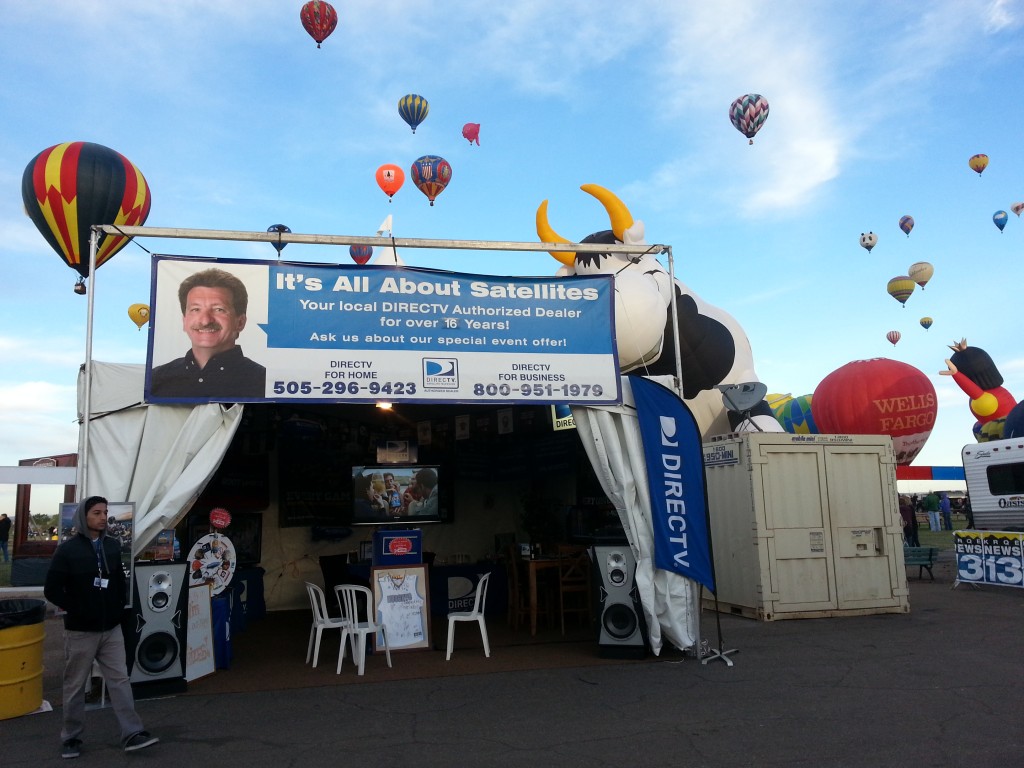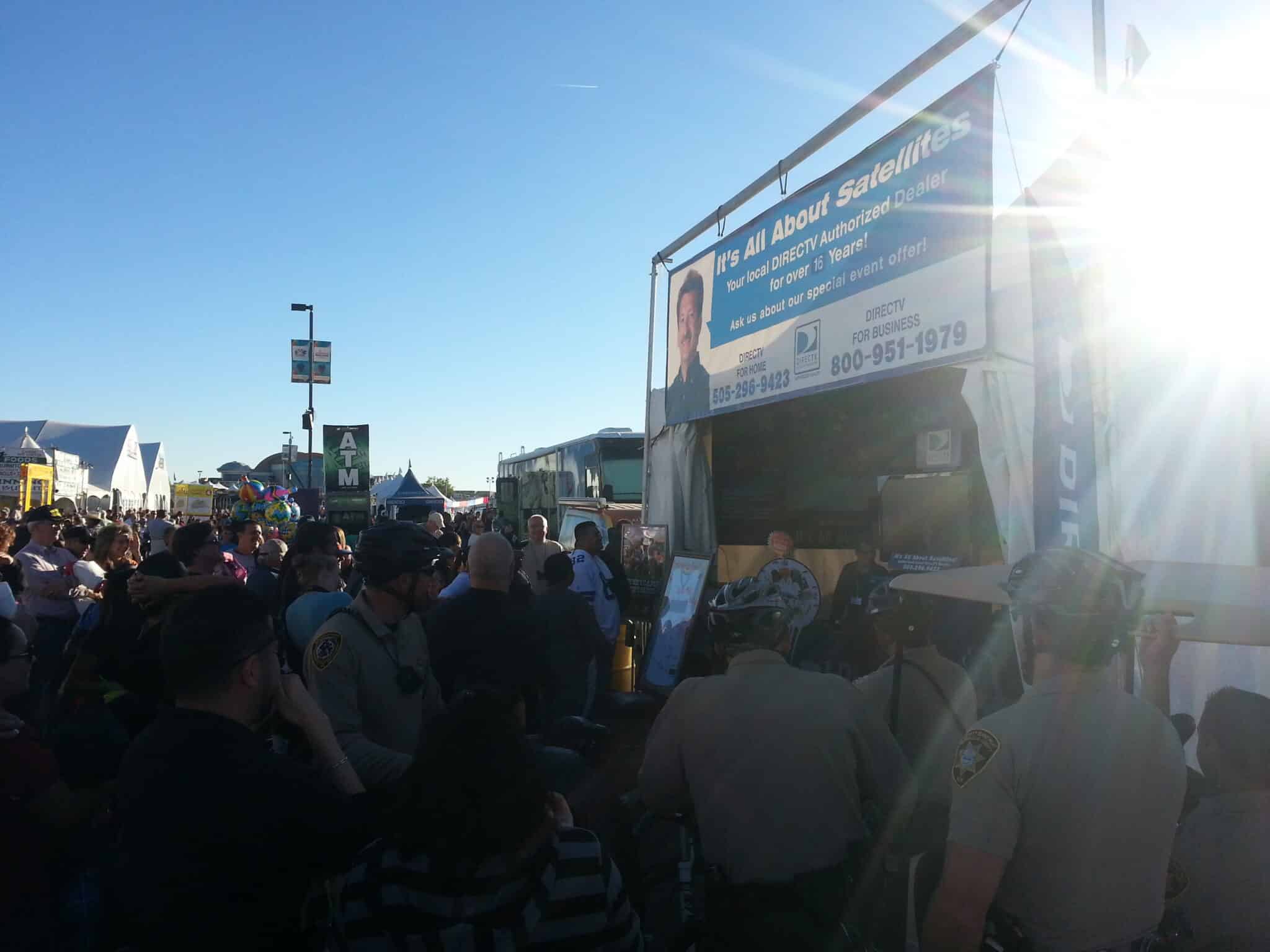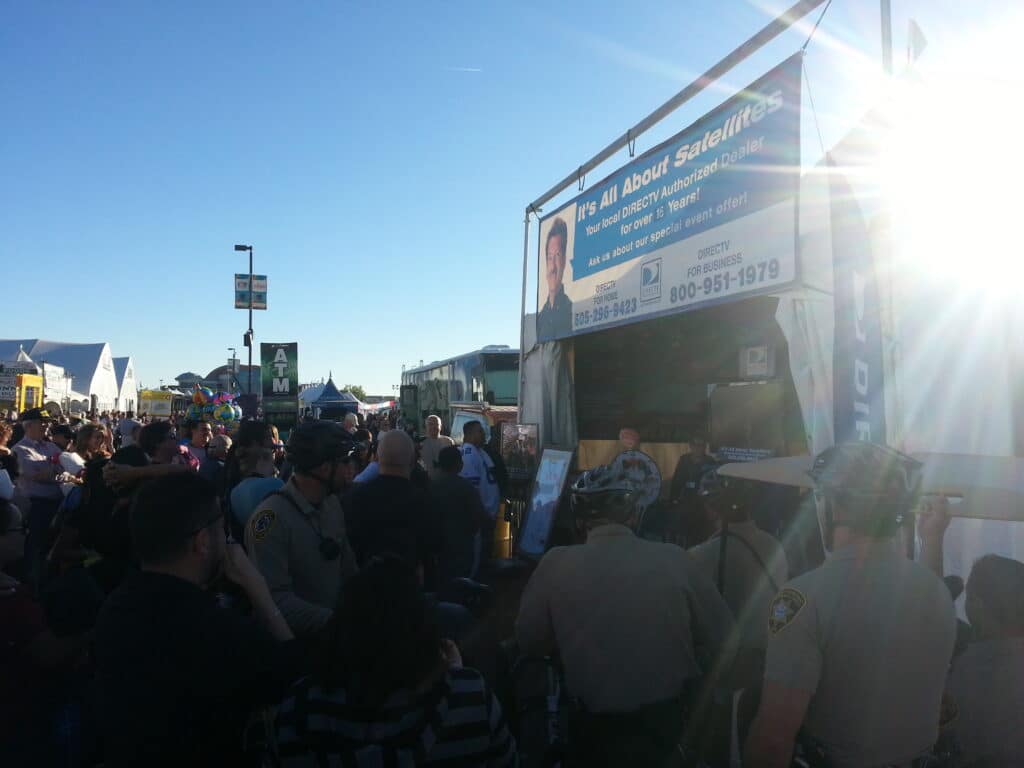 Thursday October 10th @ Balloon Fiesta
BOOOOOOO!
High winds shut down the launch of special shapes hot air balloons this morning. The special shapes did blow up, so we were treated to some fun times, but there is nothing like seeing the special shapes in the air.
Tonight the rain and winds that are currently gusting to 50 mph have shut down even the balloon glow. We will see you tomorrow. until then enjoy some special shapes photos from years gone by: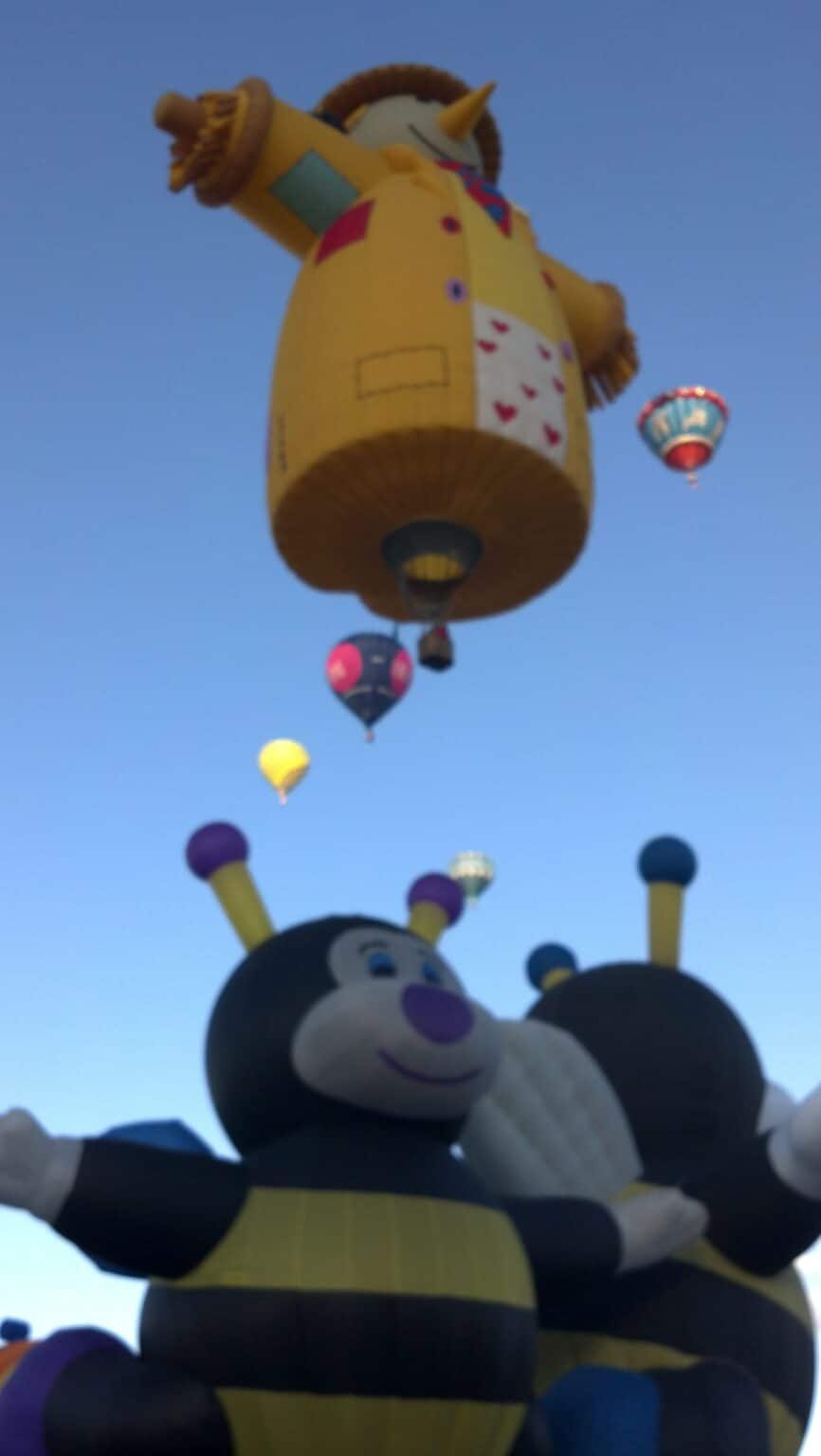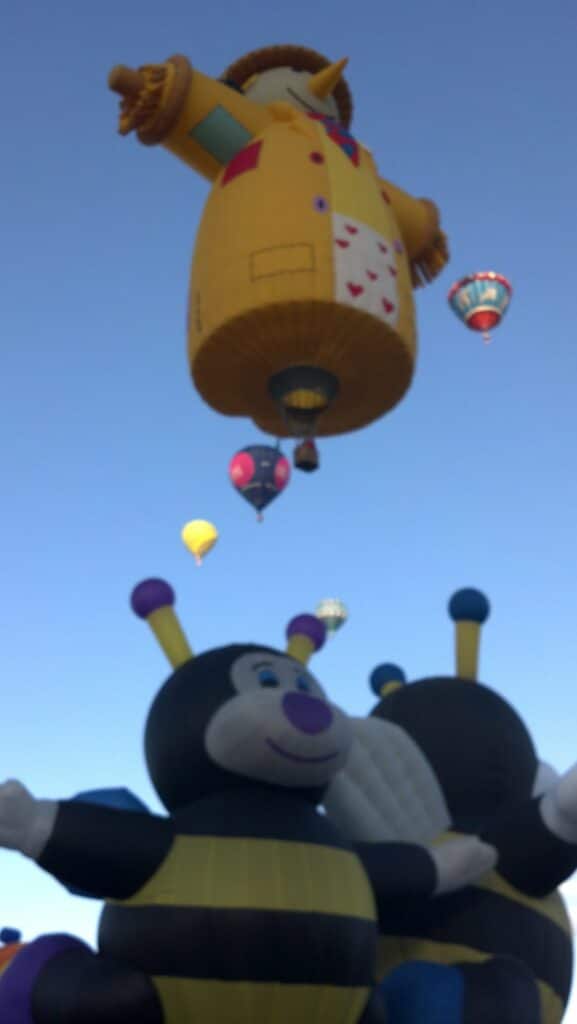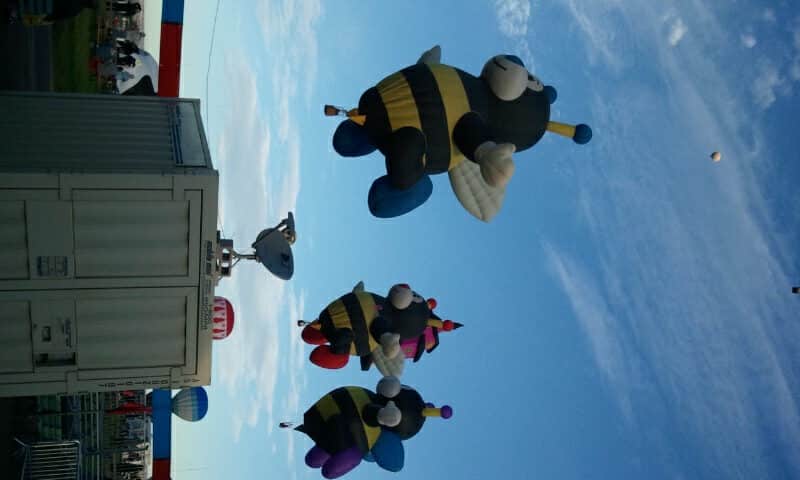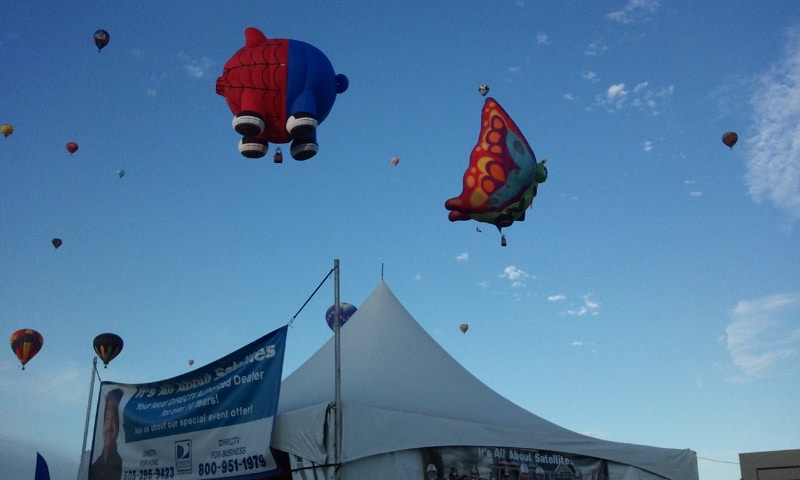 Tuesday October 8th @ Balloon Fiesta
What an amazing day at Balloon Fiesta on Monday!
On Mondays & Tuesdays there is no mass ascension or evening events, but the fun events continue all throughout the morning. Started out with one of my favorite events, Dawn Patrol.  At 5:45 AM balloons launch after inflating in a choreographed to music event. Fun, Fun, Fun.
Then we had a flying competition with pilots attempting to place a ring on a pole on the Balloon Fiesta park grounds.
Wednesday morning we have two really exciting events:
Krispy Kreme Morning Glow
Flight of the Nations Mass Ascension
Here are a few more photos from Sundays Balloon Glow and Mass Ascension: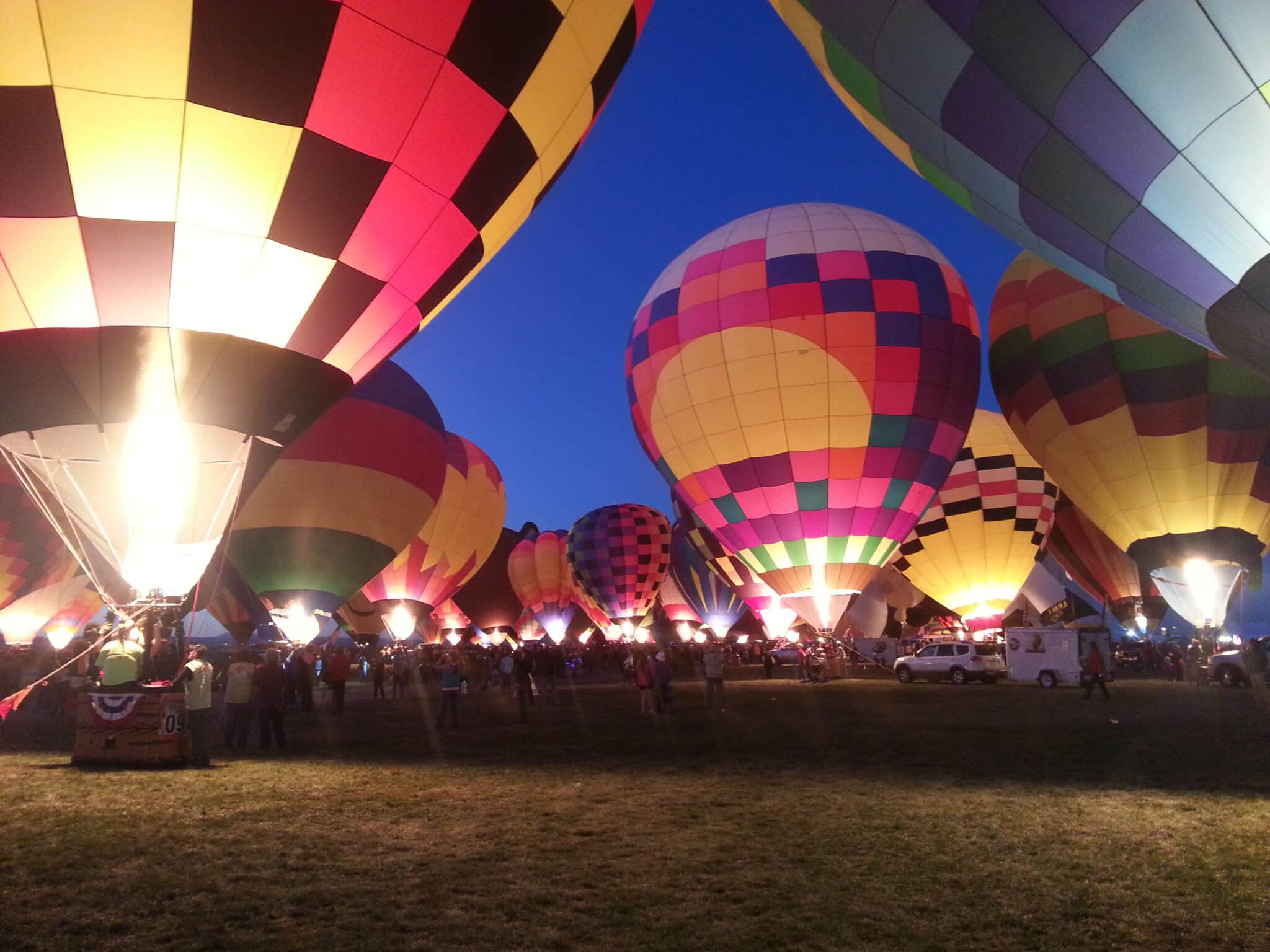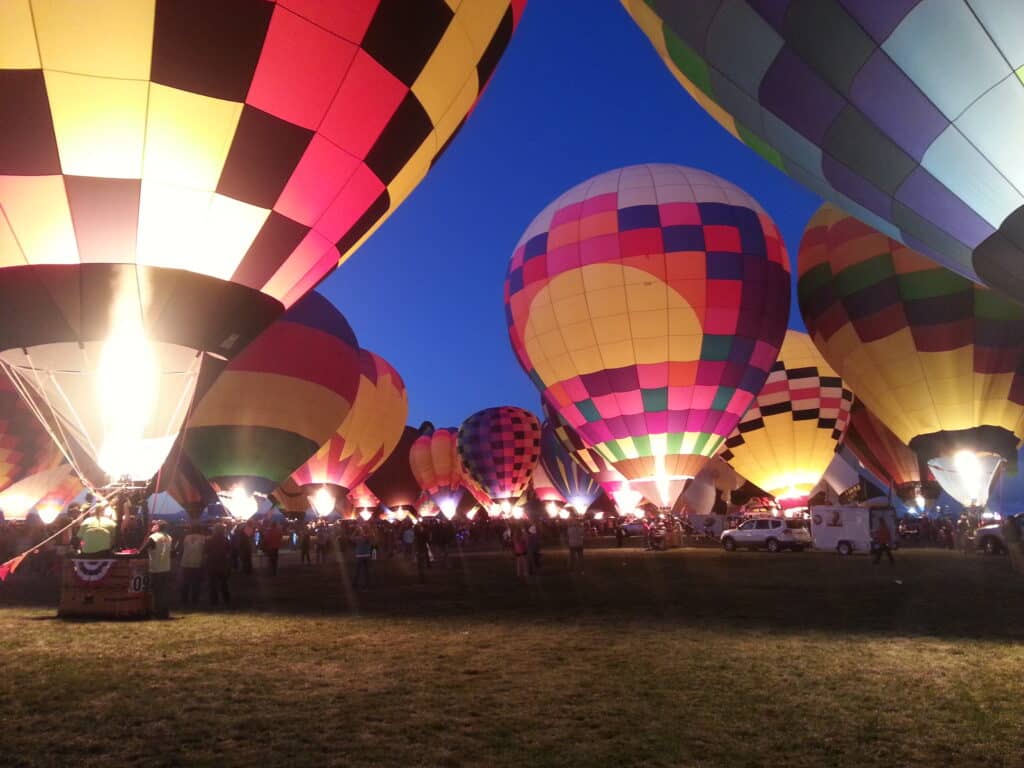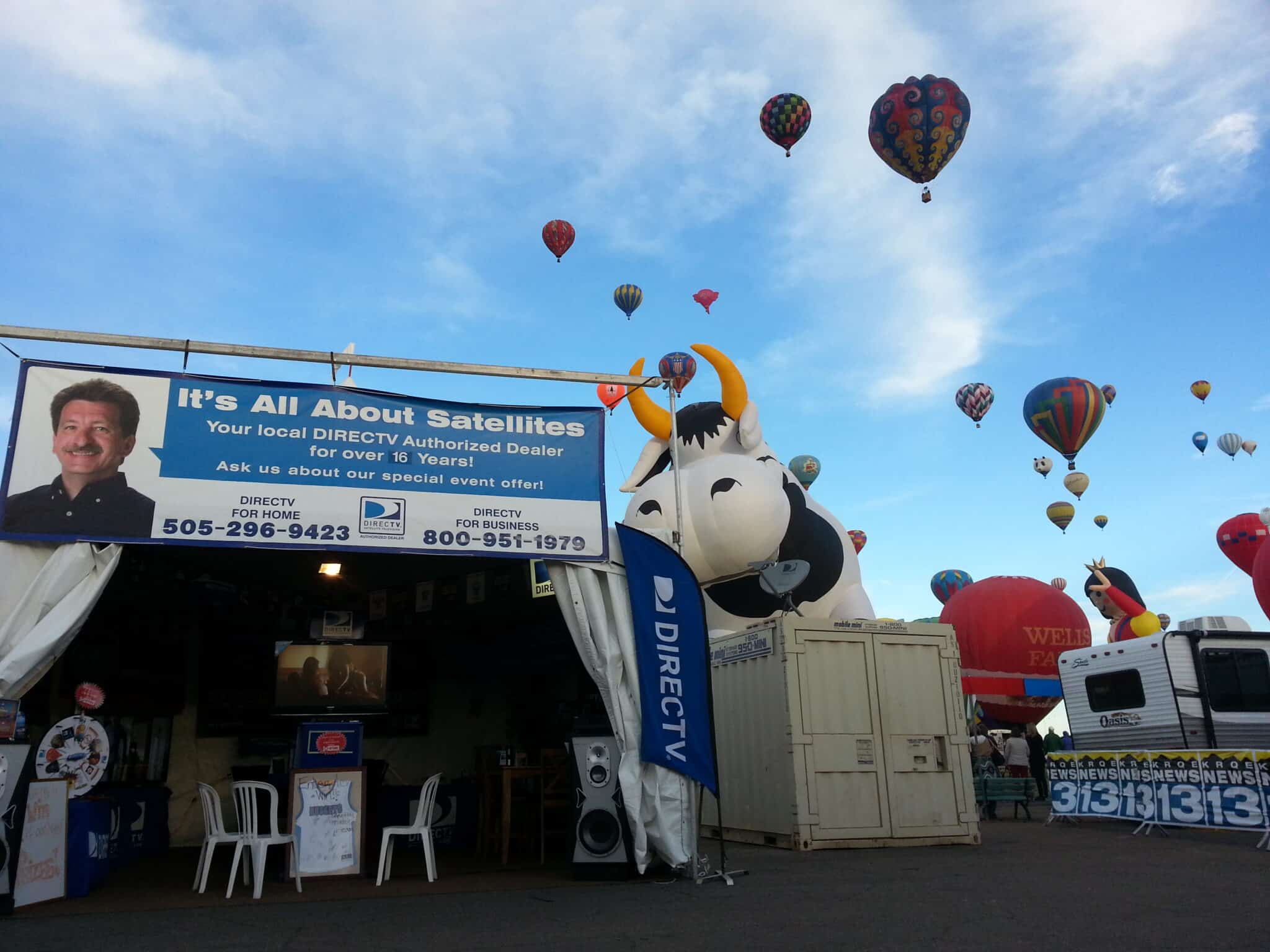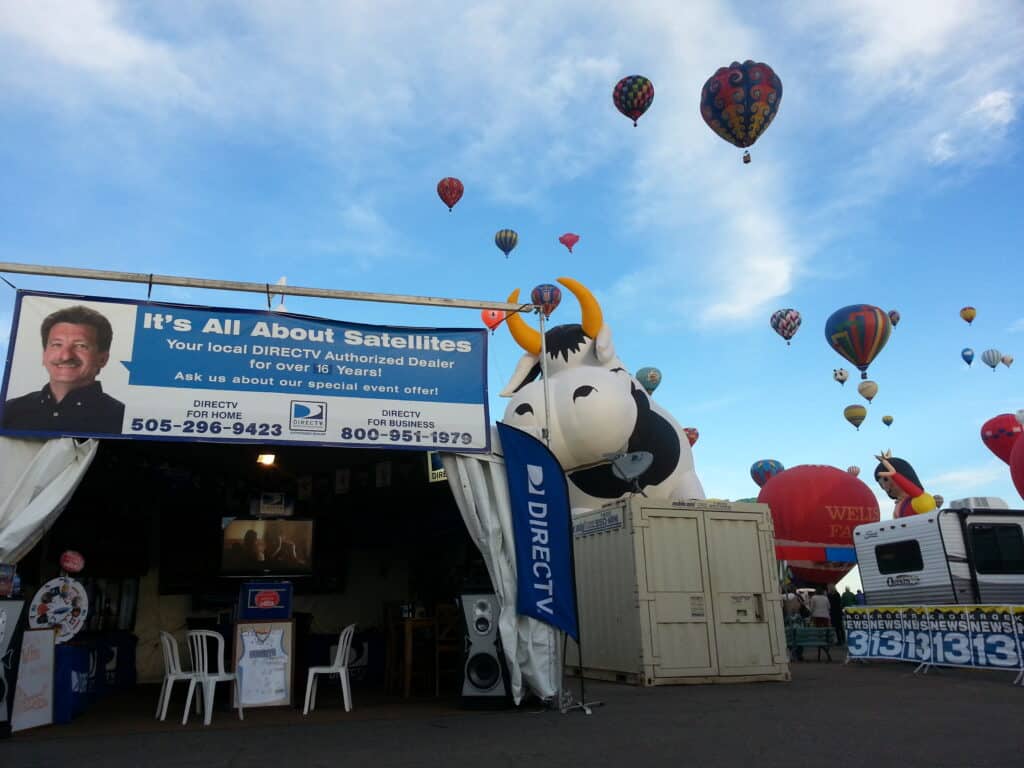 Monday October 7th @ Balloon Fiesta
It was an exciting opening weekend at Balloon Fiesta and the fun has just begun. We had perfect weather, amazing mass ascensions, beautiful balloon glows and incredible fireworks this weekend. Here are just a few photos of the fun.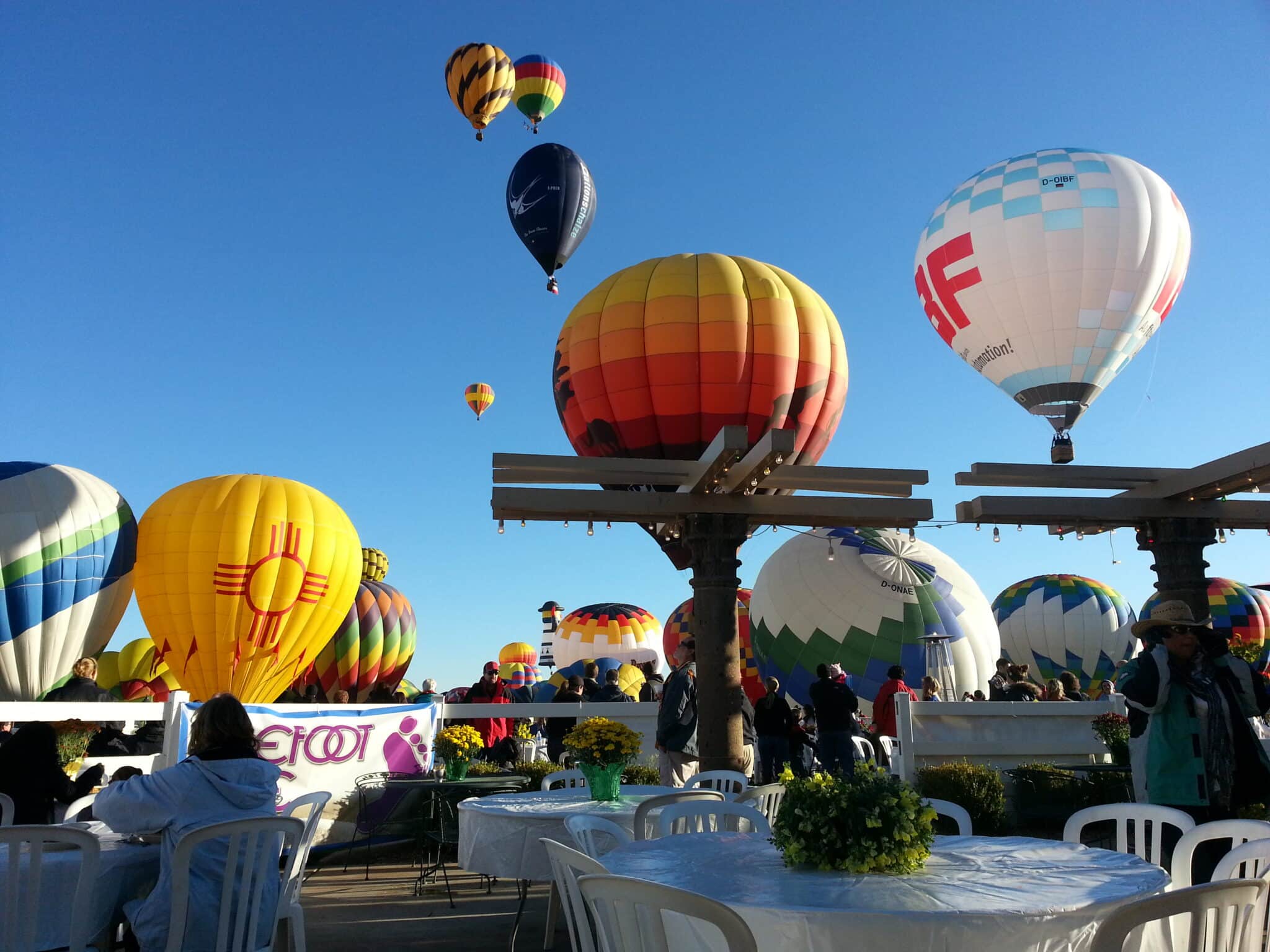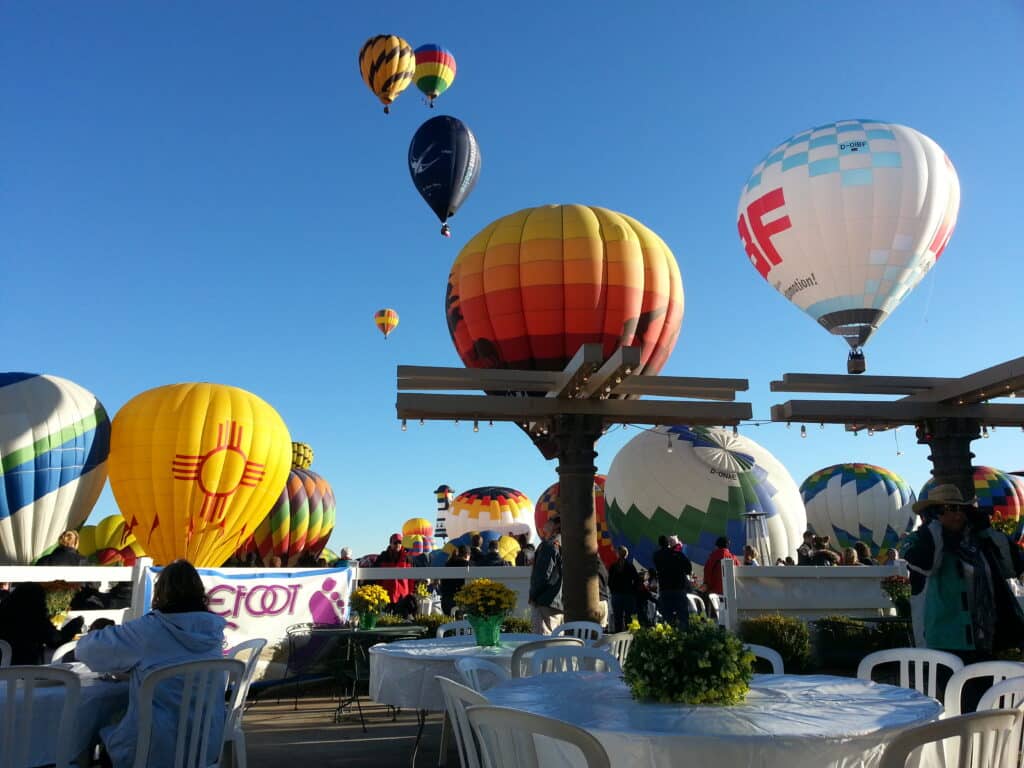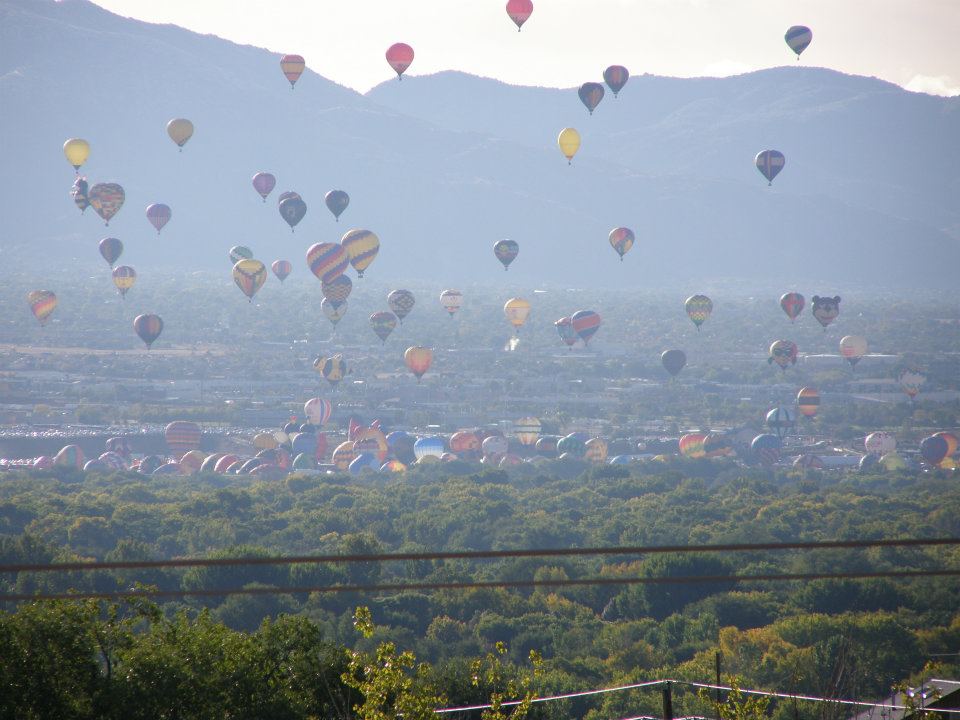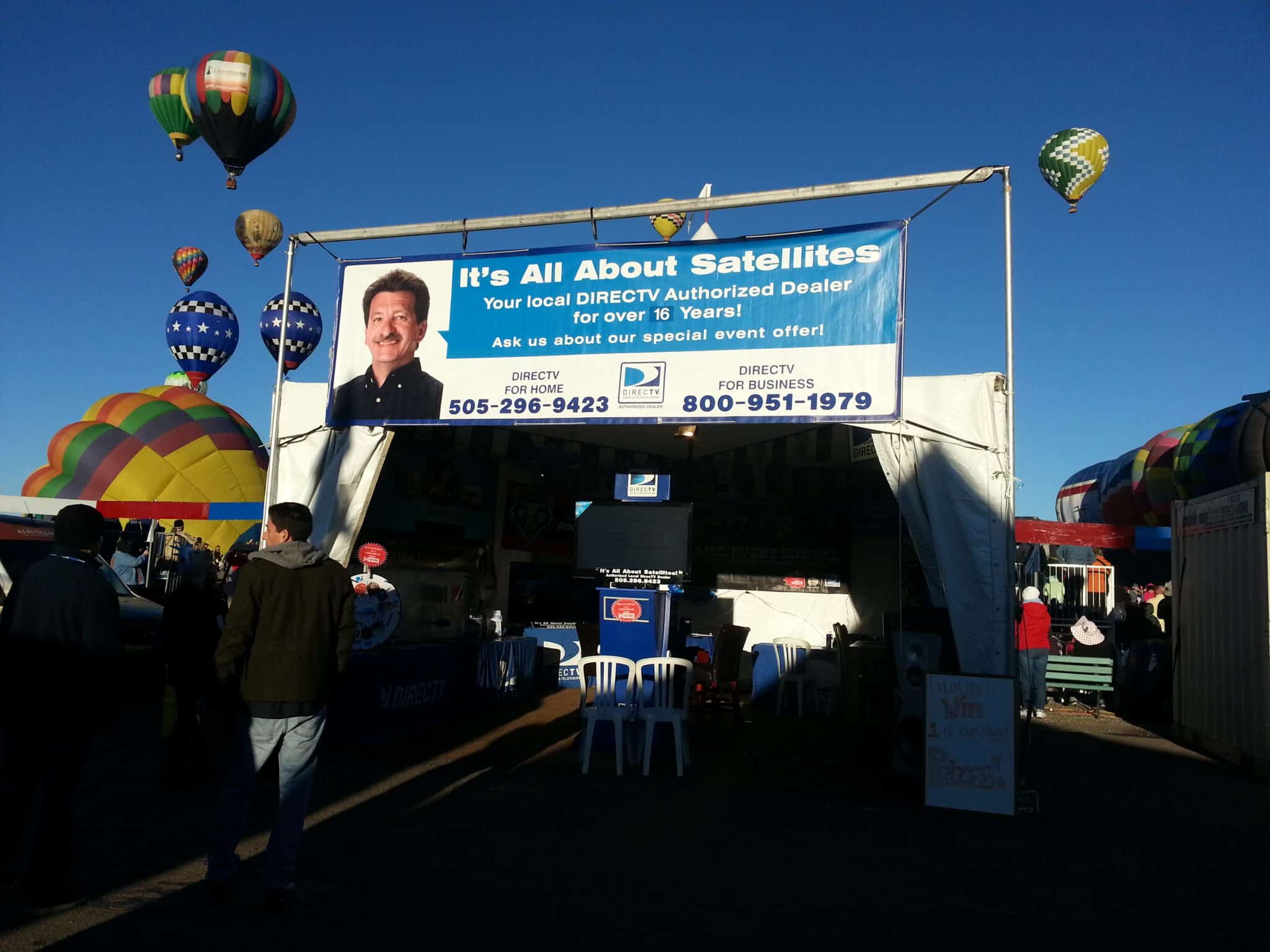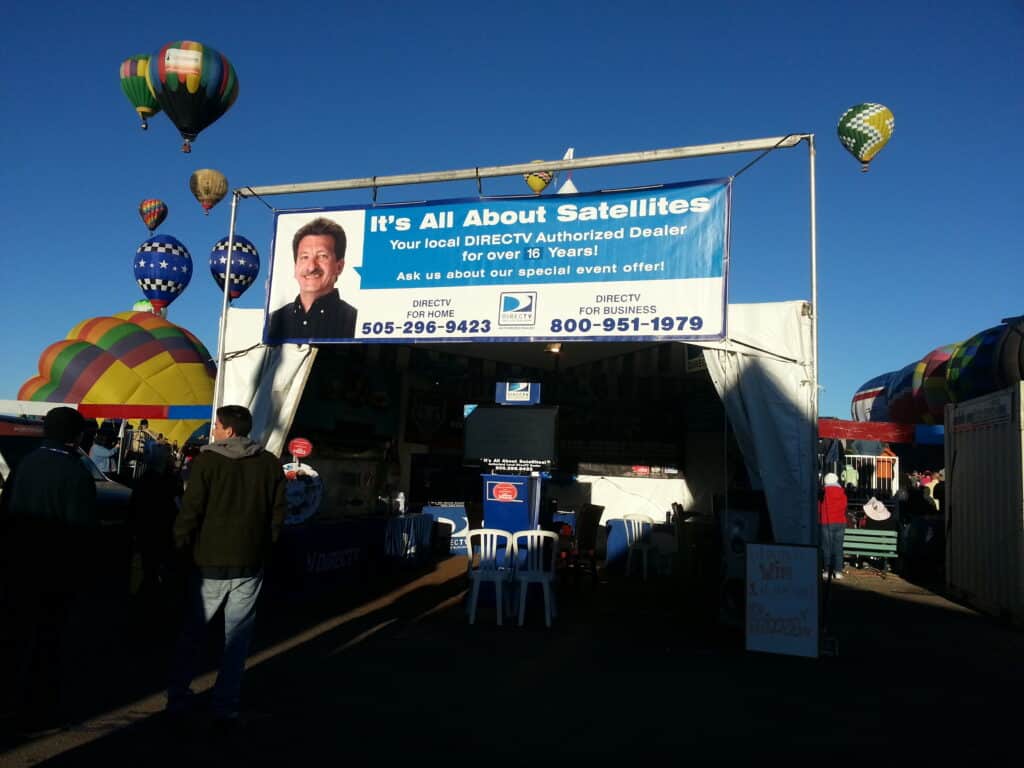 Come by and see us at the DIRECT booth on the main thoroughfare for a FREE limited-edition commemorative pin, DIRECTV swag and deals on DIRECTV that you can only get at Balloon Fiesta.
If you are not able to make it to Balloon Fiesta this year, send your friends by for an awesome refer-a-friend deal or have them call us.
505-296-9423 or 800-951-1979
---
Albuquerque International Balloon Fiesta has Begun!
Today the event at which we do the most work and have the most fun has begun. Its All About Satellites/Sound Marketing Inc. is a proud sponsor of the Albuquerque International Balloon Fiesta and the owners, Barry and Kristi Conley have been volunteers at the Balloon Fiesta for more than 20 years! We believe this is one of the most fun and exciting events anywhere in the world all year.

This page is here to show you all the fun we are having out at Balloon Fiesta and hopefully entice you and your friends to come and join us.  For more information about the absolutely incredible events you can experience over the next two weekends visit the official Balloon Fiesta page – click here or on the Balloon Fiesta banner above.
Check back on this page often for more photos and stories and stories from Balloon Fiesta.
This year we will once again have our DIRECTV tent right across from the official merchandise tent on the main thoroughfare. We will be giving away special Balloon Fiesta commemorative pins and DIRECTV swag as well as fantastic DIRECTV offers that are only available at Balloon Fiesta, so make sure you stop by our tent ans say hello.
If you are not going to make it to Balloon Fiesta, tell your friends to stop by our tent and when they sign up for DIRECTV and mention you, you will both get $100 in bill credits. For more details about the DIRECTV Refer-a-Friend program click here.
What We Do at Balloon Fiesta
In addition to our DIRECTV tent, you will find Its All About Satellites all across the Balloon Fiesta field. We are responsible for all the audio video you see and hear all day.
This year we are to once again provide the A/V for the:
Media Tent – Audio & Video including TVs and DIRECTV
VIP Tent – TVs and DIRECTV
Pilots Tower – TV
Pilots Tent – Audio & Video including TVs and DIRECTV
Hospitality Tent #4 – TVs and DVD Players
So as you wander around Balloon Fiesta Park, keep an eye out for Its All About Satellites.