NCAA March Madness Returns to DIRECTV on March 15th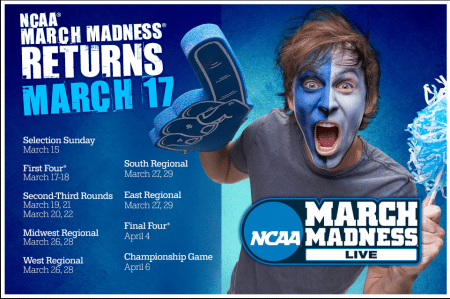 The NCAA Basketball Tournament, best known as March Madness, tips off with Selection Sunday on March 15th. With 67 games over 3 weeks starting on Tuesday March 17th, the #1 viewed event in the U.S. is sure to be a great opportunity for your Bar and Restaurant to draw in new customers.
Here are the dates you need to be aware of:
Selection Sunday Show is Sunday March 15th at 6pm Eastern on CBS
Announcing the brackets. Is your team in or out? Where will they play their opening games?
The First Four – 1st round games start Tuesday March 17th and Wednesday March 18th
The Final Four is April 4th and the National Championship Game is April 6th at Lucas Oil Stadium in Indianapolis.
Catch all the action on DIRECTV, CBS and Turner Broadcasting
The NCAA Basketball Tournament will be broadcast on
CBS (Channel 13 in Albuquerque – check listings for your local market),
TBS (Channel 247),
TNT (Channel 245),
and TruTV (Channel 246)
on DIRECTV.
DIRECTV Programming Packages for March Madness
All 4 channels that are broadcasting March Madness are part of DIRECTV's Business Select package. For just 29.99 for Bars and Restaurants with an EVO (Estimated Viewing Occupancy or how many people on average can see the TVs) of 100 or less get over 80 of the channels your customers want to see.
For large Bars and Restaurants with more than 100 EVO, we have packages starting at just $209.99 per month. Less than the price of two additional beers or an extra appetizer sold per day. How many more people will you draw in by having all the programming your customers want to see?
Are sports what you are featuring on your TVs?
The DIRECTV Commercial Xtra Pack gives you over 180 channels including ESPN, Fox Sports, NBC Sports, NFL Network, MLB Network, NBA TV, NHL Network, Golf Channel, plus 39 regional sports networks.
With NCAA and NBA basketball games, NFL and NCAA football games, MLB baseball, NHL Hockey and much more, this package gives you thousands of games per year for just $139.99 per month. Every game your customers want to see all in one package.
Ask how you can get your 1st 3 months for 39.99 per month or $84.99 per month in your 1st year!
Special March Madness Features Exclusively on DIRECTV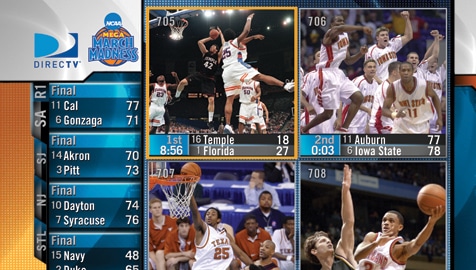 The DIRECTV Sports Mix Channel – Feature ALL the March Madness games on one screen.
Early in the NCAA Basketball tournament there will be as many as 4 games on different channels at one time. Sports mix channels allows you to show all 4 games at one time. Both Sports Mix Channel 205 and Channel 701 will be dedicated to the NCAA Tournament during March Madness.
March Madness is Your Ticket to Increased Sales
March Madness turns casual sports into basketball junkies for a few weeks every year. Everyone has a bracket or is cheering for their alma mater or local team. More people watch the NCAA basketball tournament at bars and restaurants than any other event all year. One in four men said they will go to a bar to watch at lunch.
For bars with multiple TVs this is your best opportunity all year to draw in new customers. Even if your restaurant wouldn't usually be confused with a sports bar, this is still a golden opportunity to pick up additional business.
Will they be watching it at your bar or restaurant?
Call Barry today at 800-951-1979 or 505-296-9423
to subscribe to DIRECTV for your Bar or Restaurant