MLB Extra Innings on DIRECTV

MLB Extra Innings on DIRECTV is Better Than Ever in 2023!
You get over 2000 games!! Up to 90 out of market MLB games per week to help draw in more Bar and Restaurant customers.


More games than ever before in crystal-clear HD. Great deals for your Bar, Restaurant or Business.
MLB EXTRA INNINGS is Your Season Ticket to Every MLB Game*
With DIRECTV and MLB EXTRA INNINGS, no matter where you call home, you can be where your customers come to watch baseball every step of the way to the pennant race. Show your bar and restaurant customers every history-making moment with up to 90 out-of-market games a week, including up to 99% available in crystal-clear HD.*  When it comes to Major League Baseball, DIRECTV has you covered.
You and your customers will enjoy:
Get over 2,000 games—that's up to 90 out-of-market MLB games a week
Up to 99% of these games available in HD each week
Game Mix (Channels 720 & 721): watch up to eight games at the same time, live on your TV
In-market games will be shown on your Regional Sports Network (RSN) or a local channel
An on-premise sports kit and 150 DIRECTVMVP credits
 *Out of Market Games Only

MLB Extra Innings for DIRECTV Bar and Restaurant Customers
MLB Extra Innings gives you up to 90 baseball games per week that your customers want to see! That is a lot of opportunities to draw in new customers, bring current customers back more often, and make your cash register ring.
Make your place the local sports hotspot this summer with MLB Extra Innings.
Order MLB Extra Innings for your business and you may be able to take advantage of DIRECTV's exclusive 5-Pay program which lets you spread out the payments over 5 months from the time of your order. Missed the deadline for 5-Pay? You can still take advantage of DIRECTV 3-Pay Program.
This is a great way for your bar or restaurants to draw patrons eager to watch their favorite baseball teams battle it out as the race to the playoffs heats up. You can show your customers can see up to 90 out-of-market games a week, almost all in HD.
Plus, bar/restaurant subscribers receive a free promotional kit to drive traffic as part of the DIRECTV MVP Marketing Program!
How Much More Profit Can You Make With MLB Extra Innings?
Call Its All About Satellites today to use the MLB Extra innings ROI Calculator to find out how much profit you can be making by featuring your customers favorite MLB teams for up to 90 games per week on MLB Extra Innings in your bar or restaurant.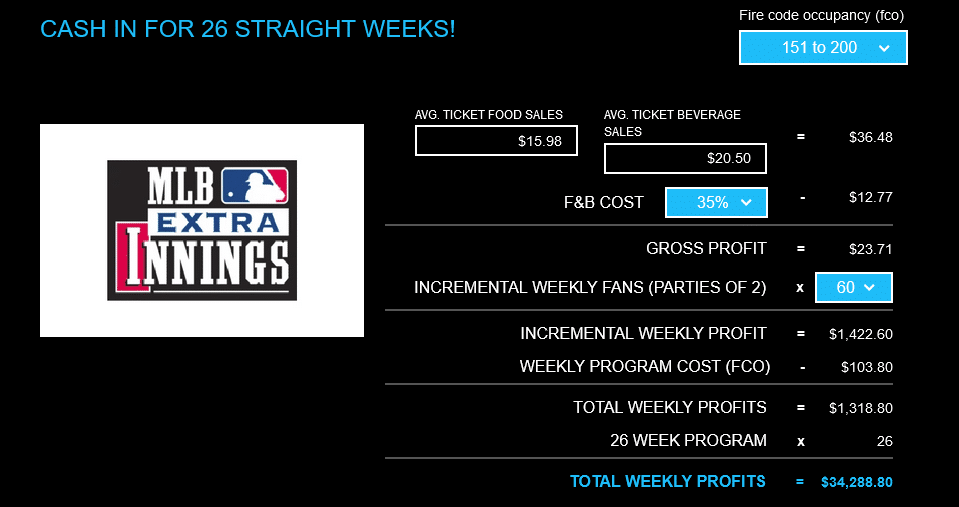 DIRECTV MVP Marketing Kits for MLB Extra Innings
DIRECTV is committed to your success, so they make free marketing kits available for all MLB Extra Innings subscribers as part of their exclusive MVP Marketing Program for Bar and Restaurant subscribers.
You can also get free or low cost Banners, Posters, Coasters, Flag Streamers, Fantasy Baseball kits, Custom Web Banners, and much more to advertise to your customers that you will be showing their favorite MLB teams on your TVs –  up to 90 games per week!
Call 800-951-1979 Today



for more information about
MLB Extra Innings on DIRECTV
for Your Bar, Restaurant, or Business.


Or fill out the form below and we will contact you.
©2023 DIRECTV. DIRECTV and All other DIRECTV marks are the trademarks of DIRECTV, LLC. All other marks are the property of their respective owners.