FREE Preview of MLB Extra Innings on DIRECTV
July 17-23 on Channels 719-743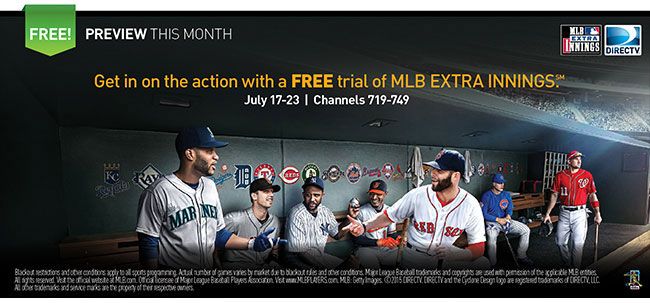 GET in on the Action with a FREE trial of MLB EXTRA INNINGS on DIRECTV July 17th to July 23rd on Channels 719-743. Catch your favorite teams.
Experience Major League Baseball® like never before with MLB EXTRA INNINGSSM. You'll get almost 100 out-of-market games a week, most of them available in crystal-clear HD*. When it comes to MLB®, DIRECTV has you covered.
View MLB EXTRA INNINGS Schedule
Don't have DIRECTV Yet?
Call 800-951-1979 Today
Or CLICK HERE