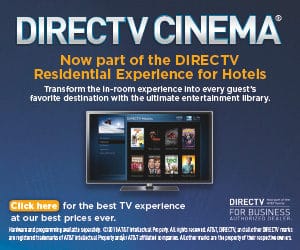 FREE DIRECTV CINEMA VOD Equipment
on New Residential Experience (DRE) Plus Activations
For Hotels activating a NEW DIRECTV Residential Experience DRE Plus system between November 15, 2016 and May 15, 2017, up to 200 qualifying properties will be eligible to receive free DIRECTV CINEMA® VOD equipment.
That includes:
Caching Server
USB Sticks
Distributor licensing (up to 200 receivers) and setup required for the DIRECTV CINEMA® product installation
The Guest Welcome Screen PRO is required for properties that receive a free CINEMA server.
Dealer installation fees are not covered by this offer.
Property must be VPN-connected, available via Monitoring Dashboard, and PMS-connected.
DIRECTV CINEMA® Now Includes FREE-TO-GUEST On Demand Programming for Hotels
DIRECTV Residential Experience (DRE) Plus continues to transform the in-room entertainment experience with DIRECTV CINEMA®, giving hotel guests instant access to the same hot new movie releases they enjoy at home.
Now DIRECTV CINEMA® also provides On Demand access to thousands of free-to-guest movies and shows from HBO® and SHOWTIME® without the need for hotel guests to subscribe, login or authenticate an account. Guests can watch what they want, when they want it, and on the best screen available—the hotel room HDTV.
DIRECTV CINEMA® with On Demand improves overall guest experience by using an on-premise video caching server that:
Reduces Long-term Broadband Costs
Minimizes Internet Bandwidth Consumed from Video Streaming (services like Netflix, Hulu, YouTube, etc…)
Makes more Bandwidth Available for Guest's Non-Video Streaming Applications
To access the On Demand feature, properties will need a DIRECTV Residential Experience (DRE) Plus system with a dedicated Internet connection and Property Management System (PMS) integration, as well as DIRECTV CINEMA® equipment and must be subscribed to the respective premium networks in order to access their full On Demand content library.
For More Information About DIRECTV CINEMA for Your Hotel
Call Barry at 1-800-951-1979 Today