Discover the DIRECTV PREMIUM SPORTS SCHEDULE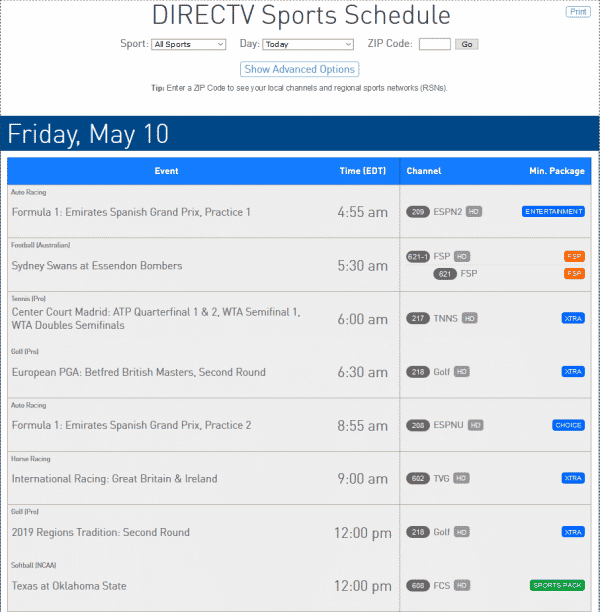 Looking for a game on DIRECTV but don't know what channel it's on? Wanting to know what time your favorite team is playing? With the DIRECTV Sports Schedule, those questions and more can easily be answered!
The sports schedule allows you to sort by sport, day, team, and the DIRECTV sports package you have or are thinking about getting.
MLB games are on and you want to be able to tell your customers what time their favorite team will be on as part of the MLB Extra Innings® package you subscribe to? The DIRECTV Sports Schedule makes it easy to find that information.
You can search by your zip code to see the regional sports channel programming in your area. You can even print both in color or in in black and white to save money on printing costs. The sports schedule updates daily, so you always have the most current information on what sports programming is on DIRECTV.
Check out DIRECTV's robust sports schedule now by going to
Sports.DIRECTV.com and save the link in your favorites.
---
To find out more about the Sports Packages available on DIRECTV
or Call 800-951-1979 Today
©2019 AT&T Intellectual Property. All Rights Reserved. AT&T, Globe logo, DIRECTV, and all other DIRECTV marks included herein are trademarks of AT&T Intellectual Property and/or AT&T affiliated companies. All other marks are the property of their respective owners.
#DIRECTV #sports #MLB #Baseball #NFL #NHL #NBA DIRECTV Premium Sports Schedule