DIRECTV NFL Fantasy Football Marketing Support is Back & Better With Something New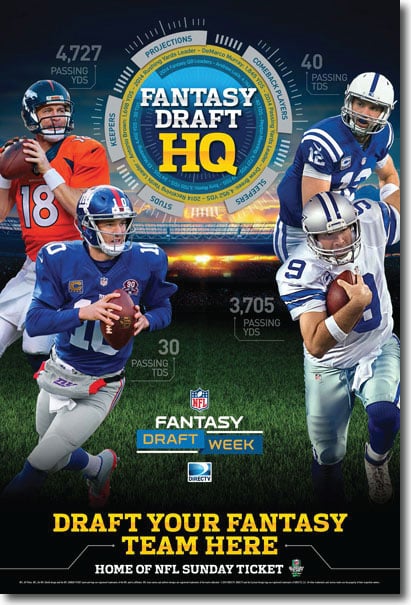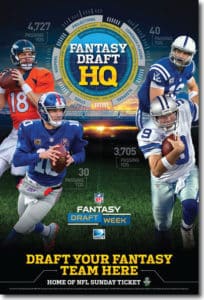 Starting July 1st, DIRECTV will begin taking orders for the 2015 NFL Fantasy Football Marketing Kits. The kits, which were a big hit last year, are available to all existing and new DIRECTV Bar and Restaurant (Public Viewing) customers.
To order a kit for your bar or restaurant, DIRECTV for BUSINESS customers do not need to be NFL SUNDAY TICKET subscribers.
This year, DIRECTV created a new FANTASY FOOTBALL/NFL SUNDAY TICKET video to help you understand the importance of fantasy football to bar or restaurant business. To view, click here.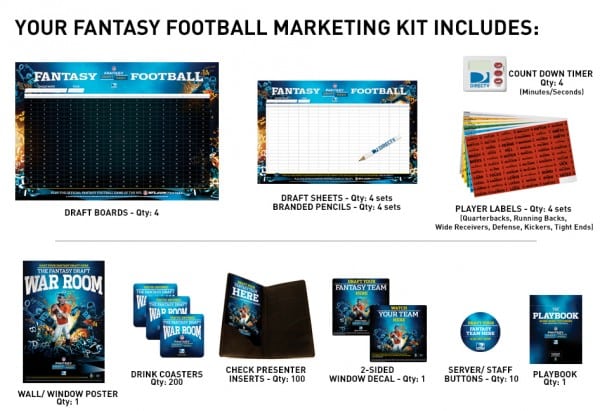 Valued at $399, NFL Fantasy Football Marketing Kits include the following items to help ensure this year's fantasy football season scores big revenues for your customers:
The Fantasy Football Playbook – contains information a bar/restaurant owner can use to prepare their business to host successful fantasy drafts
The Fantasy Football Planogram – provides customers with an idea of how to use the materials that come in the Fantasy Football Marketing Kit

Call Barry at 800-951-1979 today
for a copy of the Fantasy Football Playbook
and a copy of the Fantasy Football Planogram
The NFL Fantasy Football Marketing Kits will also include a wide range of additional marketing materials, as follows:
Coasters
Posters
Window clings
And more
For the NFL Fantasy Football drafting leagues that may have draft parties at your bar or restaurant, the kit will include "Fantasy League Packs" with:
A draft board
Individual draft sheets
Players stickers
Pencils that bar/restaurant owners can give to the drafting league
Draft timer
This is a great way for you to build awareness with the customers of your bar and restaurant and generate even more sales with NFL football fans who spend nearly $11 billion per year participating in NFL fantasy football.
Be sure to order a kit so you can show your bar and restaurant customers how much fun it can be to have a NFL Fantasy Draft party at your establishment and let them know that you will have NFL SUNDAY TICKET on your TVs once the season starts. Draw more patrons who are looking for places to root for their out-of-market players each week.
To order a kit, DIRECTV bar and restaurant customers can log on to DIRECTVMVP.com and use your credits when ordering. Kits will begin shipping on 7/17.
If you are not a DIRECTV for BUSINESS customer yet,
Call Barry at 800-951-1979 today