DIRECTV is Making Your Bar THE NFL Fantasy Football HQ

Fantasy Football is Hot and DIRECTV MVP Marketing is Giving You the Tools You Need
As part of the MVP Marketing program DIRECTV is offering the 2013 NFL Fantasy Football HQ kits for just $25.00 in credits. Credits you get for free with any major sports package. You probably have credits on your accounts right now! Ask us how to check your MVP Marketing account.
Fantasy Football Drives Traffic
Use fantasy football draw in customers for fantasy drafts during preseason NFL Football & boost your revenue during this typically slow time.
NFL fantasy football is a great way for you to build awareness that you will be showing NFL Sunday Ticket when the NFL regular season starts and generate even more sales with football fans who spend nearly $11 billion per year participating in NFL fantasy football.
Your NFL Fantasy Football Marketing Kit
Valued at $350, NFL Fantasy Football Marketing Kits help you promote your business as the ultimate place for fantasy fans to hold their drafts before the season begins. Kits will include a wide range of marketing materials, including:
Coasters
Posters
Window clings
And more!
Your NFL Fantasy Football Marketing Kit includes:(5) Draft Boards; (5 sets) Draft Sheets and (5 sets) Branded Pencils; (5 sets) Color Coded Player Labels; (1) Wall/Window Poster; (200) Drink Coasters; (25) Check Presenter Inserts; (1) 2-Sided Window Decal; (10) Server/Staff Buttons and (1) Playbook
Once again, the kit also includes the fantasy "Playbook", which contains information a bar/restaurant  owner can use to prepare their business to host successful fantasy drafts.
New in your NFL Fantasy Football Marketing Kit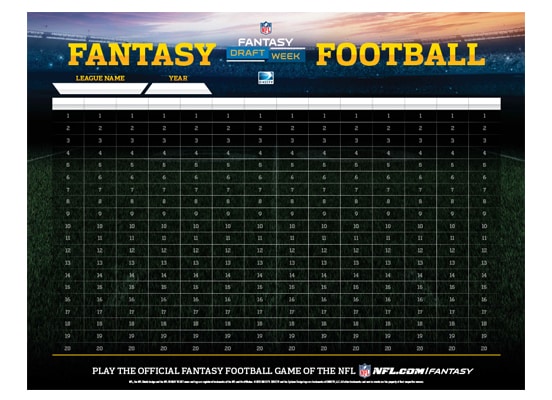 For 2013, the kit will include "Fantasy League Packs" with:
A draft board
Individual draft sheets
Players stickers
Pencils that bar/restaurant owners can give to the drafting league, free!
ORDER AS MANY "FANTASY LEAGUE PACKS" AS YOU WOULD LIKE
When you start marketing your bar as NFL Fantasy Football HQ, many leagues will want to come in and have their NFL fantasy football draft in your fun environment, so DIRECTV is making additional Fantasy League Packs available for you for just $10.00. Each Fantasy League Pack includes:
(5) Draft Boards,
(5 sets) Draft Sheets,
(5 sets) Branded Pencils and
(5 sets) Color Coded Player Labels.
So you can host as many fantasy draft parties as you would like.
Be sure to order your NFL Fantasy Football Marketing kit today and use NFL SUNDAY TICKET to draw patrons who are looking for places to root for their out-of-market players each week.
Call 800-951-1979 or 505-296-9423 Today
For Pricing on NFL Sunday Ticket