Digital Signage Simplified with Nixplay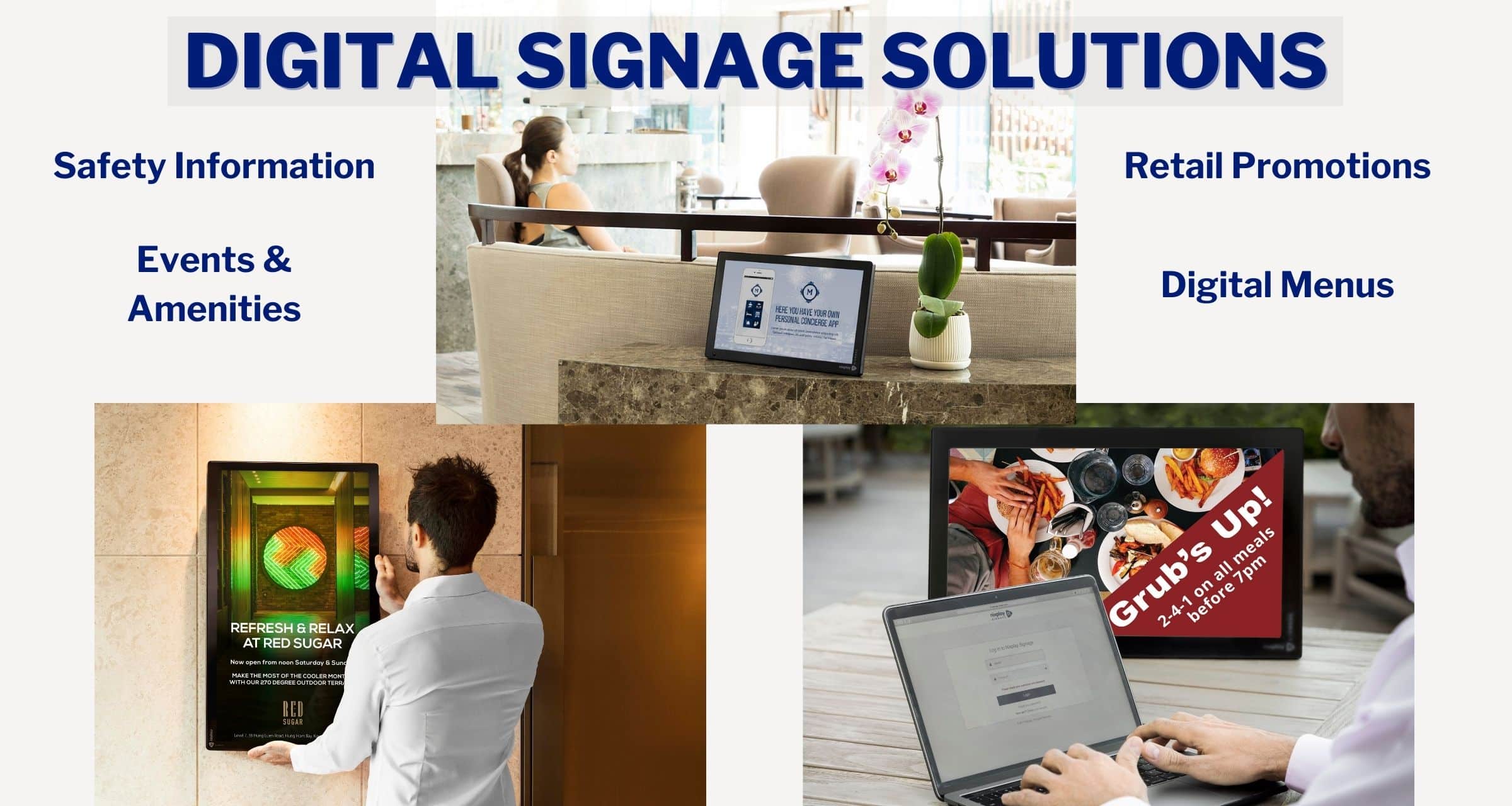 Communication is More Important Than Ever for:
Restaurants & Bars – Hotels & Lodging – RV Parks & Campgrounds
– Assisted Living & Healthcare – Retail
In today's environment, clear, responsive communication is more important than ever for the success of every business and organization.
Whether you are a:
Restaurant informing your customers about new offerings, specials, and dietary information,
Hotel informing your guests about events, amenities, and safety information
RV Park & Campground providing information about amenities, event schedules, park maps. and safety information
Assisted Living Community or Healthcare Facility providing wayfinding, building directories, meal times and menus, birthdays and events, reality orientation, and keeping residents, families and staff informed,
Retailer promoting new products, promotions, and implementing customer procedures,
Communication is key. Your messaging needs to adapt as quickly as your business moves. Here is where Nixplay digital signage comes in.
Getting Started with Digital Signage
Getting started with digital signage doesn't need to be daunting or expensive. Look for systems that are user friendly once installed, can grow with your organization, and will save you time. With a properly configured digital signage solution you'll start to see the benefits immediately, whether that's an increase in sales, better engagement, or a better informed community. By ensuring you pick partners who are there to support you at every step, your move to digital signage will be smooth and painless.
Why Nixplay Digital Signage
Nixplay Digital Signage was built specifically to meet the needs of busy business owners, with affordable, smart, and easy to implement solutions that can be up and running quickly. The Nixplay Signage system is intuitive to use and our range has screen sizes to suit a wide range of spaces, from 8" to 55". Every item in the range is equipped with a motion sensor that will turn the units on and off as required.
Nixplay also can provide you with a signage player to plug into your existing TVs or monitors.  Your existing TVs and monitors can be part of your new digital signage strategy.
Nixplay Makes It Easy to Configure and Update Your Messages From Any Device
A great content management system is crucial in helping you to get the most out of your digital signage. Nixplay Digital Signage's CMS lets you manage your content remotely from any internet connected device. So you will be able to upload, change and schedule content from any location.
Whether you are on your computer, a tablet or your smart device, you can update your Nixplay signage to keep your audience up to date, well-informed, and entertained.
Nixplay gives you the power to pre-plan content through the scheduling feature so you don't have to be there at the time you need the changes made. It is a great time saver and helps you to ensure maximum relevance for your messaging.
Nixplay Signage offers a wide selection of screen layouts for your content, with portrait and landscape options, and you can easily add social media, RSS (really simple syndication) news feeds, and other content as you wish. Videos, eye-catching images and useful information will all add to the impact of your messaging. Multi-user logins and unlimited training and support mean that sharing the task of managing the system is easy too.
How to Get Started with Nixplay Digital Signage
How can you get started with Nixplay Digital Signage? Give us a call to talk through your requirements, and we'll walk you through the Nixplay software remotely so that you can see just how quickly you can take full control of your messaging. Once you've decided on the screen sizes and locations for your installation, Nixplay screens just need a WIFI connection and power to run.
It's All About Satellites, in partnership with Nixplay Signage, can quickly deliver impactful and easy to use digital signage to you in a cost effective package. It's Signage Simplified.
Call 800-951-1979 Today
For more information about Digital Signage for your business