Come join us at the NNFA/NALA Spring Convention in Kearney on April 21st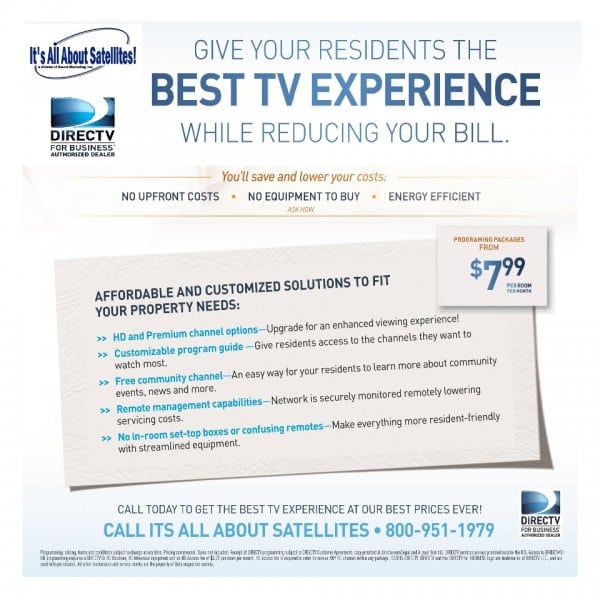 Its All About Satellites will be exhibiting at the Nebraska Nursing Facility/Nebraska Assisted Living Association Spring Convention and Trade Show at the Younes Conference Center in Kearney, NE on April 21st.
We will be providing information for nursing homes and assisted living facilities on lowering your costs for providing television programming for your residents while increasing the number of channels, the quality and functionality of the system you install.
The DIRECTV Residential Experience and
the DIRECTV COM2000 HD Headend System
We design and install two HD TV systems that are a revolutionary change in providing TV for Healthcare, Assisted Living and Long-term Care residents. Each system has unique benefits for your facility.
The New DIRECTV Residential Experience (DRE)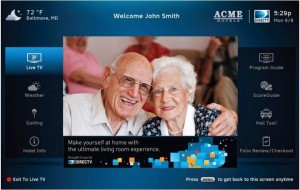 The DIRECTV Residential Experience (DRE) is groundbreaking, advanced hospitality technology. Unlike other TV systems designed for healthcare, assisted living, and long-term care facilities, the DRE is is now available to facilities with all types of wiring schemes (home-run or loop-thru/daisy chain).
Your residents will benefit from access to hundreds of HD channels and exclusive sports programming, like NFL SUNDAY TICKET plus the remote and user-friendly interactive program guide they are used to at home.
Facilities utilizing the DRE will benefit from happier residents, PMS integration and now the new DIRECTV  Welcome Screen system.
Unlike cable and other TV systems, the DIRECTV Residential Experience's advanced technology solution lays the foundation for a more robust, interactive resident experience without the additional, and often costly, hardware requirements.
The DIRECTV COM2000 HD Headend System
When it was introduced in 2009 the COM1000 HD Pro:idiom headend system was a revolution in HD TV Systems. The COM2000 headend TV system  brings many of the best features of the COM1000 into a new 25% smaller (3RU) and more energy efficient HD headend system (just 225W of power consumption) while maintaining the nearly plug and play platform.  This new system is super-stable and full-featured right out of the box.
With the NEW COM2000 you can increase channels easily by adding receiver blades, the system includes redundancy of key components to give you peace of mind that you system will maintain uptime, it supports both RF and IP based networks, the system automatically tracks DIRECTV programming changes, and can be monitored both on your local LAN and remotely via a built in web interface.
The COM2000 is also backwards compatible with the COM1000 HD Headend System so you can expand on an existing system or upgrade.
Best of all, a fully configured COM2000 HD headend system is about 1/2 the cost of a similarly configured Com1000 Pro:Idiom headend system
About the NNFA/NALA
With over 100 member facilities, the Nebraska Nursing Facility/Nebraska Assisted Living Associations are nonprofit trade associations representing long-term health care facilities in Nebraska.
For more information about the NNFA/NALA Spring Convention and Trade Show visit www.NEHCA.org
For More Information about
DIRECTV for your Long Term Care Facility
Call Barry at 800-951-1979 Today