BKB is Back on DIRECTV and Available to Order
On June 27th, BKB returns for the third time LIVE from the Mandalay Bay Events Center in Las Vegas.
When it does, DIRECTV for BUSINESS™ customers will receive exclusive access starting at just $99!
This installment of BKB will feature all the hard-hitting action fans love, with more knockouts.
Here is what customers will see with BKB 3:
BKB 3 will use fight telemetry technology to measure the velocity and force of every punch thrown in real time Fighters compete in a significantly smaller fighting space, about half the size of a boxing ring—a 17' circular pit with no ropes and no corners Fewer and shorter two-minute rounds, which encourage a faster pace and more action Will feature preliminary undercard fights on AUDIENCE® (Channel 239) and up to six fights on PPV (Channel 123 HD and Channel 124 SD)
Your bar and restaurant customers are going to be knocked out by all the action and excitement BKB 3 will bring to your establishment.
Be sure to subscribe to this exclusive event you can only see on DIRECTV!
CLICK HERE to download a fact sheet with pricing and BKB details.
BKB 3 Details
Available to order starting 6/1/15
Event - 6/27/15 at 10:00pm ET/7:00pm PT
Only on DIRECTV - Channel 123 in HD and 124 in SD
To order this exclusive event, call 1-888-728-6036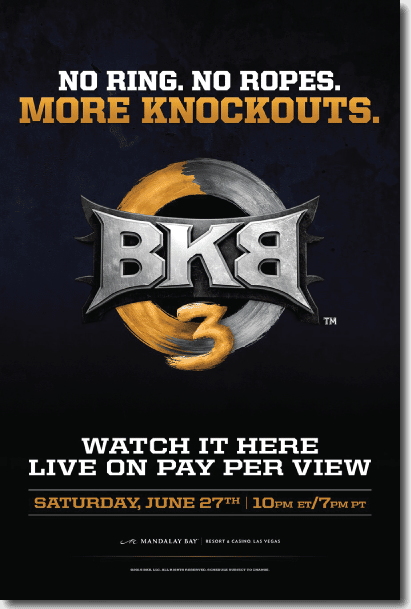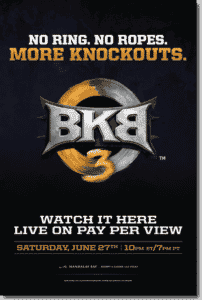 BKB Marketing Kit FREE from DIRECTV
Customers who purchase BKB 3 will receive a marketing kit 3-5 business days after the order is placed.
The BKB Marketing Kit includes:
Poster
Window cling
Coasters
Additional BKB 3 merchandise can be ordered on DIRECTMVP.com.
For more information, visit www.bkb.tv.
Dont Have DIRECTV in Your Bar or Restaurant Yet?
Call Barry at 800-951-1979 Today