TV for Hotels – SD Is Dead. Is Your TV System Too?
Support for Standard Definition (SD)
TV systems will soon be history!
SD Is DEAD!!
Many providers had planned to phase it out in late 2020 or early 2021 but have extended the drop dead date into 2022 because of COVID.
Our #1 programming provider is telling us today that all SD receivers still in use in Analog Rack Systems will be shutdown on March 22nd and we need to get all our customers transferred over to new HD headend systems by the end of the March because they will no longer support legacy SD systems!!
In October 2021, our equipment suppliers told us that they will no longer be carrying the modulators and other equipment needed to keep those older analog systems working. Once their current stock is gone, we will no longer be able to repair older analog SD TV systems or replace that equipment.
While all new TVs have been high definition since 2001 and standard definition analog programming ended in 2009, many parks have been hanging on the SD TV systems they have been using to provide programming to their campers.
Whether that is because of cost of upgrading old cable or satellite TV headend systems to HD or because tor the perceived hassle of upgrading your TV system, …
The reality is that within a few months SD will simply not be available anymore.
Why Have Many Hotels Put Off Upgrading Their TV Systems?
In a word, cost. Before the HD COM TV System by Technicolor was introduced in 2009, upgrading your hotel's TV system to an HD system was both costly and disruptive.
A huge constraint in upgrading to a HD TV System was the downtime required. In a 24/7/365 industry like lodging, this amounts to a major cost in addition to the new TV system itself. With the COM3000, it is plug and play!
What are the Solutions For You?
Hanging on to your Analog Rack System & Upgrading the Receivers/Modulators
You can hang onto that old 6 foot rack system for a while by installing H25 HD receivers and NTSC-8 modulators that converts that signal back to an SD format for your properties.
PROS:
Initial Cost – Right now you only have to replace the receivers and adding modulators. For now at least.
CONS:
Size, energy usage, and maintenance – You know how big your old system is and over time the replacement of receivers and channel modulators will surpass the cost of a new, future-proof HD COM system.
In October 2021, the last of our suppliers informed us that the modulators that are needed to step down the HD signal to SD format will no longer be manufactured.
So, once the current stock of receivers and modulators are gone, you will not be able to replace those modulators.
Install a New HD COM Headend System
The COM System is an HD headend video solution for any size hotel. Whether you want to provide your guests with a basic number of channels or a full slate of 138 or more channels, we have HD TV systems and programming packages that will fit your needs.
PROS:
23 to 138 channels with the ability for a custom in-house channel
Scalable solution – able to support hundreds of channels.
Easy "plug-n-play" setup and installation.
Remote management and troubleshooting
More channels in less space. 48 channels in 1 RU/1.75″ of rack space – 138 channels in 3 RU/5.25″
Energy-efficient – less than 300 watts of power consumption.
Electronic Program Guide (EPG) with property Branding and program info banner Integrated
Supports IP and QAM signal distribution – COAX / CAT5-6 / Wi-Fi
Local and over-the-air content insertion
Ability to broadcast over your properties WI-FI!
CONS:
Initial Cost – SCROLL DOWN, we have got you covered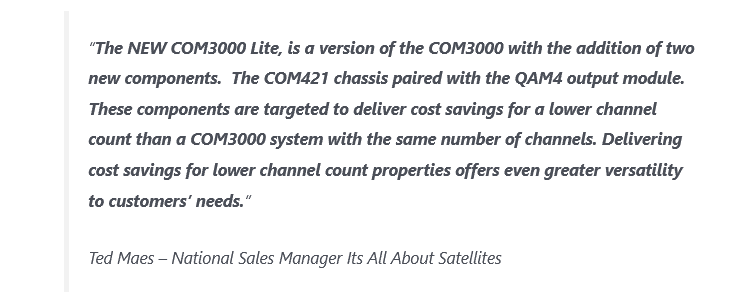 DIRECTV Residential Experience (DRE)
The DIRECTV Residential Experience provides the best interactive HD entertainment for a consistent in-room guest experience across the country.
PROS:
Properties benefit from technology that's easy, flexible, and compatible with most HD TVs and wiring.
CONS:
Each room must have a STB (set top box) for the guest to view the content.
The COM System with AEP
This system is the TOP OF THE LINE and offers both traditional live TV and streaming content.
PROS:
You can provide your guests with both traditional DIRECTV® service, along with OTT app-based content delivered via broadband, allows viewers instant access to live and On Demand entertainment with no customer login or password required.
On Demand and streaming apps, including premium programming with the SHOWTIME® App, family friendly programming from Hallmark TV and the best in music from Music Choice,® all included at no additional cost as part of the Advanced Entertainment Platform. The customizable Property Information App included at no extra cost Supports 4K HDR content.
The Advanced Entertainment Platform supports streaming from personal devices via STAYCAST™ Optional ability to use a personal mobile device to control the in-room TV.
CONS:
For smaller or budget properties the cost may be more than what you are looking to spend per room. For boutique and larger properties or even the smaller property that decides they just want the very best, the Guest Experience is like no other.
Benefits of your new HD TV system over that old Analog SD Headend TV system
Happier Guests
In their homes, nearly all of your campers have HD TVs. In fact, all new TVs manufactured for the last 20 years have been HD. Since 2009 all TV broadcasts have come in at least 720P HD and today almost all are at 1080i or higher.
While we can still use a modulator to step down an HD broadcast to SD right now, the result is a grainy, square (4:3) picture on your camper's rectangular (16:9) HD TV.
Would you be happy seeing that while watching your favorite TV show? Neither are your hotel guests.
Energy Savings
A fully loaded COM3000 requires less than 300 watts of power consumption.
According to Solid Signal, when compared to a 24 channel SD headend system a new HD COM3000 can save you as much as $3750 over a typical 5 year contract with our preferred programming provider. With the new COM421 Chassis and QAM4 module your energy savings will be even greater.
Space Requirements
You know how huge your old analog SD headend system is. If you have not opened the closet your TV system is in recently, the black rack on the right hand side of the photo at the top of this article is a typical 30 channel SD headend system.
Standard definition headend systems are, simply, huge. A 30 channel system typically takes up two and often three full size, read 6 foot tall, racks in a room at your property.
A new 138 Channel HD COM3000 TV system takes up just 3RU (5.25″) of rack space
With the new COM421 chassis and QAM4 module being released in Q1 2022, the footprint of your new TV system is reduced to just 1 RU/1.75" of rack space and it lowers both the energy usage and your initial investment for systems up to 48 channels.
Streaming TV over Wi-Fi
At home, your guests, and probably you and your family, are streaming TV. Netflix, HULU, Disney+, Paramount, and many other streaming services are part of our everyday lives.
The COM3000 and new COM3000 lite give you the ability to securely stream live TV to your campers in conjunction with your existing coax cable wiring.
Because just the channel being watched is being sent through the Wi-Fi it will not bog down your property''s bandwidth.
Your guests can watch live TV
on any internet connected device.
We have even removed the upfront cost barrier
When you sign up for a 5 year term for programming from our preferred provider, they provide subsidies that cover the cost of the equipment in your new HD COM TV system. You do still will have an investment in the installation of the new HD COM TV system.
To make it even easier, we have leasing options available so you can get a new HD COM TV system installed with no upfront costs and even push your 1st payment to your high season so you have revenue coming in before you have to pay.
Yes! We Can Get Your NEW HD TV System
Installed Before April 1st.
Want your new HD COM3000 TV system installed before your high season starts this spring? We can get that done for you. We specialize in Hotels and Lodging and will provide you with the quickest turnaround in the industry.
Ready to Learn More?
Call Ted or Barry today
at 1-800-951-1979