Why Your Bar or Restaurant Needs the New DIRECTV Commercial iPad App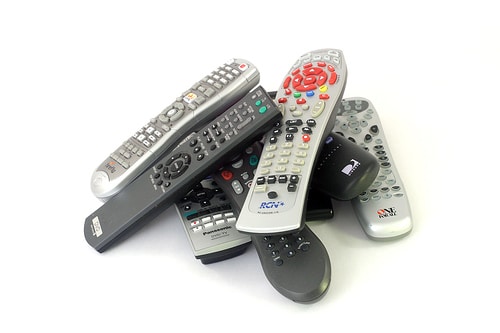 Multiple TVs = Expensive or Time Consuming Problem Changing Channels
Bars, Restaurants, Fitness Centers and Retail Stores with multiple TVs have long had an expensive or time consuming problem in changing the channel on their TVs. Either you had to purchase an expensive control system from vendors such as Crestron or Extron, or your staff had to dig through piles of remotes to get the right one when guests asked them to change a channel on each TV.
While a control system from Crestron could easily run into the tens of thousands of dollars, even more expensive in the long run was the time it took to learn the new system or dig through the remotes to find the right one for establishments with multiple TVs but no control system.
DIRECTV has solved both of those problems for its bar, restaurant and other commercial customers with an easy to use, convenient app that can be run from a single device.
The New Commercial DIRECTV iPad App
Bars, Restaurants. Fitness Centers and other commercial DIRECTV customers with multiple TVs have something to be excited about now,  the new DIRECTV iPad app! It is the ultimate video management tool for DIRECTV Commercial customers.
The new DIRECTV Commercial iPad is available for all Public Viewing, Business Viewing and Private Viewing accounts.
Best of all the DIRECTV Commercial iPad app is free.
Control All of Your TVs from One iPad and More Benefits
The new Commercial DIRECTV iPad app allows you to control ALL of the TVs in your Bar, Restaurant, Fitness Center or other business with just one iPad.
Control all of your TVs from a single iPad
Quickly identify receivers by giving each custom names
See what's playing on all your TVs from one iPad screen
Channel surf using the DIRECTV programming guide
View all current and upcoming sports schedules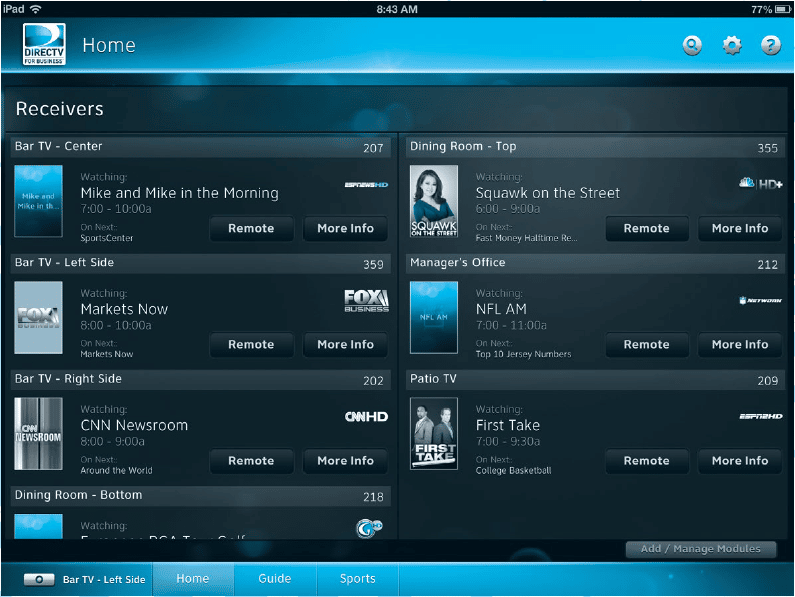 What Do You Need to Use the DIRECTV iPad App
A DIRECTV.com login for your commercial account.
If you haven't already set up yours, simply go to DIRECTV.com/apps and create one. It's similar to the process you used to set up your account at home.
All your DIRECTV receivers need to be connected to the internet.
Its easy to check to see if your HD DIRECTV receivers are networked and connected to the internet.  Just press the DASH button on your DIRECTV remote. The screen should say, "SWiM Connected" and "Internet: Connected". If it doesn't, give us a call at 505-296-9423 and we can work with you to get the current-generation HD equipment you'll need, get it installed for you, and get you started using this amazing iPad app.
A Wireless Router
The iPad requires a wireless connection to the internet, so you will need a wireless router to provide that internet access.
Get the new DIRECTV Commercial iPad App for Your Bar, Restaurant or Business
To find out more about the new DIRECTV iPad app for commercial or to upgrade to the current generation HD and SWiM equipment installed, contact us for a free site survey.
Call 505-296-9423 or 800-951-1979 today
For more information about the New DIRECTV Commercial iPad App